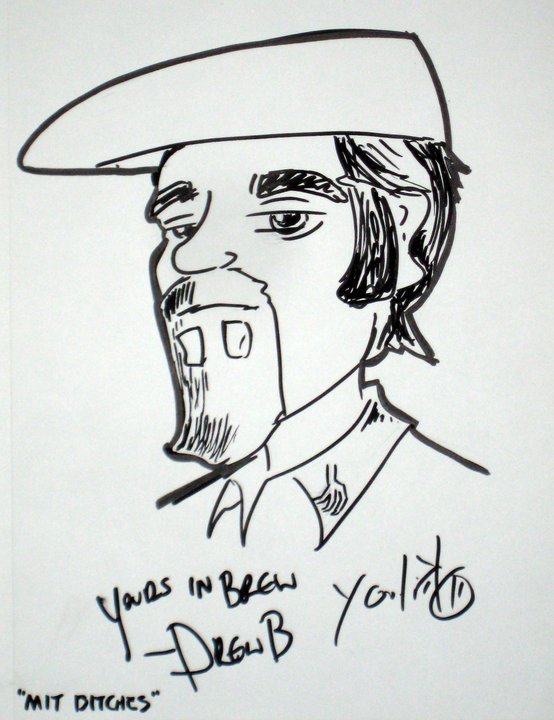 Because I can, that's why
This is my recent splurge food. I love it and it's fairly healthy. Ok, it's mostly a clever way to have a satisfying chunk of meats and cheeses in red sauce and not feel like a total pig.
What does this have to do with beer? Well, if you eat this instead of the full fat, full meat, full bechamel, full every damn cheese version, you can drink more beer and not be a lard butt. Expect to see a whole lot more about how to lose weight as a brewer in the near future. This is just one part of it! It's damn tasty and you should make it. Here's how
Zucchini Turkey Sausage Lasagna
Makes 6 servings in a 9x13 pan - because they lie when they say "8 servings" No one eats 1/8th of a 9x13 pan of lasagna without feeling a pang of regret and nibbling off small pieces with a fork.
Approximately 420 calories per serving. (Compare that to traditional lasagna which has something like eleventy billion per slice - and you eat two of them)
"Noodles":
3 largish zucchini, sliced into planks on mandoline, salted liberally on paper towels. I use the second thickest setting on the mandoline to get sturdy slices that dont fall apart but also don't dominate the meaty cheese goodness.
Sauce:
1 onion, diced
4 cloves garlic, minced
3 links hot italian turkey sausage
1 tbsp tomato paste
10 oz crimini mushrooms, chopped
1 big can crushed tomatoes
2 oz vermouth/wine
1 tspish oregano
Cheeses:
12 oz part skim mozzarella, shredded
12 oz ricotta
1 egg
1 oz grated parmesan
Instructions
Preheat oven to 350F
Noodle Prep
Prep zucchini and let salt do it's magic for ~20 minutes while you assemble the sauce.
Sauce Prep
Sweat onion over medium-high heat with a little olive oil (or spray oil) in your sauce pot with salt. Get translucent. Add garlic, stir until fragrant with salt. Remove sausage from casing, break up into wee little pieces in the pot. Saute until no longer pink. Add tomato paste to pot and stir until no longer bright red and threatens to burn. It's flavor, shut up. Add chopped up mushrooms with so much salt. Cook for 10 minutes until mushrooms release moisture and moisture goes bye bye. Add tomatoes. Rinse can with wine and add to pot. A little booze actually helps release flavors otherwise not available. Simmer until thick - 20-30 minutes.
Noodle Cook
Now that zucchini has been sitting a while, dry with paper towels. Place onto baking sheets lined with silicone mats or parchment paper. Bake for 15 minutes. Pull and allow to cool.
Lasagna Assembly and Cookery
Mix the ricotta and egg together with some salt and pepper. Set aside
Take a 9x13 pan, I use a enameled cast iron because heavy is good. Add a layer of sauce to bottom of pan. Lay in half the "noodles" and top with more sauce. Add most of the ricotta mixture. Spread it around. Add 1/2 the mozzarella.
Layer in more noodles. More sauce, the last bit of ricotta, the other half of mozz and then sprinkle with the parmesan on top.
Put 9x13 pan on a cookie sheet and bake for 35 minutes in the middle of the oven. Turn the broiler onto low and broil for 5-7 minutes until the top is so, so gloriously brown.
Pull for the oven, wait 15 minutes to avoid burning the hell out of your mouth. Slice, serve, be thankful for a "healthy" fix.