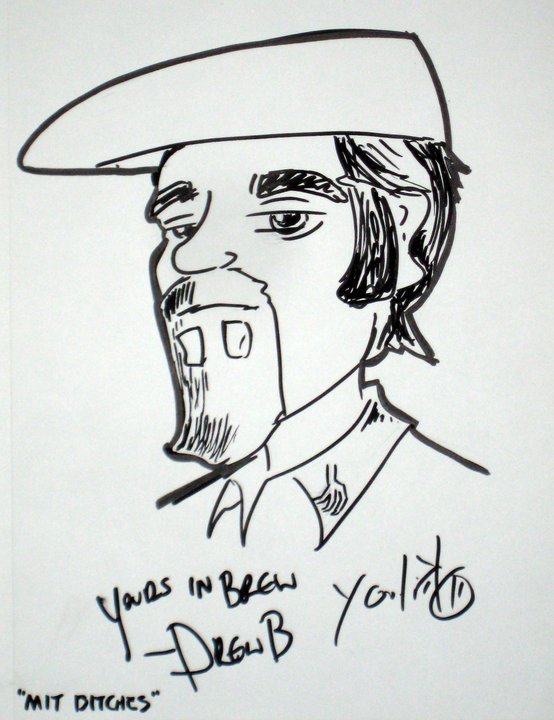 Stand back everyone and hold our beer - we're going for a shorter show today! (Suspect Denny might need a temporary break from editing or something)
We do the feedback circuit, including a visit to the Correctional Department of Corrections, and then hit the pub for our recollections of Session Beer Day, some of our favorite April Fool's pranks from brewers (including one that wasn't actually a prank) and the upcoming Big Brew
In the lab, we finally have our results in from our BrewTan B experiment that we started last year. What do the guys make of the results and we talk with Joe Formanek of Anjinomoto about what they mean.
Then in the Lounge we actually visit a question that came in from a listener about her challenges making truly gluten free beer. Since neither of us are gluten free experts, we rope in an actual expert - James Neumeister of Portland's Ground Breaker Brewery, a gluten free brewery.
Finally we tackle questions we can answer. Drop a quick tip on ya and explore one reason Drew would have something positive to say about the New York Yankees. (No, hell has not frozen over and yes, it involves dogs.)
Episode Links:
Episode Contents:
00:00:00 Our Sponsors
00:05:10 Feedback
00:11:12 The Pub
00:23:21 The Lab - BrewTan B  - Does it make a difference to flavor?
00:50:31 The Lounge - Gluten Free Brewing with James Neumeister
01:02:51 Q&A
01:12:29 Quick Tip
01:14:38 Something Other Than Beer
This episode is brought to you by:
American Homebrewers Association
Jaded Brewing
PicoBrew
Interested in helping Denny and Drew with the IGOR program (aka help us run experiments!) - contact them at [email protected]. We want more Citizen Science!
In the meanwhile, subscribe via your favorite podcasting service (iTunes, etc). Like our podcast, review it - talk it up! If you have comments, feedbacks, harassments, etc, feel free to drop us a line at [email protected]. Follow us on Facebook (ExperimentalHomebrewing) or Twitter (@ExpBrewing). If you have questions you'd like answered in our Q&A segment, send an email to [email protected]!
Don't forget you can support the podcast on Patreon by going to http://patreon.com/experimentalbrewing
This episode can be downloaded directly at http://www.podtrac.com/pts/redirect.mp3/www.experimentalbrew.com/sites/d...
Podcast RSS Url: http://www.experimentalbrew.com/podcast.rss