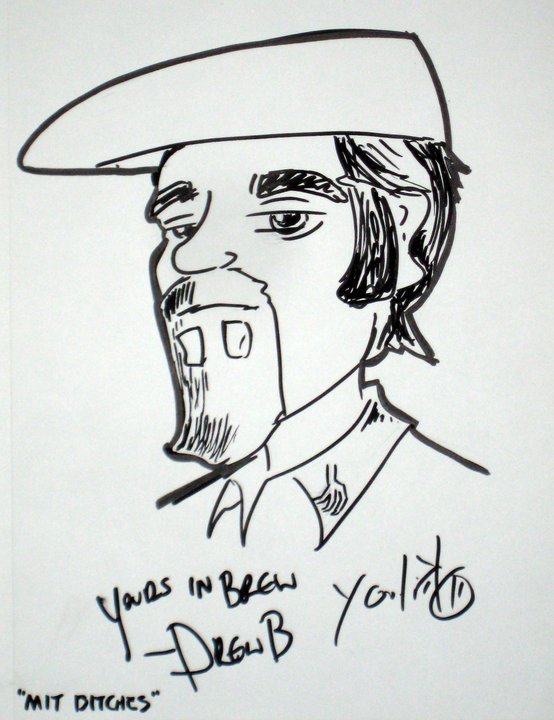 These questions and answers come from our very first Q&A episode in Episode 10! Thanks to Richard Westmoreland for listening through the episode and giving us these answers for you!
Table of Contents
Denny
The first question comes from Lynn Noella, who asks the perennial question,
"What are your favorite hop combinations? What's the best way to understand and design great hop combinations for a pale ale or IPA?"
You first buddy.
Drew
My general approach with hoppy beers these days is to keep it simple. Uh, I know this is kinda funny coming from me again. We always talk about this. I come up with goofy ideas, but in order to make the goofy ideas work I keep a lot of elements in my beers fairly plain and fairly utilitarian and approachable. So, I almost always will bitter with either Warrior or Magnum. If I'm doing something like a pale ale or an IPA, I will almost always use Warrior.
And if I am doing an IPA that I want to have a little bit of hop punch to; little bit of that bite, I'll also add a small dose of chinook. And it just gives you that kind of kick in the teeth that you really need. And then I don't really do anything until I get to the 15-minute mark and then I'll usually add a 15-minute addition and flameout addition and make sure that those actually mirror each other. And what I mean by that is they use the exact same hop combination. So, if I have two different varieties of hops going in at 15 minutes, I'll use the exact same variety of hops in the flameout addition.
Depending upon my mood I'll dry hop usually straight in the keg and I'll just drink the thing down before the hops go kind of grassy and weird on me. In terms of selections I try and keep things sort of in the same family. So, spicy, citrusy, fruity, earthy. And I also try and keep myself to a minimum of flavor and aroma varieties in a single beer. So, I'll start with say Warrior and Chinook. And then I'll blend in a little citrus and pine with Centennial and Columbus for sort of the American classic approach.
With the sort of newer, sweeter varieties like Citra, Mosaic, Galaxy; you know all the ones that are sort of the big mango, pineapple, tropical fruity ones that I don't think Denny likes – I'll try not to load too many of those into the same beer because I kind of feel that they become a big sticky mess way too quickly. Particularly with some of the ones that are almost kind of so potently fruity that they're almost sort-of a rotten fruit thing. Particularly I think of Galaxy that way. So, there's my answer. A couple of clean additions. Almost always a very neutral bittering addition. Keep things sort of in a family combination and mirror my additions.
Denny
Wow! You know, I know it's gonna be a real shock to everybody but my philosophy is pretty much the opposite (laughs). First let's just start by saying I like the classic combos a whole lot. In a IPA, it is hard to beat a Chinook, Centennial, Cascade combo of hops. Amarillo and Simcoe together are another really classic ones.
Like you said, I do like the citrusy hops more than some of the newer tropical fruity ones. I find that those can make a beer too sweet for my tastes. Unlike you, where you try and stay in the same family, say like with your 15 minute and flameout additions, I kind of try to give it a bit more breadth. I don't want to go too crazy and muddle what I'm getting out of my hops, but I also find that I prefer more of a spectrum I guess of hop character. As opposed to just reinforcing one thing.
Another thing that I've run across that I really like, that I kind of stumbled onto with my IPA; my rye IPA, is combining American and German varieties or German-based varieties. For instance, in the rye IPA it's a combination of Columbus and Mt. Hood. I make a porter that I really like that is done with Cascade and Tettenang hops, which turn out to be a really, really nice combination.
Something else that I'm gonna be starting to experiment with pretty soon is a theory that I heard Stan Hieronymus talk about at Hop and Brew School last fall. Stan talked about how adding just a little bit of Bravo, maybe 5-10% of your total hop charge, can kind of bump up and meld the other hop flavors, aromas, whatever together. I haven't really tried that yet, but I do have a pound of bravo in the freezer, so it's something I'm going to be starting to experiment with.
Anything else to say about hop combos there Drew?
Drew
No, but I mean I 'll go ahead and I'll just put it out there. I'm right. You're wrong (chuckles)
Denny
Well, yeah. What's wrong about that?
Drew
No, no, no. No, here's what I'll say is that obviously, it's going be a thing that comes down to personal taste. There are some people out there who like the sort of icky, sticky, messy sort of IPAs with a jumble of flavors. That's not my bag, so that's why I keep the family mirroring going on. Denny is kind of an old-school guy which is why he likes his classic combinations. But so yeah, really take our advice. Give each of our approaches a shot and if it turns out they don't work for you – guess what – you have a different take. So, come up with your own and tell us what you did, Lynn.
Denny
So really Lynn, it doesn't really give you an answer but it gives you some info to try to experiment on your own. I hope you can take something from it. So, just remember if you're taking my approach, blend hops together that are complimentary but don't feel like you need to use 19 different varieties. Maybe 17 will be fine.
Denny
Our next question comes from Mr. Cullen Davis, who by the way designed our Dr. IGORSTEIN logo. Cullen wants to know,
"If you dry hopped a brew, you might end up with a nicely aromatic beer in a mesh bag full of soggy hops. Is there any reason you shouldn't throw those hops in a pot of water and boil them for an hour to make a kind of bitter-hop extract that you can use to bitter other beer? Have you done this?"
Drew
I haven't done this in the way that he's talking about, but I have done something similar. Back in the initial hop crisis do you remember when everybody was freaking out and, "oh god we don't have enough hops!"
Denny
When hops went up to $30 a pound or more?
Drew
Yeah exactly and you know, finally hop farmers could afford to make a living. (Laughs)
Denny
Yeah
Drew
So back then, some people ran to varieties like Argentinian Cascades only to discover that the Argentinian Cascades didn't taste like Cascades. But what some people did do was start trying to reuse dry hops. And this was actually being done at some professional breweries where they would take the dry hop addition out of a tank after it was being done and throw it into the boil kettle of a beer that was currently being brewed. If I remember correctly, the measured IBU calculations that happened out of that were basically – when they were doing the bittering I think - they were getting about 80% of the normal bittering charge. So, something like a 20% reduction. So….
Denny
Yeah that's what I remember.
Drew
Yeah, if you are feeling rather pecunious, then I would suggest that you could try this. Just make sure you're pulling the dry hops on the same day that you're brewing because wet hops go bad quickly. And toss them in your boil kettle and calculate them as if they are 20% weaker than they actually are.
Denny
I don't really have a lot other than that to say. I have heard about people doing that. I haven't done it myself. I would be a little bit concerned about the condition of the hops, but if they're for bittering it should be ok. So, give it a try. What the heck. See what happens
Drew
Hey, it's recycling!
Denny
Yeah, right.
Denny
OKAY, next question comes from Igor, Bob Givens. That means he is an IGOR. That's not his first name. His question is,
"On the best practices to extract flavor and aroma from peppers like serrano, habanero and jalapeno. Without pulling too much of the heat. Alcohol will disperse capsaicin and therefor the heat. How can I make a tincture that pulls as much aromas and flavor without all the heat?"
Well since this concerns weird ingredients and tinctures, this is a Drew question.
Drew
Alright 1; peppers are not weird ingredients. Peppers are something that are every day. Now you may not agree that they're a normal beer ingredient, which is fine. But yeah. So, this is where I think chemistry comes in handy. Bob already alluded to some of the knowing about alcohol dispersing cap, because capsaicin is both fat and alcohol soluble. But it is very, very lousy in terms of water solubility. Now, this is the reason why that when people are talking about if you don't want to deal with the heat of eating a chili pepper, the most effective thing out there is a milkshake or a creamsicle. Because the dairy fat will actually pull the heat off of your tongue. I wouldn't recommend beer because beer is mostly water and a shot of vodka may actually hurt going down if you did that.
Since it's fat and alcohol soluble but lousy in terms of water solubility – a thought I had once I read Bob's question, and I will put this out here: I have never done this. But there may be some value to doing some straight-up tea-making with the peppers, or dong kind of a soak with water that has been treated with a kind of a sulfite and sorbate. The sulfite and sorbate would prevent anything from rising up to do fermentation. Remember, that say, Tabasco is produced by taking chili peppers, grinding them up, and mixing them with salt and vinegar and allowing them to ferment. So, chili peppers will ferment and if you want to prevent the fermentation then sulfite and sorbate will help with that. So, make that tea, make that soak. Toss them into the boil kettle. Now here's my problem with it, is that I think or what I suspect is it's going to extract all of the sort of green vegetal flavors.
Denny
Yeah, I would think so.
Drew
Those are the things, like the pyrazines, methoxypyrazines. Which I talked about in our coffee and jalapenos article on the website. And methoxypyrazine is the thing that tastes very much like green pepper. I suspect that even doing a water soak is going to pull those flavors. Those flavors may be what you want, and if that's the case; march forth and give it a shot. They may not be what you want, in which case; well, then that technique's no good for you.
My other thought…this is where I think dry peppers are actually really awesome. I do a lot of dry pepper soaks when I go and make things like chili. And I really, really, really love those flavors. I find them to be remarkably pleasant and sort of different and interesting fruity, leathery. Sometimes they come off with aromas very similar to coffee because sometimes you'll hear people talk about coffee beans having those leathery, fruity aromas…some chili pepper aroma. So, I actually really like dried peppers for this sort of thing. Because I think it also kills most of the vegetal character.
Denny
That's a really good idea
Drew
But remember, it's going to be a different flavor than the fresh pepper. Alright? So, again it all comes down to what it is that you want.
Denny
And let me just day for the record. I am not anti-pepper. I had a very bad experience with a Cave Creek chili beer many years ago. And I became anti pepper in beer after that
Drew
I think everybody has that experience (laughing)
Denny
I can tell by the laugh that you've had a Cave Creek chili beer.
Drew
Yes, I have. I'll tell you about my favorite in a moment. Because I have one other really goofy idea. And this one I really have not played around with, and this is really totally a thought experiment. But Bob, I would love it if you went and did this and report back to me and tell me if it worked.
So, we know that capsaicin is alcohol soluble. It's also fat soluble. So, there's a slim possibility that what you could do is make an alcohol tincture with the fresh peppers. Let that sit and soak for 5 to 7 days. Pull everything out of those peppers, alright? Leech them dry. Once you're done with the soak, pull the pepper mass out and blend in a small portion of casein powder. Casein is a milk protein you find a lot in cheese, but also, it's usually sold separately as a weight-building supplement. So, if you blend in a small portion of that, and then let that sit and then carefully strain it out. I'm curious as to whether or not the casein will pull the heat out…maybe…because….
Denny
Maybe. I mean hopefully your beer won't go rancid.
Drew
I mean, because well exactly that's why you have to strain very carefully and I would recommend doing like, toss the tincture into a freezer. Really force the settling. Because it turns out capsaicin has a real strong affinity for casein. Which is the reason again why milk works so well. It's not just the fat. So, maybe that will pull down the heat in the tincture and that will actually make a very flavorful, fresh chili tincture without a lot of the heat. It's a complete thought experiment. I haven't done it. But it's something, reading though the chemistry, it made me think about it and it's a possible work-around
Denny
Interesting concept and Bob - you're the Guinea pig! Let us know how it goes.
Drew tells his Chili beer story

Denny
So, we're on to the process questions now. Do you want to read the first one?
Drew
Sure! So, just really quick. When we say process; what we're talking about here…these are the questions that are dealing with mashing, and fermentation controls and all the processes type things. This is really Denny's section, because I'm not the process guy. So…alright, our first question comes from Nicki Forster, who is also an IGOR. And you may remember was the one who prompted such an interesting discussion in our whirlpool experiment.
Denny
That's right. We refer to her as Nicki the outlier.
Drew
Yep. So, Nicki's question is,
"This is a continuing debate between me and my three brew besties. But I'm wondering if you can give us your impressions on the pros and cons of secondary transfer. And when it's suggested or necessary. It's my understanding that there is no need to transfer from primary to secondary for most styles if you don't plan to add any extras to the secondary. This allows the yeast to do its job most completely; decreasing the chance for off flavors and sanitation issues with the transfer. My fellow lady-brewers are big into transferring into secondary regardless of the beer. Positing that it's necessary to promote clarity and get the beer off the yeast. We also aren't on the same page when it comes to the length of time for primary and secondary fermentations. Could you please help? There may or may not be a wager on the line."
I don't know, but you notice that Nicki very carefully did not say which side of the wager she's on
Denny
Ooooo do we get a cut?
Drew
So, we're answering this blind. So, Nicki, that's a cruel thing because we may or may not be supporting you. At least in the bet. Here's my take on it and I'll let Denny go on with his long answer, I'm sure.
The only times I transfer to secondary these days is when I'm really super stressed out about the clarity and want to rack just to pull away from whatever's settled out. Or I need the fermenter space. Or I want to add a flavor that needs time and not a tincture. So that's things like nibs, nuts, hops…mushrooms. Literally that's the only time I go to secondary anymore. Not because I'm worried about infection risk, or anything else. But more just the fact that I'm incredibly lazy and prefer to get the beer straight into the keg as fast as possible so I can start drinking it.
Yeah, and for timing-wise she asked about length of time for primary and secondary. I will leave beers in the primary fermenter for up to a month. After that I think you start to pull some funky flavors. Secondary; basically, until I either get around to it, or [until] the beer is clear. And that's it. A lot of times it's either a month in primary. Usually I try and do only two weeks. Sometimes the world gets away from me. And in secondary I've gone for as long as two years.
Denny
(laughing) Yeah, I can imagine man. That means you may be lazier than I am! We may have an answer to the question finally. Ok so, first of all let's get this "beer off the yeast thing" out of the way. I gotta say…why? What's the issue here? If they're worried about autolysis, they need to realize that is pretty much a non-issue at the homebrew level. A little empirical anecdote of mine; a friend once made a mild, left it in the primary for five months and the beer was no worse than if he hadn't done that. So, you know….
Drew
Well was the beer any better for having done that, or was the beer going to be lousy to begin with?
Denny
Uh, you know I don't want to offend my friend but he isn't listening so I'll just say that the beer turned out exactly the same after five months in the primary as it would've if he had gotten it out in two weeks. A lot of the fear that homebrewers have of autolysis comes from old literature that's based in the commercial world.
Now, think of a commercial cylindro-conical fermenter. It's tall, it's narrow. There is a huge column of liquid sitting on top of the yeast putting a lot of pressure on it. That can lead to autolysis if it's left in there for too long and too much of that pressure bursts the yeast cells. Now, think about your homebrew fermenter. There ain't that much there, right? It's small, it's wider, there's just not the pressure on the yeast. And very simply, the only thing you need to do is taste the beer that you've left in there for a while and you can tell that there's no problem. That just really is not an issue. You don't have to really worry about autolysis. Maybe if you're going to leave the beer in the primary for two years, yeah. Anything in a normal way you'll be fine.
Okay. So, now, when do I use a secondary? Well, not very darn often. Number 1; I haven't found racking beer to a secondary promotes clearing. I've found that if you leave the beer in the primary for what would be the combined length of time between a primary and secondary, the beer will be equally clear. The very few times that I do use a secondary kind of mirror Drew's. Say, if I'm going to add fruit, or sugars, or other fermentables I'll rack to a secondary first. If I'm going to add something like nibs, nuts, hops, or mushrooms…especially mushrooms…I'll rack to a secondary first.
The other time I do it is when I'm dry hopping. I know there are people who like to dry hop in primary. And the theory is with fermentation still going on, it blows out any oxygen that hops might have entrenched in them that could get in and oxidize your beer. Number 1; I've never found that to be an issue and number 2; what I have found to be an issue is that it appears that some varieties of yeast and some varieties of hops can interact and really give you increased levels of gerianol, and a couple other things that I really find undesirable in my beer.
I had read about this…Stan Hieronymus had talked about it in an article in Zymurgy and I actually have experienced that in my beers. After reading his article I understood what was going on. So, I brewed another batch, which was my rye IPA, which I know pretty well. And made sure that I transferred it to secondary before dry hopping. And sure enough, I didn't get these undesirable characters in it so, that's pretty much my theory now. I'm going to secondary before I dry hop.
Okay...
Drew
Denny. Wait. Before we move on. You dropped in one chemical name in there that I don't think some listeners will know.
Denny
Gerianol. It's like a rose-quality or a geranium-quality of aroma mainly that it gives to your beer. And when I'm drinking a rye IPA I don't really expect it or want it to smell like roses and geraniums
Drew
The name literally comes from the flower, geranium. And you also get it as an interaction between lactic acid and potassium sorbate, FYI. If you ever do that with your meads and your ciders. It happens over time
Denny
I didn't know that. But I don't make much mead, so.
Back to the length of time. Nicki asked, "how long a primary, and/or secondary do you use?" My answer is pretty straightforward…until it's done (laughs).
I'm sorry, but that's kind of the way it is. I use my hydrometer to tell me when my fermentation is finished. I use my taste buds to tell me when the yeast has finished all its auxiliary duties, you know? The mystical cleaning up of the beer and all that kind of stuff. That's really all there is to it.
Now I can tell you that in my case, with my temperature control, most of my ales are done fermenting in 4 to 7 days. At that point, when I see no visible signs of fermentation I take a gravity reading; I taste the beer from my gravity sample and I decide what is time to do next. It may be time to just leave it sitting there a while. It may be time to raise the temperature a bit. Or the beer could just be absolutely delicious and ready to finish out, and I crash it down to 33 for a few days before I keg it and start drinking it.
So, really there is no good answer, I always say the beer makes the schedule and calendar doesn't So, pay attention to your beer, take gravity readings when you think it's about done, and let your taste buds and your hydrometer tell you how long I long enough
Drew
There you go. Or just do what I do and wait. I do wonder…we talked a little bit about some of the yeast hysteria-type things. I wonder just how much of the lore that we've been given as homebrewers about yeast and fermentation and period and all this is really base off of the bad old days when people didn't understand yeast health?
Denny
Yeah, I think that is, you know, has a lot to do with it. And again, I think that a lot of our current literature, or maybe not current literature, but the literature that the people have used in the past is based on commercial brewing practices. And for something like yeast, I think that there could be vast differences in the way that that is handled.
Drew
Sounds like time for more experiments. Let's see if we can get to the bottom of it.
Drew
Our next question comes in from Andrew Kodus. Sent in via email. He says,
"I am interested in using 5-gallon corny kegs as primary or secondary fermenters. Can you give me more details on how to do this? Do I need to cut the dip tube? And how do I blow off CO2?"
My real quick take on it as a guy who uses corny kegs for fermentation. I use 10 gallon kegs for fermentation because 5 gallons are lousy primaries. I'm just going to say it…they're lousy primaries because I've never produced beer that is up to my standards in using a 5-gallon corny keg. Now of course this is when we're going to get a whole flood of comments – "Well I have and…"
Denny
Well, you've got super low standards, too
Drew
Yeah, I know. I mean if you're me and you've got my mug…you need to have low standards. But I think 5-gallon corny kegs are terrible primaries for 5-gallon bathes. Head space and geometry and all that sort of fun stuff that been talked ad-nauseam on the interwebs. However, for secondary...
Denny
Or for lagering. They're great for lagering.
Drew
….yeah and for lagering. I don't put my beer…once my beer is out of the primary it pretty much is only ever in a barrel or a keg. So, it's totally awesome for that.
In terms of doing blow off; some people will pull the pressure relief valve completely out of the lid and put a small stopper in its place to put an airlock on there. Or put a blow off tube. Others will actually remove the gas post and jam a tube over the remaining post that's there. Or use a quick disconnect and put it onto the gas port and use that as a blow off tube. I again, going back to the lazy part of the world….I just simply crack open the pressure relief valve on top. Just like I'm trying to vent the keg and cover it with a piece of sanitized foil…TAH DAH!
Denny
Yeah. That's pretty much all it really takes man. Just keep stuff from falling into it. Because it's not going to crawl up and under. I'm pretty much on the same page as Drew.
If you are dead set on using a 5-gallon corny, I would recommend making only a 3 – 3 ½ gallon batch to put in it. Keep your eyes out for a 10-gallon corny. I've got a couple that I ferment in sometimes and I think that they're wonderful. In terms of cutting the dip tube….I find that a lot of times it really isn't necessary, but you can certainly do that if you want to do it. Should you ever discover that you've cut too much off the dip tube or you need it full length – all you gotta do is slip a piece of tubing back over the end of your dip tube. And you're back in business! WOW! That sounded dirty, didn't it? Slip a piece of tubing over your dip tube? Whooo.
Drew
I don't wanna hear you talk anything about dip tubes, and tubing, and slipping.
Denny
Yeah, I know man, it's disgusting, isn't it?
Anyway, and like Drew mentioned. Generally, what I do for blow off if I'm fermenting in a keg is just attach a tubing to a gas quick disconnect and put that into a jar of water, and use that for my blow off
Drew
And in terms of cutting the dip tube for my 10 gallons…I do actually cut off the tubes. I think I've cut off somewhere between a half inch and an inch just using a plain old tubing cutter. I will recommend something slightly different than Denny because I don't want to necessarily have a piece of tubing hanging outside my fermenter. I actually have spare dip tubes.
Denny
Oh, yeah well there's that. I was thinking more if you ever wanted to put that keg back into use as a serving keg
Drew
Yeah, then you swap out the dip tube
Denny
You can do that if you have spare dip tubed around. I don't and I haven't ever found a need to lengthen it anyways.
Denny
Our next question comes from Chris Nelson via email. Chris says,
"I was thinking of doing more five gallon batches split into one gallon fermenters for different experiments. I've done this once before. I bottled it by pouring the one gallon jugs directly into bottled by using a funnel. My bottling bucket has about a half-gallon of dead space below the spigot so that doesn't seem like a good way to go. I was wondering if there were any best practices for packaging one gallon batches that you all could share."
So, Drew got in touch with our friend Mary Izett and asked her about it because Mary brews a lot of small batches. What did she have to say?
Drew
So, Mary. We've talked about Mary before on the website but not necessarily on the podcast. She's the author of the book "Speed Brewing" which is actually from our same publisher for "Experimental Homebrewing". And she's literally the person I know who does the most small batch brewing because she lives in New York and has a New York City apartment; so not a lot of space. Her book is all about brewing small and doing a lot of interesting, playful things with things like short meads, kombuchas, kefir, etc. So, if you have any interest in doing alternative fermentations, or even just figuring out how to make a short mead, totally go look up Mary's book because it is very awesome. Also, Mary and her husband Chris have a podcast as well on the heritage radio network call "Fuhmentaboudit". So, here's what Mary had to say.
She sees three options.
"The most optimal option is a mini auto syphon for small batches or beer. The mini siphon", she says, "fits in most one gallon jugs."
She has a few vintage jugs that have too narrow of an opening but her modern jugs accommodate the mini siphon. So, mini siphon as a start. Just use that basically to transfer and rack into the bottles. Less optimal she says,
"I haven't don't this, but I guess you could adapt a one gallon lid or stopper by fitting it with a nipple or something similar and attaching tubing with a small clamp. Then you can add a spring tip bottle filler to the bottom of the tubing and fil by placing the jug on its side or having someone hold it for you."
So basically, sounds like make a lid, make some tubing and attach to that lid, and use gravity to pour out. Basically, attach a very close funnel.  And then she said,
"even less optimal - I use a funnel with tubing attached to the bottom for some of my fresh non-beer ferments. It's easy and if you're making a small batch and drinking in a timely manner is A-O-K. But really the mini siphon is the way to go, plus it's really cute."
Denny
Yeah
Drew
That's Mary's response. And Mary is definitely an expert in the small batch brewing part so totally listen to her.
Denny
Yeah, really. I mean, I've got to say that I've always been a bit baffled by the auto siphon phenomenon because I've never had any trouble siphoning. So, I guess my more pragmatic solution would be to #1; get a new bottling bucket with the spigot where it needs to be - at the very bottom. And # 2 – then just siphon from the beer into the bottling bucket, and just use the spigot to bottle from. But, you know, that's me. That's how I'd approach it
Drew
But here's the thing. I'm not a huge mini siphon fan myself. Or auto siphon fan because it's just one more thing to break. And practically, since I have CO2 and all that sort of fun stuff, I pressure-rack in very dangerous and stupid ways. So that's what I do. But I will completely admit that I feel some of Chris's pain because I would love to do more small-batch type things but I do sort of feel awkward when I'm looking at how to handle everything because all of my stuff is geared up for larger batch operations. So, Yeah, I totally get it Chris. But trust me. Mary knows what she's talking about, so Mary's recommending the mini siphon. So, I would say give that a shot and see how it works for you
Denny
Yep. I'd start there because experience counts.
Denny
Okay, so next question Drew
Drew
Alright, so our next question. And I'm going to have to apologize in advance because more than likely I'm going to screw up your name. Because I am a dumb American with no sense of foreign pronunciation. This one comes to us from Philippe Gleenus. Who emailed us and said,
"First I wanted to say that I'm a big fan of what you're doing. I listened to your podcast with Brad."
Brad Smith of BeerSmith when I did a podcast last year.
"And read 'Experimental Brewing' as well. About the book – I have a quick question about batch sparging. In the book, you said we should batch sparge at 180 F. I am wondering what's the temp goal in the mash tun? I did the batch sparge at 180 and when I mixed the hot water with the grain, the temperature dropped to about 156. I'm wondering what's the ideal temperature? if I had more grain should I sparge with a higher temperature water?"
This is a batch sparging question, so that's you, Denny.
Denny
(Laughs) Ok. Well, first of all my goal is a grain bed temperature of 168 to 170 degrees. Optimally. To get that, my sparge water usually runs bout 185 to 190 degrees F. But truthfully, the grain bed temp and water temperature don't make a whole lot of difference.
If you use hotter water, you can make sure that you get the grain bed temperature up to get the last little bit of conversion out of your grain. And that might boost your efficiency a tiny bit. On the other hand, I've experimented with sparging with 60-degree F water and didn't really find much of a decrease in efficiency at all.
So, in truth, it doesn't matter a whole lot. Set yourself a goal of 168 to 170 and if you're a little bit below or above it then it's not really a big deal.
Now, let's look at another myth here that's been around forever. And that is that you need to keep your sparge water under 168 degrees or you'll extract tannins from your grain. #1, as we've discussed a minute ago – the issue is your grain bed temperature. Not your water temperature. And #2; have you ever heard of a decoction mash? You boil the grain! And that gets a lot hotter than 168.
So, the key is keeping your pH in line. Keeping your pH low enough is the key to not extracting tannin. And if your pH is correct, under 6 for sure, then you really don't have to worry too much about the water temperature. Just like you can boil grain in a decoction and not have to sorry about tannin extraction
Drew
And so, to add onto what Denny's talking about. I've seen experiments out there with people, and maybe we should do this at some point. Where people have sparged cold, and seen a minor drop in efficiency, but nothing major. So, I think in terms of your overall temperatures – stay somewhere in the ballpark, but I wouldn't fret it too much. A lot of people are all like, "oh well what about mash-out and going up high so you can fix your sugar ratio?" Well, that's the other thing. People have to remember that you have to be up at mash out temperatures for quite a while in order to get enough of a kill on your enzymes to really fix your sugar ratio
Denny
Yeah, that's something that people overlook a lot. You can't just raise the temperature to 170 and say you've denatured the enzymes. It takes 20 minutes or so to do that. If you're batch sparging there's really nothing to gain from a mash out because you get to a boil so quickly. And let me tell you…nothing denatures the enzymes like boiling 'em.
Drew
There you go. So yeah. It's not an instant kill switch but I would say don't worry about it. You're fiiiiiiiine. As long as you're getting beer out the other side and you're getting appropriate extract…everything else is sort of water under the bridge
Denny
And remember I'm going to say it once again. Correct pH is the key to not extracting tannins. Not temperature.
Drew
Well, and that leads us into our next question.
Drew
From Blair Street, who says via email,
"I've seen this one battered around a lot in forum discussion. Some including Denny. But I've never found one with a satisfactory answer. If the ideal mash pH for a specific style is 5.3, are we talking about a sample measured around 150 – the mash temperature? Or around 68 degrees – hydrometer sample temperature? It seems that there's about a 0.2 pH differential between the same sample at mash and hydrometer temps. So, if I was aiming for a 5.4 at mash temp, that same sample would be 5.2 when cooled to 68 degrees Fahrenheit. Since pH is a logarithmic scale that's big damned difference. And I've experienced significant different in final beer flavor and final beer pH based on these variations as well. I'd love to hear your thoughts on what we should be targeting. As well as any guidance on techniques used to measure. Or styles where you actually manipulate the mash pH for a specific recipe in your own brewing."
And since again, this is pH – ey type stuff and it's process….Denny!
Denny
OK! Well, for information on pH I went to my personal pH god, Martin Brungard and pulled some info that he had posted on the AHA discussion forum. This is what Martin says,
"pH should be referenced only to room temperature. Don't worry if the pH temperature adjustment factor is .2 to .35. It just doesn't matter if you just measure your pH at room temp and adjust your mash according to that measurement. Measuring the mash pH at the mash temperature is really hard in the pH probe, and trying to ascertain the true mash pH is not a good idea. The biggest reason to standardize on using a room temperature pH measurement – always measure for a room temperature pH as your standard. All the recommendations for pH rang in Bru'nwater are based on room temperature measurements"
Personally, in terms of pH range, I go for a lower pH. Like in the 5.2 to 5.3 range for a crisper range and a higher pH; maybe in the 5.4 to 5.6 range for a more mellow, malty beer. The key to remember is that any time you see a pH measurement suggested – that should be based on a room temperature measurement. If it's not, the person who's giving you that pH measurement better specify that it's not. But in general, all pH measurements should be referenced to room temperature.
Drew
And particularly if you look at some way of measuring. Because we didn't get a means of measuring or how he's doing the measurement. Particularly for some things, like papers, are temperature dependent and really only read at those room temperature levels.
Denny
Even with a pH meter, which you can stick into the mash, that's not recommended because you'll be reducing the life of the probe and that costs you money. And again – any measurement you read should correctly be referenced to room temperature. So, if you're measuring the pH directly in the mash – of course you're going to be off because that's not the way that the pH you were given was measured.
Drew
And I'll throw in one final piece of my feedback, which is based on the "flavor" aspect of the whole question. I usually can't be bothered with pH. Because for most of the stuff I'm brewing it's not going to matter.
Denny
Because it has no flavor anyway?
Drew
Exactly. No, I mean I know a lot of people care about pH manipulation and tracking. Depending upon things like sours, or tracking mash efficiency. Usually I'm going to say if you're worrying about your mash pH because you're worried about how efficient you're being….you're in a different level of worrying about your efficiency than I think most homebrewers could ever get to.
On things for sours and what not; I need to finish doing these experiments, because one thing I don't like is people using pH for determination about beer sourness and beer flavor. And the reason why I say this is because you see all these people out there and they go measure and go, "Oh look, my Berliner Weisse wort is in the kettle and it's at 3.4 ph." pH is not a good scale for organoleptic sensation. It's good for measuring the amount of the hydrogen ions the wort, but it's lousy for telling you exactly how acidic-tasting your wort is.
So, what I would really love to get people to start using and what I'm going to start writing up is a technique from the wine world. Which is TA – total acidity or titratable acidity. Because that's what wine makers and cider makers and mead makers are using to actually determine how acidic their beverages are. And by how acidic, I mean how acidic-flavored they are.
So, if you ever hear wine makers talk about a wine that's really "tight" or really "bright"; they're talking about a wine that has a large amount of acid to it. And they measure that via TA. To measure you TA actually involves doing titration for the most part. Which is not as simple as a pH probe or a pH paper. But it is, in terms of what we actually, really care about – in terms of the flavor – a far more accurate measurement. Expect to see that sometime later this year. We're actually going to talk about TA because, dammit, brewers need to learn that lesson.
Denny
Yeah and I think that's really good for some things. Obviously for other things pH is going to be more important to know. But it's a good thing to have a handle on both.
Drew
pH is king when it's mash chemistry. Absolutely. But when it comes to acidic-flavors for things like sour beers, it should be TA. People need to start using it.
Denny
Totally agree. And while we're talking about pH, let me just throw in one other interesting little tidbit here that's been a topic of discussion on the AHA forum recently. And that is the observation that pH kind of naturally tends to settle into the correct range. Which is really a bizarre concept for me. But a number of people have noted and Martin has confirmed that generally, if you look at your pH early in the mash it might be a little low. It might be a little high. But by the end of the mash, a lot of the time that pH is going to settle right around the 5.4 area.
So, don't freak out at the beginning of the mash if your pH is way off. Wait until the end and see what happens. There's a good chance that it will end up in the right range and if it doesn't – at least you know what's happening and you can correct it for the next time.
Drew
I think this falls right into line with your philosophy of….
Denny
Malted barley wants to become beer and give it time to do that. And pay attention and take notes. Remember, it's only beer. If you screw it up you can fix it the next time around.
So that's our process segment and we're onto style!
Denny
Speaking of style…I guess that's Drew's area because he's such a stylish guy. We got an email from Justin McCloud who says,
"Drew, I know you love some milds. Where do you normally carbonate them at? I wanted to go little higher than what the styles calls for as I don't want to change my kegging setup."
Drew
Alright, well Justin. First thing. I normally carbonate my beers at the brewery. So that's where we're going to start. Sometimes emails are emails. I usually keg my milds somewhere around the 1.5 to 2.0 volumes of CO2. Some people would argue that's high for the style. That's why I tend to stay down around 1.5. Which is more in the traditional ballpark of what people would expect if you had this on cask.
I will sometimes keg condition these. Although not very often because usually I will have to transport them for festival. And if I have to transport them for festival, I don't have enough stillage time in order to get them to settle back out. So, I usually force carbonate to 1.5 to 2.0.
Now, if you're worried about "I have a beer at 1.5. I have all the other beers at 2.5 – 3.0 and my kegging setup is all dialed in for those beers at 2.5 to 3.0" – the easiest, dumbest trick that doesn't involve going out and getting an adjustable secondary regulator would be to just do what we would do in college when we had a party. And we didn't have enough CO2 to correctly distribute out to everything. Which is basically pour beer and hit with gas periodically. And then at the end of the hitting it with the proper amount of gas, get the pressure back up to the level you want it at and just remove the line from the keg.
Literally that's all I do with some of these things. I've done that with my milds and I've left them in pretty good nick for a month or two before the beers start to go south as a 2.5 - 3.2 beer will do. So, that's my suggestion. 1.5 is optimal. 2.0 is probably easier. Don't sweat about keeping the CO2 on the line the entire time.
Denny
Cool. Good advice. Good Advice. If I made more milds and kegged them I would probably follow it. But I don't, so I'll wait until I do and then give it a try
Drew
There you go.
Drew
Alright, so our next question comes from Paul Nicodem, who is down in Australia and was actually just working at LAX around the corner from my office a few weeks back. And he says here,
"Out of all the styles you've been brewing, and the many variations -  over the many years of homebrewing you two have – is there any style of beer you just don't like, or don't want to go back to? I myself am bored stiff by lagers. No matters who's brewing them. The Belgians, the Germans, the English, or us Aussies. Lager just bores me to tears."
So, I'm going to assume that when Paul says, "Lager" he means pale Lager. As the generic….
Denny
Yeah, I'm going to address that too.
Drew
But, my immediate knee-jerk reaction when I saw this email from Paul was…steam beer. California Common. I've made a few of them and they're alright. They're not anything I particularly want to go back to. Particularly the ones that are done in the traditional Anchor profile with that minty-hop character that they all have. So, I don't know for some reason the style just never sits well with me, and I'm saying that as a guy…I'm not a huge pilsner person. I'm not a huge American Lager person. The new international lager and all the various styles of Czech beers don't really do much for me. I do like Helles. I do like Maibock. Of all the sorts of beers that bore the hell out of me, it would be steam beer.
And I do love a good Cream Ale. So, I'm weird
Denny
Yeah, well. I think that's well established. I'm not a huge fan of steam beers either. Although, I have to admit the last time I had an Anchor Steam someplace, my first thought was, "this is better than I remembered it. I better look into this more." For me in general it's British styles that I just cannot get into. They tend to be too earthy or fruity for my tastes, usually. Although I do really enjoy an occasional Fuller's 1845. There's something about that beer that I really like.
I would say that that's probably….British styles and things like cream ales, blonde ales. Stuff like that are the ones that I really don't care for a lot.
Drew
But Denny, let's be frank. It's probably not British styles that you hate. It's the fact that so many British beers use Fuggles.
Denny
I, too admit that's one of the things I don't like about them. And that's that earthy, woody thing I was talking about. I am a big lager fan. I have to admit. I make German pils pretty frequently. I love things like bock and doppelbock, maibock, dunkel. Man, do I love dunkel.
So, when I hear Paul say he's not a lager fan I have to wonder if he's really explored the whole world of lagers. If you're thinking of your basic American industrial lager, then I can really understand why he might not like something like that. But on the other hand, Paul – I would encourage you to get out there and explore some of the other lagers that are out there because I'll bet you're going to like some of those
Denny
Next question comes from Joey Knicks via email. Joey says,
"I was listening to your podcast where you mentioned focusing on lower calorie beers this year. This is also my focus for the year as I have a weight loss goal. Being a beer guy and dieting can be hard, but doable."
Drew will tell you all about that.
"I am reaching out for some pointers on recipes that don't compromise on flavor. Do you have any that you can share? Web search has not been overly helpful in this area. Thanks for the time and I'm really digging the podcast."
Yes, we love to hear that.
"Keep it up, and cheers."
Well, Joey, I'll tell you it is elusive and difficult for sure. I haven't really mastered it. I'm still searching for it. I can make a pretty good beer that's maybe about 5.5% or more. But under that, I'm still seeking for what the keys to flavor are and how to really make a flavorful, low alcohol beer. That's another reason I'm looking forward to seeing some of these session beer recipes coming in from everybody. Gives me some ideas for things to try.
Mr. "Skinny and Looking Good", what's your secret?
Drew
Uh….Gin!
Denny
That's always the answer, isn't it?
Drew
I mean, that is actually part of the answer, but no. In reality, here's the thing. The key is it's all about the alcohol. That's part of the reason why I've been so hyped-up to really promote the session beer project. Because alcohol is by far and away the big killer – calorie-wise, in terms of beer. No matter what anybody tell you – ethanol, ethanol, ethanol.
Having said that…if you're going to go for something that you want to have more dietetically appropriate, shall we say? Dryer is better as well. Because you're also looking at less remaining residual sugar. You're real degree of fermentation being higher is what you want to see, right? You want to see more of that sugar gone and converted into ethanol.
Now, the real trick then is, "Well hey hot-shot, great! If I get rid of all the sugar that means 1; more alcohol and 2; there's not a lot of other stuff left behind." So, this is where I really dig into the idea of using oats and other techniques to king of build other sorts of protenatious materials in the wort to actually make the wort feel "fuller". Alright? So that's the reason why you'll see a lot of my beer recipes contain things like oats and wheat and whatnot. Just to kind of give that extra thickness to the beer. To allow it to stand up.
And you'll see that in the session beer article that we're going to have published. My contribution is my pale mild, which uses malted oats. Now, having gone beyond that…you know you've got to keep it low in alcohol, or low-ER in alcohol. You want to keep it dry. So, I actually really like Belgian styles in this world. One of my favorite things to do is a good old-fashioned Saison. Everyone expects Saison to be very bone-dry. And so, therefore, you don't have to worry about…like with a British Ale or something with a lot of hops in it…keeping some sort of residual body around.
Plus, just like what I recommend to people when they're dieting….you're used to using creamy sauces or fats like butter or olive oil to really kick up your flavors. When I'm cooking for a dietary cut, I will skip over a lot of the oil, and a lot of the butter, and that sort of thing in favor of using spices, chili peppers, salsa…that sort of thing to give me more bang on the pallet. So, again. Belgians and Saisons to me really allow me to play around with additional flavors that don't add calories to the thing. So, there you go.
There's my advice. Lower alcohol, more flavor via other additions, and make them nice and dry. Now, having said all that. The other thing to do is if you're like Denny, and you like your beers to have 5.5%...well, being to learn how many of those calories you can have at your 5.5%. Enjoy the living hell out of the beers that you're having, and just make sure that they fit.
Also, keep in mind, your weight loss is not a temporary thing. It's not a sprint, here. You're not trying to lose as fast as you can go back to your old lifestyle. You are literally trying to set yourself up for success for the rest of your life. Which means that you also have to adjust to the idea that it's Ok to go out there and have a pint or a half glass of your 13.5% barrel aged Russian imperial stout…with the understanding that that just means you've got some more work to do. Or you may not be having as many calories the next day. It's all going to have to even out in the long run if you want to maintain the lower weight.
So, there you go. Dietary rant off
Denny
Good advice from a man who has lost over 100 pounds and still drinks beer. I'm totally impressed
Drew
As of two weeks ago it was 110 pounds total
Denny
Congratulations, buddy. I'm seriously impressed and I'm disgusted with myself for not being able to do it.
Denny
Our next style question comes from Tim Stoltz via Facebook. Tim want to know,
"What's a good grain bill to do a split batch with English yeast and one with Belgian yeast?"
Drew
This one's right up my alley
Denny
Go for it
Drew
Actually, I wrote a column about this last year for Beer Advocate that end up winning a national award, which was awesome. There is a very long history of cross-collaboration between the Scottish and the Belgian brewing industries. It all goes back to World War One. After the Germans and the English and everybody else had stolen every bit of metal from Belgian breweries to basically turn it into arsenals to throw at each other…. The brewing industry there in Belgium was at a loss. They were also hit with a weird from of Belgian prohibition that was in place for a long period of time. The Belgians didn't forbid alcohol, but they banned spirits.
So, the Belgian brewing industry, in a fit of wisdom, went and decided, "Hey we should make strong beer because strong beer will replace the sprits that everybody's used to drinking." The Belgians love their Dutch gin, their Genever. "So, let's make strong beer instead." And at the time they turned to the folks in Scotland because Scotland was famous for some of the strong beers they were making at the time. Like the Scottish wee heavies and whatnot. So, so much so that the fellow who founded, or who was running the Moortgat Brewery at the time – which you mostly know for making Duvel - went over to Scotland and basically learned what they were doing and took back a sample of McEwan's Ale Yeast.
So, the Duvel strain that we all know and love is actually a mutated from of a Scottish ale strain. So, that's a long way to go around saying, "What's a good grain bill to do a split batch with English yeast and Belgian yeast?" Well, I'm going to say do a big heavy strong, heavy Scottish ale. The one that I ginned up for this particular article, and I've done it a couple time. I call it "Victory Belgian Scottish Ale".
And for 5.5 gallons at 1.083 and 27 IBUs, 17 SRM, and 9% ABV you throw in 15 pounds of Belgian or Scottish pale malt. I usually use marris otter because I usually have that on hand. ½ pound of special B. 2 ounces of a carafa ii special. That's German because I like the ironic part and I don't tend to like a lot of roast. And then I also use 1 pound of brown sugar. I mash that for 60 minutes at 152. Hop it with ½ magnum pellets for 60 minutes and then pitch with your favorite strain of yeast. If you really want to be fun – do your Edinburgh strain in one and do the Duvel strain in the other one so that you can have some historical continuity. That's what I would do. Because I've done that and I enjoy it. And it makes some really good beers...
Denny
Wow. That's a really good idea. And you're right about the historical continuity part. That's kind of cool that it works out like that.
Drew
One of my favorite stories about the brewing industry is the fact that Duvel, which we all know and love as this sort-of bright, golden, strong, butt-kicker of a beer – started off as Moortgat victory ale and was actually a brown beer. And stayed brown beer, I think until the 60s. then they decided, "Maybe we should make this thing pale because of all these pilsners."
Denny
Right, right.
Denny
So, now we have 2 saison questions in a row, which means I get to sit back here and take a nap while Drew talks. First question comes from Aaron Best via email. He says,
"Hey, Drew. I enjoy your column in Beer advocate and I know you wrote an article for the Maltose Falcons on Saisons. I'm about to pull the trigger on some Yeast Bay strains. The Vermont yeast and a Saison strain. What Saison strain do you recommend for a homebrewer who ferments in a garage in the Pacific Northwest – with summer temps averaging 60 – 65 degrees?"
Drew
The first thing I recommend is, get a heater. Because…yikes! Now, you will have trouble doing just about any Saison strain down at that level. I tend to start my Saisons down at that level, which is in that article that Aaron is referring to on Maltosefalcons.com. So, I start my Saisons down around 63, but then I let them ramp up. Of course, I live in LA, where my garage during the summer gets to 110, so….I have a slightly different temperature profile than you do.
So, having said that; it depends upon what you want. My favorite of the Yeast Bay strains, of the Saisons, is the Wallonian Farmhouse. Which is also, arguably the least difficult and exciting one. But if what you want to do is really pull off something Saison-ey at your temperatures without doing some heated fermentation…then what I would recommend is look at one of the farmhouse strains that he has. I think it's the Saison blend that has Brettanomyces in it. Because that will help you out. Brett has no problems, usually, working "cool". So, there's your quick answer. Wallonian Farmhouse if you can heat it. If you can't quite heat it, then look at one of the strains with the Brett. I personally have not had any of the strains from the Yeast Bay that I thought were terrible. So, go for it.
Denny
Okay, there's Saison question number 1.
Denny
Here comes number 2. Matt Yokum says, via email,
"Thanks for the great podcast. I really enjoy it"
Yes, we love Matt!
"I am brewing a Saison in Minnesota and started it at 68 degrees F when I pitched my yeast using a combo of WLP565 and Wyeast 3724…"
Aren't those both the same thing, Drew?
Drew
They're supposed to be two different monomers (post podcast edit - meant to say isolates) of DuPont. So, WLP565 is Belgian Saison I, and Wyeast 3724 is Belgian Saison.
Denny
Ok, cool. So, Matt says,
"I'm fermenting in an open fermentation with a carboy with foil, but with a slight modification. I cut out multiple holes in a carboy cap, so I could have a stainless-steel dip tube in the middle of the beer for my thermostat probe, but still have open fermentation with foil over that.

You had recommended that after 2-3 days at your starting temperature, you like to let the yeast ramp up the temp on their own. My yeast did not seem to do that, even though it appeared as though they were actively fermenting. So, I used a heat wrap to slowly increase to 75 and then 80 degrees over the course of 5-10 days. I'm not sure if this is due to the difference in ambient temps here (65 degrees F inside / freezing outside) versus California.

But I was wondering if I should have been more patent or if ramping up the temp was the right thing to do. I was hoping they'd get to the 75 -80 degree range to give the supposedly good flavors. Also, just because that isn't enough…so do you have thoughts on whether bottling Saisons and Belgians for fermentation is worth it. Versus force carbonating in a keg? If you recommend bottling, can you use the plastic swing tops so you don't need to cork them?"
Go for it, man! And I'll toss in my thoughts on the bottling at the end
Drew
So, the problem that you experienced is exactly what you think. The laws of thermodynamics in Minnesota are different from the laws of thermodynamics in California. And by that, I mean, yeah, the freezing temperatures outside are really going to put a damper….your yeast are only going to be producing so much heat. So, yeah, they're going to have a hard time getting over those freezing temperature versus, again, my garage at 110. It's always fun to realize that people have differing challenges.
In terms of what you did, you know, letting it go for 2-3 days naturally and then adding heat to it. I think that's absolutely fine. As long as you're doing a slow ramp, think you're coming close enough to the idea of what the yeast are going to be doing to help them out. And get into those flavor that you wanted. The one thing I will caution people about and I've seen people do this….the reason I talk about pitching cool in that 63-65 range early and then letting it ramp after a couple of days….is I want to control the ester and phenol generation. And also, the fusel alcohols that get generated.
And, by the way, if you want to read more about this we have a brand-new blog on our website from Saccharomyces that talks about what exactly esters and phenols are. So, totally go read that. But, I like to control those and I like to suppress them down. Because what I've found in the past…I know a lot of people love to have the advice out there, "Oh Saisons love heat. Don't worry about your cooling temperature. Chill it down to 75-80 degrees, pitch your yeast and let it go…they'll be happy!" I've done that! I hate the beers those produce. Almost always they have a fusel alcohol character that I do not like.
Denny
I would say that that's true for any beers, but especially Belgian styles. Somehow, they got the wrap that "if it's 90 degrees outside them brew a Belgian beer because they like the heat."
Drew
In truth, they do, but…
Denny
Only at the end of fermentation though…
Drew
Yeah, you've still got to start off properly. Because one experiment I did years ago…I did a big split batch of Saison wort. That's actually the thing that's the foundation of the Saison article he's talking about on maltosefalcons.com. And One of the batches I did with WLP565. And I did it in two variations. I did it cool temp…allow to naturally ramp. And I did the other one where straight out of the boil kettle, we chilled it down and immediately hit it with a brew belt. And ran the brew belt right up to 85 degrees, and pitched the yeast into that, and let it just go with the hammer down.
And easily, by far and away…the worst of those beers was the one we did with the heat wrap on it. Because it was just terrible. So, again. Matt – what you did to slowly ramp up your temperature to allow them to get some more heat….perfectly fine. And absolutely the sort of thing I would expect you would have to do in a place like Minnesota, where you have actual cold weather.
Denny
Seasons and stuff like that.
What about the bottling vs kegging and force-carbing issue?
Drew
Alright, so, two thoughts on that. I keg almost everything because I always tell people if I hadn't started kegging around batch 6 I probably would have stopped brewing beer around batch 7. So, I keg almost everything and force carbonate it.
However, I do have a lot of experience, obviously if you've read the champagne beer articles with dong champagne style beers. They work perfectly fine. I don't ever re-pitch yeast when I do it because I pitch a ton of healthy yeast when I do the fermentation. And I don't think there's anything magical about corks. I think your swing-tops are going to be absolutely fine. When I do the Belgian style champagne beers; I do those with the plastic champagne corks that you hammer into the top and then put a cage around. I do all that by hand. Those work fine, too.
Actually, sometimes those have issues. Where they leak a little. But in terms of added expense and added time, and added labor, blah, blah, blah. I've got enough things going on in my life that I don't need to spend it bottling with special corks
Denny
And I pretty much feel the same way. I keg probably 99 percent of my beer. I bottled my 400th batch about 5 years because it was a Belgian quad, and I wanted to keep some around for 5-6 years and see how it aged. I'm happy to say that after 5 years I still have three bottles left. I just recently bottled a batch of beer that I had made. A golden strong with Matsutake mushrooms. But I did that because it was such an unusual beer; I wanted to be able to share it with people and give it away. I don't bottle beer because I feel like there's any advantage – flavor wise or anything else to bottling it. My taste buds have told me that over and over again. So, being as lazy as I am, I'm not going to do all that extra work if I don't have to
Drew
Yayyyyy laziness!
Denny
Yeah, right, exactly.
And yes, swing tops are absolutely fine. They're just bottles. There's nothing magical bout caps, or corks, or anything else. So, if you've got them just make sure that the rubber seals on them are good and use them.

Denny
Now we have the yeast questions. The first one comes from "ImNoExpertOnHomebrewTalk", and is echoed by Zachary Keen via email.
"I'm no expert", he says. "Can I add champagne yeast to a high gravity beer to drive the final gravity down, or will champagne yeast ferment the more complex sugars that most brewers' yeast can't? Some say that champagne yeast can only ferment more simple sugars. Others say it's worked for them. I've tried it and didn't notice any change but it did work well at bottling time for conditioning."
Zachary says,
"All my internet research reveal matter-of-factly stating 'no'. Champagne yeast only eats simple sugars. They're not capable of digesting maltose. But champagne yeast and ale yeast are the same species, right? So, theoretically they should have the same digestive pathways. I mean, I have a cocker spaniel at home but he'll eat the same thing as a wolf given half the chance."

Maybe if you mash at 147 and produce a highly fermentable wort and use a lager-pitching rate it'll work just fine?
Drew, what's your take on the whole thing?
Drew
Well I've done the champagne yeast thing a few times in the past. But it's always been a hail Mary desperation "please, please, please, sweet baby Gambrinus, WORK!" kind of maneuver. I've never had any luck with it really doing anything except for making my beer taste yeasty and bready.
And the problem is truthfully, wine yeast, saccharomyces bayanus; which is a slightly different species that saccharomyces cerevisiae. They aren't particularly good at handling higher sugars. So, things like maltose and particularly maltotriose. And it makes sense, right? They've been selected over a period of time of working in simple sugar worts. Grapes do not make higher sugars. Neither do apples. At least not in a justifiably high quantity that the yeast in question would have to use those metabolic pathways. So, they're not good at handling higher sugars.
I would hope that the primary strain that you're using in terms of your beer is going to be capable of handling the simpler glucose, sucrose, fructose, etc. Just like the wine yeast would be able to. I think really it comes down to adequate yeast health and adequate yeast populations for when you're doing any sort of fermentations where suddenly champagne yeast may be a concern. Sometimes it may be a matter…you've done something to mess up the sugar ratios. Like, for instance, one time I had a beer where I did a 19-hour boil. That beer took forever to ferment out because a good portion of the sugar had been converted into caramels and longer chain sugars that the yeast couldn't attack.
So. I think one of the better sources; talking about the behavior of wine yeast is from somebody who know wayyyy more about the subject than I do. And that is actually Shae Comfort's appearance on the Brewing Network's Sunday Session program from November 23, 2008. If you go listen to that, Shae drops a ton of knowledge about wine yeast in that particular episode and it's totally worth the listen.
Denny
And I've had pretty much the same experience as you have. Number 1; I got flavors out of the champagne yeast I didn't care for. And even more important it really didn't work any better than the beer yeast that I was using. I don't know where the idea came from that if you have a stuck fermentation to use champagne yeast on it.
Basically, you just need to make sure that you pitch enough healthy yeast into your beer when You start, follow proper mash and recipe design procedures, and the beer will actually ferment out and you won't need the champagne yeast. S, I would so there's no point in it. Just forget it. Forget it. Leave it for the champagne
Drew
Absolutely. And again, it goes back to what we were just talking about before with the big Belgian saison and bottling and whatnot. I've done my champagne-style beers. Never once used champagne yeast and never once re-pitched anything. Because again, I started with a massive amount of yeast. And even in a beer that is going to somewhere between 12 and 14 percent, and it's going to have to carbonate itself up to ridiculous high levels of carbonation inside of a bottle – which is about the worst test condition you can set up for a yeast. So, there you go. Don't use the champagne yeast
Denny
Yeah, right, exactly
Denny
Our next question comes from Mike Adaire Jr. via email. He says,
"Hey, guys. You were talking on an earlier episode about getting the full potential of a yeast after it's been through a fewer more generations. I was wondering how homebrewers should go about this process. I'm familiar with washing yeast, but I have a few questions. How long should the washed yeast be stores? How long can it be stored? When I want to use again do I make another starter? And finally, how do I know how much washed yeast to use for this starter?"
Okay, I'm going to start off with this one by saying Mike…just forget the concept of washed yeast. There is no point to it, man. I've done it both ways. I've washed yeast. I have not washed yeast. Stored them both, ant there was absolutely no benefit to washing the yeast. It was a pain in the butt to do and it's just one more chance to screw something up and get a contamination into your yeast that will make it unusable late on. So. First of all, let's just get rid of the whole "washing yeast" thing.
What I do, is I have some half-gallon plastic container with snap-on lids. I sanitize those and I pour a third to half of my slurry into each one – depending on how much slurry there is. When I'm racking, I leave some of the beer on top of the yeast so that some of that beer goes into the containers, too; so that the unwashed yeast is sitting in sanitized containers underneath a layer of beer.
I simply put those into the fridge and store them. If I use them within 2-3 weeks I don't do anything but pull one of those out and pitch it directly into the beer. If it's much longer than that, I'll use maybe 2-3 tablespoons of that slurry to make a new starter. With that method, I've been able to reuse yeast that's I've kept in the fridge for 5 months. This is not something I recommend you do, but something has worked for me. So, basically, I would say a few months you won't have any problems at all.
Drew
It's pretty much the same. I always think of yeast washing as being one of those cool techniques that I'm more likely to screw up than anything else. So, a lot of times I don't even bother saving yeast. Or if I'm going to do it, I do it pretty much exactly the same day. I'll rack out a beer, pull it off into a sanitized growler, clean up the fermenter, get the new wort in there and return the yeast to it. Is that super ideal? No, but there are probably a lot of people out there that are clawing their ears off because I just described a process that is close to anarchy for them. Fine. Anarchy in the USA! But that's what I do.
If I do hold onto yeast I have a couple of really nice lab bottles that I've gotten over the years with a couple of really nice screw-on lids. And I'll store the yeast in there with a little bit of relief on the lid. Just like Denny – if I'm not using it I tend to be a little more persnickety in one way – which is if I'm not using without about a week I'll go and make another starter. I'm not anywhere near as anal retentive as Denny is about the 2-3 tablespoons. I dump out the old wort and then eyeball it and make the starter and go.
Denny
I didn't mean to imply that I actually measured it. What I actually do is I pour off the spent beer on top and look in there, and glop an amount into my starter container that is approximately equal to a few tablespoons
Drew
Not nearly as precise as you're pretending to be, Mr. Man.
Denny
I at least estimate precision, how's that
Drew
I'm semi-precise. Having said that, here's the big thing. The reason why a lot of homebrewers don't do the multi-pitch thing. If you talk to pros you'll hear a lot of pros talk about, "three generations are where something like 001 starts to get in its stride, really kick of fermentation cleanly, and give off good character." And then how far they take is all going to be based on how much faith the brewery has in the processes.
Remember, these guys are going a brewing basically every day. They're doing instant transfers and returning the yeast to a working environment. We're not doing to as homebrewers. And more importantly, we do also have to realize that no matter how anal retentive you are…..we are homebrewers. We do a lot of things out in the open are. We are not doing a lot of transfers into a lot of things. Which means that we have a lot more likelihood of things being contaminated even at very low levels.
The problem is even those low-level contaminations in those first couple of batches will build up over time. And contribute a house character or become a very overt house character. So, even when I feel like I am being super precise about my processes and my sanitation – I still probably won't push it more than about three batches.
Denny
Yeah that's kind of average for me although I have gone longer. There's no rule of thumb here. Other than to pay attention to how the yeast performs in your beer and what the beer tastes like. And if you notice one batch didn't live up to your expectations then that yeast is out of there and it's time for a new one!
Denny
The next question comes from Graham Stevenson via email. Graham says,
"Hi guys. Here's a question I've had on my mind. I wonder if you have the answer?"
Well, we can make something up at least.
"Everyone recommends leaving time after fermentation to allow the yeast to clean up after themselves. My question is whether if you bottle post-fermentation; is there any reason this clean-up process won't be as effective in bottle as it will in the fermenter? For example, if cold crashing before bottling; will the reduction of yeast density in the beer inhibit the clean-up process even if the beer is given a long enough condition in the bottles? Or are you likely to get the same result after a certain period of time has elapsed no matter how quickly you bottle post fermentation?"
Okay, here's my answer.
Number 1; I'm not exactly sure what this 'yeast cleanup after fermentation' is all about. Yes, beer will change noticeably after the active fermentation is done if you leave it in the fermenter. I don't' know for sure if that's actually the yeast doing anything or not.
As to the question about bottling and the cleanup process and the cleanup process in the bottle. I would say it seems pretty darn unlikely, man. There is so little fermentation going on in that bottle that I just can't see that there would be any of that clean up happening if indeed the yeast is cleaning up. I firmly believe its more a question of time than anything else.
What's your take on it, man?
Drew
I don't like it. And I'm just going to put it out there that I think there are a couple of things that are missing, right?
1; when the beer is in the bottle. As opposed to say, in secondary. It's dealing with one thing that is it's not dealing with in the secondary world. Which is pressure. And pressure changes a whole lot of things for yeast. So, I wouldn't exactly count on clean up happening there. And I'm assuming by 'clean up', he's talking about clean-up of esters and diacetyl and all of that fun stuff. The things we expect in the cleanup process for yeast is basically, make a righteous beer environment. So, pressure is going to mess up that equation. I don't think it work as well. I've had experience before with things.
Going back to the story we were telling early with Duvel. Duvel used to release the beer in the stubby little bottles, in 750s and also the three liter bottles. I haven't seen the three-liter bottles in a while but I haven't been looking. But the three liter bottles – when I used to talk with pro brewers like Tommy Arthur and Vinny from Russian River, they would swear up and down that the three-liter bottle age radically differently than the smaller bottles, and that there's a benefit to bulk aging. I think that sounds like an experiment that we should do.
So, 1; you're going to miss out on that. 2; you're dealing with pressure. 3; I also think that by not having a long period of time where you can actually allow everything to settle out…and depend upon your cleanup happening in the bottles….you are also going to get more sediment in the bottles. And a lot of that sediment is going to be yeast. And one thing that Denny and I have kind of alluded to, but have not said how seriously we will take it….is….despite the fact that we say you can leave your beer in a primary for a month…I don't think it's good idea to leave your beer with a lot of yeast in it for long periods of time. Like being in a bottle.
Drew
For those questions that we couldn't think of a better place to put them. First question comes from Tom Grace. He wrote in via email.
"In all of your years of brewing, what are the biggest things that you have learned and / or advice that you can give?"
Denny! You've been doing this awhile!
Denny
(laughs) Are you saying I'm old?
Drew
No, I'm saying you've been doing this for a while. I've been doing it for a while too but I'm not old.
Denny
Okay. So, I wrote down some of my thoughts for Tom and basically, it's just going to be kind of a bunch of random sentences so here we go. "Things that I think are the biggest things that I've learned."
Take good notes
Think things through
Don't freak out
I will tell a little story here. A very good friend, when he was learning to brew, would call me almost every brew session because something would go wrong. I would try and talk him through it and finally after about a year of doing that he called one day with a problem and I said to him, "Look dude, you're smart. Deal with it!" And he has told me that's the biggest help that he ever got in terms of brewing advice. So that's kind of what I'm saying here.
Don't be afraid to try something that everyone tells you won't work. It may or it may not, but find out for yourself.
Collect as much information as you can from all sources.
Evaluate what makes sense and hat doesn't and then try it yourself.
Don't fool yourself when it comes to evaluating your beers or processes
Be objective
Pay attention to what your beer is telling you
Don't expect every batch to go like the last batch. Roll with it.
Roll with it
That's my advice for brewing. That's what I've learned. 18 years now this month and 495 batches at this point.
Drew
All I can say to that is ohhhhmmmmmmmm.
Denny
It is. It's kind of like, "okay grasshopper, snatch this rock from my hand."
Drew
You have now been introduced to the Tao of Denny
Denny
That's right. So, what's your advice?
Drew
My advice…obviously, I think there are a lot of things we share in common. Particularly about the "don't freak out", and really, stop and think and you can always find a way out of the situation. Here's what I'm going to say. It's a little different. I heavily, heavily encourage every brewer who's out there to go off and find somebody else who's brewing and go brew with them for a day. Go watch what somebody else does.
Now, sometimes you may run into a situation where the person that you're brewing with is doing things in a way is completely in anathema to what you think about how brewing should be done. But that's good because that helps teach you something about yourself. It may be teaching you that you are a stubborn jack hole. But it's teaching you something about yourself. And, more importantly if you're going and brewing with other people you may actually learn something about a different way to approach a problem or a different way to do things. I did this all the time when I first started learning how to brew. The way I brew is an amalgamation of probably about different brewers' lessons that I did.
So, totally, by all means get your butt out there. Get your butt into somebody else's brewery. Even teaching somebody else how to brew will teach you some lessons about what it is that you're doing. Because a lot of times people have questions and they may challenge you on things that you've never really given a thought to. So, by far and away get out there and brew with other people. It's actually the same things that inspired the next book, Homebrew All Stars. This is the reason why we think it's important; because we wrote a book about it! And you totally should do it. So, brew with others.
Denny
Yep. I agree, man. I learned to brew in isolation and once I started brewing with other people I was astounded at things they thought of that I hadn't.
Drew
Well if nothing else, it will teach you to relax about your brewing. Because you will see the number of different ways that people are doing things. And they still end up producing drinkable beer out of the end. So, yeah.
Denny
That's right. That's right. There are a few wrong ways to brew and there are a lot of right ways to brew, so.
Denny
Next question comes from my buddy, Evil Morty from the Brews Brothers forum. And Drew, I'm going to ask you to try and contain yourself on this one.
"There are so many craft breweries now and there's talk of a bubble that's ready to pop. In my area, which is New England, I have yet to see a significant number of these breweries shut down. And many of them seem to be expanding. So, is the end near or is the bubble not real?"
Drew
Yay! The bubble question. Alright, I promised Denny I won't rant because I have a lot of feelings about this.
Biggest thing since Denny and I both lived through the previous bubble – both probably as craft beer drinkers. Because neither of us had started homebrewing by that point. That was 1996 for those of you who are too young to remember. Tastes have changed since the last time we had a big bubble.
When things happened in '96, craft beer was still something kind of new, and different and weird. And people didn't really understand it. Beer was still pale, yellow, fizzy crap. It wasn't something to be taken seriously. And certainly, the food landscape was different. The wine landscape was different. A lot of things have changed in these last 20 years.
So, craft beer is really now part of the landscape and its also part of – if you look around now – there's this sort of notional nod towards authenticity that matters to a lot of people. A lot of people, if you read marketing studies, they tell you, "oh if you want to reach out to millennials and get millennials to appreciate your product, you have to give them an authentic experience." I don't know what that means, but there you are.
This is also, by the way, part of the reason why I'm extraordinarily steadfast about the whole "not drinking beer from craft breweries that sell out to big conglomerates". And that's all I'm going to say about that.
Denny
Thank you! Thank you!
Drew
Two things that concern me with what I see in the market right now:
As Evil Morty alluded to; all of these breweries are expanding. Some of the things I'm hearing out there is; as the capacity has increased….we're also seeing a lot more headspace for contract capacity.
So, if you don't know...basically, a brewery that isn't brewing beer all the time or doesn't have all their tanks full is a brewery that is missing out on money. So, a lot of breweries, if they have the spare capacity will lease that out to people. That's how contract brewing happens.
Now, there are some companies out there where contract brewing is the only things they do. Particularly like up in Wisconsin and whatnot where a lot of the old lager breweries have become dedicated contract breweries making 30-50 to 100 different brands of beer. But even notionally craft breweries are out there doing some contract stuff. Probably the biggest one that you all have probably heard about is Firestone Walker. They used to do contract beers for Trader Joe's. They don't do those anymore. Now they are actually doing contract for Russian River to keep fulfilling orders for Pliny the Elder on draft while Russian River is busy tweaking their brewery.
So, what I'm hearing out there on the market though is there is a lot of contract capacity that's available at the moment. And that's kind of concerning because that's one of the signs that we say in '96.  So, basically, that means that means there are a lot of breweries out there that have expanded and have at least enough idle time in their tanks that they're willing to lease it out to other people and take in that additional hassle in order to pull in the money.
The other things that concerns me is what I refer to as SKU spamming. If you don't know what a SKU is; it's basically that bar code, right? That you see on every product that's out there. And what I refer to as SKU-spamming is the "Bud Light trick". Where Bud Light suddenly introduces 20,000 different packages and Bud Light Lime and Bud Light Mango and Bud Light Lime-a-Rita, Bud Light Strawberry Margarita, and whatever. And it's what we see in the craft beer world right now too.
How many different flavor variations are there of Sculpin? I remember it wasn't that many years ago that sculpin was a rare thing. It was a special thing. If somebody had Sculpin….wohooo! And now it seems like you can go into any grocery store and you got Habanero Sculpin, Pineapple Sculpin. Blueberry Sculpin, Mango Sculpin….Coffee sculpin, Denny Conn Sculpin.
Denny
Or look at Rogue putting the same beer under three or four different labels. A Morimoto beer, a Rogue beer, a Japanese beer
Drew
I get a little worried when I see that sort of thing because 1; not only is it taking up all the shelf space from potential other beers being on sale…but it speaks to me as sort of a…well I'm going to piss somebody off by saying this but whatever. It peaks to me of a certain laziness. In terms of "we want to have our beer out there in more variation to catch more of the Nuevo-phile aspect of craft beer drinkers. But we don't really want to think about it or put a lot of time and risk into it." So, when I start seeing that I start to get a little concerned.
Now, having said that…do I think we're going to have the big bubble pop that everybody seems to be expecting? No. Do I expect that we're going to lose a lot of breweries sometime in the near future? Probably, but I'll let Denny cover the reason why.
Denny
Yeah, and I kind of feel the same way. I mean, I keep thinking that something has to give. But I don't see a whole lot of evidence of it yet. Like you, I can kind of see just the very beginnings. I can tell you that where I live there's about 200,000 people in the entire metro area. Breweries keep opening, but we're also seeing a lot more breweries that are in the….what I consider to be the mediocre to poor range. At this point because there is such a craze for craft beer…even those are finding people to be their audience. To be their customers.
But I think it's inevitable that there's got to be a shakeout. There can only be so many customers. There can only be so much shelf space in stores. Like you, I don't think….well at least I hope we don't see a total crash. But I do expect to see a reduction in the number of breweries in the next, say, 5 years or so. Or at least not the continued meteoric growth that there has been in the past.
Now that we've delved into this stuff that we said we weren't ever going to talk about again….
Denny
We have one more question from Steve Anderson via the Brews and Views HBD Forum, who wants to know,
"Was there any real scientific analysis of what effect toasting hops had on the finished beer in terms of bitterness, flavor and aroma?"
This is something we've touched on just briefly before. As far as I know there has not been any analysis of it. And I'm just real curious on never having had a toasted hop beer. I'm really curious to find out how that would be any different than a beer that had just used over-dried, old, brown hops. Do you know anything more?
Drew
No, and the reason why I put this question into the mix was because I kind of wanted to get that same point. I don't get it. I honestly don't get it. I mean, we as a brewing industry, and an ingredient industry have sent so much time dealing how to properly dry hops in such a way to avoid over-heating them. All the way to the point to where the pelletizing hammers are liquid nitrogen cooled to preserve oils. I just really don't get it.
The only time I can think of doing toasting hops is when you're trying to do the fake out Lambic hop thing. Where you want to have this de-bittered hops. So that you're not getting bitterness. At which point in time, you know what I'm going to say? I'm going to say, if you want to do that there are plenty of outlets that will sell you aged hops for that expressed purpose. They're going to be more dependable than anything you do toasting.
Denny
Yeah, I can't….again, I'm just trying to wrap my head around what a toasted hop would be. So, Steve if you're listening to this, man. Give us more of your vision on this. Maybe what you're thinking of a toasted hop and what we're thinking of a toasted hop are completely different. On the other hand, maybe they're not.
Drew
Well, before we move on to the last question, I did want to put a shout out there to the old school HBD. For those listeners who are newer to hobby and never spent time on the HBD. HBD stands for Home Brew Digest. It's run my Pat Babcock and Larl up in Michigan I think. Or Minnesota.
Denny
I don't think Karl's involved anymore. I think Pat's dong it all.
Drew
For year and years, it was one of the most reliable email forums out there for getting information around. A lot of this stuff that we're actually debating now between all the various brew sites and channels that are out there…like us and Brülosophy. A lot of this stuff was discussed in the past via the HBD. So, really, it's a shame I don't think the email list is running anymore. At least I haven't seen one in forever.
Denny
No, it started as an email list. The daily email list many years ago and now there is a very old school style forum called Brews and Views. And not as active as it used to be but there are a lot of old-time brewers with a lot of knowledge, and quite frankly a lot of myths to debunk too. It's a great source of information. It can be a great source of information, and it is one of the most venerable sources out there. It's been around since I started brewing so you know it's a long time.
Drew
Dig into the archives!
Denny
We're going to wrap up our Q and A episode with a question from my brother in law, Tim Vawter. Who wrote to me and said:
"Denny, I've been listening to the podcast. Nicely executed, I must say. I'm writing to ask you this. I've been back into brewing and doing all grain for about three years now. I've gotten a few awards but I still feel like I'm just winging it. So, how do I get to the next level? More specially, what single area will improve my beer the most?"
Boy, have we heard this question a lot, huh?
"Should I concentrate on fermentation and temp control, or mashes? Or are there other fundamental areas I can focus on that will help me make better beer. I have a very rudimentary setup. I do not have any fermentation chamber, or even a refrigerator set up for kegs. I know this is not a very clear cut question, but I'm not a very focused person…generally speaking"
Oh, Tim, what a great guy.
Ok, my standard answer to this; and what I firmly believe has made the biggest difference to my beer quality is fermentation temperature control. For many years, I did it with a tub of water and I would either put ice packs in the water to cool it down. Or an aquarium heater into the water to warm it up. It was pretty effective. It was a bit labor intensive, but it was pretty effective. A couple years ago I invested in a chest freezer and a temperature controller, and that really took my beers to the next level, I have to admit.
And I hate to tell you that you have to go out there and spend money to do it…but that's what made a big difference for me. Not only has the beer quality improved; I get a much faster turnaround on my beers due to the precise temperature control.
And keep in mind that if you don't have good fermentation temperature control, you're kind of wasting all the expensive ingredients you bight. All the valuable time you put into brewing that beer. Because after doing all that, the beer will just be left on its own to do what it wants to do, and that's not always the best thing to do
What do you think, Drew? Are you in agreement on that?
Drew
I think you can cheap out almost anywhere in the entire universe. You can use weird malts. You can use extract. You can do bad mashes. You can do anything else in the world that you can think that is wrong. But I really do firmly believe that if you don't control your temperatures…even in the rudimentary way that Denny referred to earlier with water baths and ice packs - which I still do for some of my beers, by the way. I think you're purposely setting yourself up for failure.
So, do something. Anything at all just to give yourself a little bit of temperature control. I remember the first time I got my chest freezer set up and I put a beer in there. I was kind of thinking to myself, "Oh that's not going to make that big of a difference. I do pretty good job of controlling my temperatures."
And, no. The beer was different as night and day. So, I totally believe in the idea that getting at least some semblance of temperature control in there is the best possible maneuver you can do. I would actually say keep brewing extract beer. And get temperature fermentation control first before you even want to build a mash tun. Even one as cheap and easy as Denny's.
Denny
Yeah, I would have to agree with that. Because temperature control will even make your extract beers better and when you go to all grain you're giving yourself a real boost right from the beginning. So, Tim I think we're in agreement on that. Go get yourself a chest freezer and a temperature controller. Ferment your beer in it, and I bet you will be more than happy with the results. And I will expect you to bring me some of those beers one of these days
Drew
Is that how he got the question into the mix? It's beer bribery?
Denny
Not yet. But I'm looking forward to it
Drew
Tim, it sounds like you better produce some good beer or it looks like Denny's going to shun your questions forever.
Denny
No, but I might have to come to Iowa to really take you down!