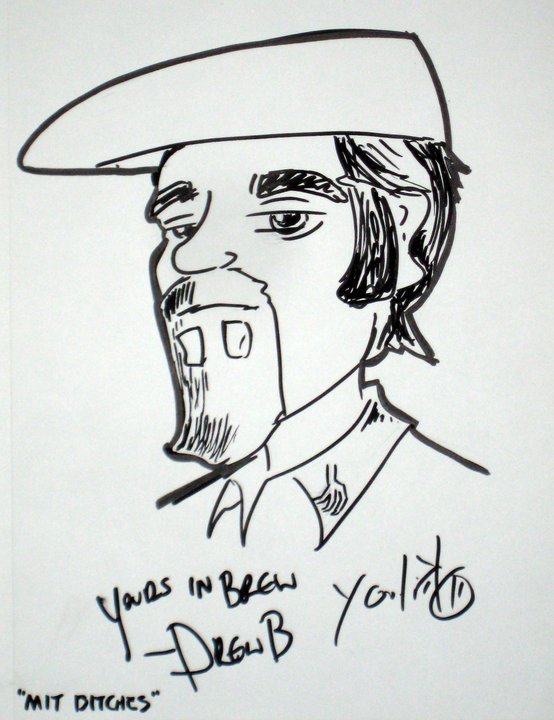 These questions and answers come from our second all Q&A episode in Episode 24! Thanks to Richard Westmoreland for listening through the episode and giving us these answers for you!
Table of Contents
Drew
Our first question comes from Kelly Wingert, and it's all about the yeast.
"Denny and Drew, does adding yeast nutrient or yeast energizer to a stuck fermentation make the yeast start fermenting again? I routinely see this advice given on forums and social media"
Well, you know what Kelly? I see the exact same advice given all the time. I've given it myself sometimes. And here's the deep, dark, dirty secret of truth in my life. I don't think it does a damn thing
Denny
I agree.
Drew
I think it's one of those things where people are reaching out to their fellow brewer and saying, "I feel for you. I know that you want some action, and here's a way to get it going." Now, the problem is…the reason why I don't think it does anything…for the most part. I don't think most stuck fermentations…yes…there will probably be cases when it does work, but I don't think most people's stuck fermentation issues are going to be a matter of yeast nutrient availability. Because usually beer has plenty of that. Most of the time, what your problem is going to come down to is yeast health and viability. And to my mind, adding nutrient into the beer is sort of like tossing anti-biotics into the middle of a sewer and hoping that that cures somebody's cold.
To me, the right answer is to get yourself some healthy yeast. Make sure they're nice and viable. Get them up and running at full Kreusen. And add that into the beer, and I think you'll have a much better chance of success than adding yeast nutrient or energizer to an already stuck ferment.
Denny
Well, the other thing that I see all too often is that people assume that you have a stuck fermentation when you actually, probably have a finished fermentation. It's possible to make a wort that's more un-fermentable than you realize. And you can throw all the yeast in the world at it, and it still isn't going to do anything more.
Drew
And that goes with the same sort of advice you see where people are like, "pitch a wine yeast, or pitch a champagne yeast."
Those aren't going to be able to do anything usually, unless your problem is too much simple sugar. But if you have a real question about, to Denny's point, as to whether or not the ferment is stuck or the ferment is complete, then I would highly recommend that people look up the idea of a forced fermentation test. Which is a fairly straightforward thing to pull off. You just need a stir plate and some of your wort. Just spin it up on a stir plate and let it go. And watch where it stops.
Denny
And you don't even need really need that. You just pull out some of your wort or some of the beer that you think it stuck, put it in a jar or whatever you want. It's only about a cup. Add a whole crap load of yeast to it. Any kind of yeast. Bread yeast, whatever you've got. Put a bunch of yeast in there. We're not trying to make beer. We're trying to see if that wort will actually ferment. Keep it in a warm place and check it in a day or two. If you have further fermentation then the problem is that your yeast is not working on the wort. If you don't have any further fermentation then the issue is that your wort is done fermenting and it's not going to go any further no matter what you. So, keep that forced fermentation test, also known as the fast fermentation test in mind, because it can be a really, really valuable tool to determine what the issue really is.
So, I guess the next one is up to me, huh?
Drew
Indeed
Denny
OK, this one is from Jerry Hodge. It came in via email. Thanks, Jerry. We appreciate your question. The question is,
"Do you guys re-pitch yeast anymore? I've found some strains have resulted in a very low clove phenolic in light ales. Especially with re-pitched WLP002. Any ideas on that? I'm about as certain as I can be that there was no infection. No Brett or wild yeast flavor other than the low clove, and fermentation temperature was held in the low 60s…perhaps a bit too cool for too long, maybe. Is WLP002 more susceptible to petite mutants than others? In other words, like stressed yeast, too cold, or perhaps just bad luck with the strain? I have no problems re-pitching other light ale strains such as 029 Kölsch. Or light lager re-pitches like 2206 or 2421."
Well, Jerry. I'm going to say right off that I cannot remember the last time I used WLP002. Drew, double check me here. Is that the same as Wyeast 1968?
Drew
The ESB yeast?
Denny
Yeah
Drew
I think that is.
Denny
Yeah, I think it is, too. And I haven't worked with 1968 a lot either, but I'll base my comments on that and you can take them for whatever they're worth. I have not found that yeast to be any more susceptible to problems re-pitching than any other strain.
And I know, Jerry, you said that you're certain you don't have any infection, but I gotta believe that you do. That clove phenolic is something that I have experienced from an infection before. Especially if there's any smokiness to it. That could be part of it
. Although, I'm a little bit baffled as to why you're only getting it with 002 and no other strains. I know that there are some strains that don't re-pitch as well as others. I've often times heard it suggested that Heffe Weisen strains shouldn't be re-pitched because you actually lose some of the esters and phenols that you want. But I don't know much about 002. You got any ideas?
Drew
Yeah, I've never experienced that sort of thing. 002 is a hell of an ester-thrower. I usually tend to think of 002 and 1968 as having more "jammy, fruity" issues going on with it. But I've never experienced a re-pitch problem with it.
Now, again, I haven't done a lot of re-pitching with 002 or 1968. I have done a lot of re-pitching with some of my Saison strains. But I think that's a little less problematic or at least a little less detectable as a problem. To answer the very first part of that question, though, from Jerry; I do still re-pitch yeast, but I tend to only re-pitch special strains.
Things that I can't necessarily get my hands on all the time. So, if it's something like 002 or 001, no. Typically I go and start from a fresh culture. Even though I do really strongly think that things like 001 do benefit from re-pitching. And I do have professional brewer friends of mine tell me that they don't really feel like 001 or 1056 or any of their Chico California complex strains really get going until they get to at least the 4th generation.
Denny
Yeah, I'd agree with that for sure. And sure, it comes to no surprise to anyone out there that I use Wyeast 1450 for a majority of my brewing. And I do harvest the slurry. I re-pitch it. I don't do anything funky like washing it or anything. I will split the slurry from a fermenter into 2 or 3 sanitized containers, make sure that there's leftover beer on top and keep them in the fridge. That's generally what I'll do, but it depends on when I'm brewing and if I'm lazy, or have time to make a starter for it. And, speaking of starters, that leads right into the next question.
Drew
I'll read it, but this is your question to answer. Jeff Muse of St Louis Missouri, via email. We get a question about SNS starters.
"What are the limitations of an SNS starter? For example, should it not be used with lagers, high gravity ales, high gravity lagers? What if you're fermenting more than 5 gallons? Do you need a two liter and an eight-liter vessel? I know all of this has been discussed on various forum threads but I don't think that anyone has collated the information and put it in one central location. Personally, I have not been brave enough to try it with lagers at all. Or with ales over 1.056.
So, Mr. Denchenso. For those of us that are not hip to the lingo; can you describe and SNS starter?
Denny
Yes, indeed! The concept is an old one. Basically, when I started brewing 20 years ago, this is pretty much the way everybody made starters. And it has been popularized more recently by our good buddy, Saccharomyces Cerevisiae, who posts frequently on the AHA forum and brought up the idea there.
The concept is that you put a quart of mid-30s wort into a one-gallon container, shake the crap out of it until the container is pretty much full of foam, (as much as you can get) and pitch your yeast into that. 24 hours later, you pitch the entire thing (starter wort and all) into your beer. Now, that's the way I learned to make starters 20 years ago. Maybe not quite as much shaking, but the basic idea is the same.
Then, all this stuff came out with people coming up with yeast calculators and advocating the use of stir plates and that kind of stuff. So, being the inquisitive geek that I am, I kind of went that direction. And tried doing all of that kind of stuff for a while, and it worked well. But when Saccharomyces posted this info it was obvious that he had some insight into the whole process. So, I went back to giving it a try.
And you know what? Not only does it work at least as well as all the yeast calculator stir-plate crap, but it's a lot easier to do too. And you guys know that I'm all about the easy. I don't want to cut corners. I don't want to take the chance of making inferior beer. But on the other hand, I want anything that I do to be as easy as it possible can be. And this definitely is.
Just a little data point. I brewed the other day. I made a 1.065 version of my No-Tie Brown Ale. Hey, it's fall! It's time for an American Brown. I pulled a pack of 1450 out of the fridge. The date was March 22, 2016. So, this yeast was pretty darned close to 6 months old. I poured it into my one-quart SNS starter and shook it up. The next day I pitched it into the wort, and 4 hours later I had active fermentation. And by the next morning I was getting blow off.
So, there you go. The SNS idea does work. I just put it into a 1.065 beer. It worked great. I even used a 6-month-old smack pack and it worked great. I have done it with lagers. I haven't done it with a high gravity lager. I think that if I did, I would probably go with using two quarts of wort, but still in my one gallon container. If I was really paranoid I might do two separate containers with a quart in each. That sounds like more work to me.
So anyway, the basic answer to the question is yes. It is a very viable technique. It works with ales. It works with lagers. I have used it on ales up to 1.075 and had no problems doing it. If I was going to be going for a really big ale. Say, if I was going to be making a barley wine or something. I certainly wouldn't do it, but I would use it to make a 5-gallon batch of a low gravity beer which I would then use as the starter for the barley wine. Mid-gravity lagers I've had no problems with. And I guess somebody else is going to have to try the high gravity lagers until I get around to making one.
Drew
Well, I can't say for doing a direct SNS type starter, but there is an old Falcon's recipe that we used to do all the time called Falcon's Claws. Which was a Falcon's version of Samichlaus back when they weren't making it. And if you don't know, that starts at an original gravity of 1.140. So, it's about as big of a lager as you're ever going to see
Denny
Right
Drew
And that one, we would do a starter as a 5-gallon batch and we would use the yeast cake out of it. And me being me, there were times when I definitely did that without shaking. At least there was sort of a two-step SNS process because if you really want to think about it – the vastly underrated technique of brewing a starter batch of actual beer in a full 5-gallon volume for your massive projects is really just a giant SNS starter.
Denny
Yeah! You're right!
Drew
So, I'm a big fan of that. I think if you're going to do anything massive; doing anything other than using a yeast cake from another batch is really sort of setting yourself up for more heartache than you had imagined.
Denny
Yeah, right. You will be having undue stress and you don't want to stress over beer. Come on!
Drew
And besides, you get another batch of beer out of the same project.
Denny
Yeah, yeah, yeah, yeah. And anyway, to kind of wrap this up really quick. I would encourage all of you who are going the route of yeast calculators and stir plates to just give this a try on a batch or two and see what you think. And compare. You may be like me and come away putting your stir plate back up on the shelf where you don't really need to get to it very often. Okay! You're up next, buddy!
Drew
Let's see, this one comes from David Shill of Cedar Falls, Iowa. Specially of C.R.A.Z.E. – the Cedar River Association of Zymurgy Enthusiasts. He says here,
"What are the pros and cons between using a yeast starter or buying two vials or packages of yeast?"
Alright. So, let's break this down the old-fashioned way. Pros on both sides. Pro yeast starter; you get to double check the vitality of your yeast. Second pro; you get to grow up your yeast to a particular size, depending upon what you need. Third is that it's less expensive.
The pros of buying two packages or vials of yeast. Well it's less work. You also can make sure that you have yeast of the same lot so you can be assured of some of the same vitality. You also kind of get yourself in the mode of being able to think about pitching multiple strains. Because now you're not worrying about doing started for everything.
The cons of using a yeast starter. It takes some time. Another con is you have an additional step where you can possibly run into sanitation and infection issues.
The cons of buying two packages or vials of yeast. You don't get to check the viability of your yeast and 2; it's more expensive
From my own personal experience, I've done both of these. Typically, I still prefer to do starters for everything except for dry yeast. I just feel like, unless I'm being lazy, (and there are times when I'm extraordinarily lazy) I feel like I just get better results when I make sure I grew my yeast up in some sort of starter media before I actually put them to work in the "salt mines" that is beer fermentation. How about you, Denny?
Denny
You know, I've been sitting here thinking. I don't know if I have ever gone the route of pitching two packs of yeast rather than making a starter.
Drew
Well, that's because you're cheap.
Denny
That's exactly what I was about to say. I think probably the reason is that I'm just too cheap to do that. But I do agree with Drew. By making a starter you know that your yeast is viable. I think that probably you'll even end up with a little more yeast than you would if you pitched two packs. Unless they were extremely fresh packs so that they were close to 100 percent viability.
Yeah, I'm pretty much a "make a starter with everything but dry yeast" kind of guy. The one exception to that is if I'm making a 2.5-gallon batch on the Zymatic and it's a moderate gravity. I'll just pour a smack pack right in and aggregate my "always make a starter" rule. Because for 2.5 gallons of a 1.045-1.050 beer, let's face it, a smack pack is going to be OK.
Drew
Yeah and I do that as well with my Zymatic. Because at that point, yeah. Let's just go!
Denny
The next question comes from our buddy, Bob Barrow. Who makes hop candy and sells it under a company of the same name. It's great stuff. Give it a try. Bob says,
"I've been using glass carboys to ferment in since I began brewing in '86 or '87. When the ferment is done there's a ring of crud at the top of the beer that sticks to the inside of the carboy. For the most part this crud is somewhat pasty and is easily removed. But there is always a portion (maybe 10 percent of the circumference) that's really hard and dried and very difficult to remove. There is no rhyme or reason as to where on the circumference where this area will be located in relation to anything. I though that maybe it would be located on the part of the circumference that was exposed to ambient as opposed to the part that was up against the wall. Well, no. That's not the case. I've been very keen at sanitation and cleaning, such that there's no type of visible residues left behind in the carboy before it's used to ferment. And it still happens on different parts of the circumference as time goes on. As opposed to always near something like the seam on the carboy – thinking that it may act as some sort of nucleation site? Just wondering if anyone has ever mentioned this before. It used to really bug me, but I've learned just how much beer it takes to reduce the bugging down to something that 'kind of sort of' bugs me."
Well, Bob, this is a very interesting question. The first thing I want to know is….have you been smoking those hops? Ok, anyway (laughs) Alright. So, I don't really have a good explanation for this. It reminds me of a question that went around on the rec crafts brewing UseNet group when I started brewing group. Where somebody noticed, they would see a film of yeast, like on the north side of their carboy or something like that. It's like….I don't know. I guess if I had to guess at something, my guess is that somehow the liquid level there is not reaching the crud and so it dries out. But, I don't know man. You got anything?
Drew
Chem trails. It's always chem trails.
Denny
Chem trails! Yeah
Drew
A governmental conspiracy designed to confuse and befuddle Bob. No, I can't think of anything other than it may be a particular area of the fermentation that was more vigorous and deposited more stuff. And that more stuff basically dried out. But, yeah, as for actual "according to Hoyle, full on scientific explanation"…magnetic eddy currents and micro gravities and chem trails and steel beams.
Denny
I think we should go with the chem trails answer and stick to that. I don't think that's ever been used in homebrewing before
Drew
Woohooo!
Denny
So, Bob. I'm sorry but you've got me sitting there going, "huh. Alright?"
Drew
Our next question comes from our friend, steppedonapoptop.
Denny
From the Brews Brother's forum!
Drew
Mike sent an email that said,
"Hey fellas. I've read a lot of posts that talk about stepping up fermentation temperatures. In many cases, it calls for one degree per day until X temperature is reached. Or, holding a batch at 62. Not 61. Not 63, et cetera. I finally ended the era of the swamp cooler and 70 batches later I've graduated to an old kegerator for fermenting…while it lasts."
Good luck. I did that, too and I got about a year.
"So, acute temperature monitoring / achieving has never been my luck. Even with a kegerator and digital thermostat I have an approximate three-degree delta for my chosen temperature. The thing kicks on and off like crazy. And in the south Florida heat it's fighting like a mofo. I'm not a worry brewer for most any procedure and I just can't see raising one degree a day would make a "hill" of real difference; where if I ferment at 65 instead of 63. I've been making darn good beer in my humble opinion without too much temperature nurturing. My question is, finally; is exact one degree monitoring really necessary? Do either of you do it? And either way you answer, can you give me some good backup, please? I'm just not that picayune."
Well 1; thanks for using picayune in a question. That's awesome. As for our exact belief, well look at how I do my Saisons. I do my Saisons where I throw them in a water bath – I do take care to chill them down to a temperature that I know. Usually I recommend 63 degrees. Then I go into a water bath full of ice and they get the yeast in there. And other wise I pretty much just watch the water temperature and deal with that.
That's what I do with my Saisons and that is literally the temperature control on those things. Eventually I let them run and rise up to like 90-95. Whatever the Southern California heat in my garage wants to get to. And those work like a charm.
With other ales, I just throw them in my mini fridge. I have an old kegerator, too that I use. And I have a spare chest freezer. And for those I just do the whole "tape the probe to the side of the carboy and let it go!" And those Johnson controllers, the love controller…yeah, they have the same sort of temperature differentials. I've never had any sort of issues with it.
The big thing is, you have to remember. Even though fermentation is active and it's stirring the wort, you going to have all sorts of temperature gradients throughout the wort. Even if you are super obsessive about this idea of 1 degree difference, I don't think it's really going to make that much difference because you don't have that much control over your mass batch of liquid.
Denny
Yeah, I guarantee you that 1 degree is not going to make that much difference. Let's assume that you're one of our friends outside of America who does not use the Fahrenheit scale. Now, 1 degree Celsius is around, what, 2 degrees Fahrenheit? So, if you're off by one degree Celsius, then you are off by two degrees Fahrenheit. BIG FREAKIG DEAL!!
Raising one degree a day, come on, nobody can really do that. And if they claim they can then they're lying. You can maybe set your controller to increase one degree a day but that doesn't really mean that your beer is going to be doing that. So, you say that you're not a worry brewer and that is the right attitude for this. One degree, two degrees, three degrees. Even four degrees most of the time is not really going to matter that much.
Drew
I do feel, before we get eviscerated by the people out there who love their temperature control. 1: temperature control is important unless you're doing my saison thing. But the other thing is; the reason why I think people like those schedules that they set up where it's "raise it to xyz temperature this many degrees per day"…1: it gives you active involvement with the beer constantly and it also give you a recipe / formula / magic incantation that you know that you're following.
So, you kind of keep track of the beer better more than anything else.
Denny
Sure, fine that's great. You can do that no matter what the case. But the bottom line is that, yes, you definitely have a few degrees of leeway and not being exact is really not going to have any negative consequences on your beer. Especially after the first few day. So, don't sweat it, buddy. Keep doing what you're doing. I used a swamp cooler method for close to 15-16 years before I got my chest freezer. I love it. I wouldn't go back unless I had to. Even though it works if you don't have a chest freezer.
Drew
And further back, if you can take a look at Marshall's experiments over on Brulosophy about fermentation temperatures and some of the differences they've been able to "get away with", shall we say?
Denny
Next question comes from Deoney Demorena. Wow! I'm sorry for messing up your name…but…you know. Here is the question.
"First of all, thanks for the podcast. I listened to the first 22 episodes last week. 2 times speed makes that easier and it's great!"
Boy, I can imagine Drew at double speed! Whoa!
Drew
Yeah that's like chipmunk.
Denny
Really!
"On Saturday, September 10 I brewed 12 gallons of a big, big imperial stout. OG was 1.145. I oxygenated for three minutes with one liter per minute of pure oxygen and pitched a ton of yeast (WLP007) from a previous fermentation at 14 degrees Celsius (57 Fahrenheit). On Monday morning, there were signs of fermentation (slow bubbling) and I let the temperature raise slowly 1 degree Fahrenheit every 12 hours"
Oh, there's one of those people!
"On Saturday, the 17th the temperature was 18.5 Celsius (65.3 Fahrenheit) and the gravity had gone to 1.098 and the bubbling had obviously slowed down. And I had to leave for a business trip. I came back yesterday to find no bubbling at all so I decided to raise the temp again to 20 degrees Celsius (68 Fahrenheit) and swirled the fermenter slowly to de-gas. This morning I raised the temperature another 1 degree and did the same thing but still no bubbling. I'll measure the gravity tonight but I still have the feeling we'll still be very far from the expected 1.045 or so. Now the question is…any ideas on what to do next? Pitching more yeast is likely going to be a waste. The options I can think of are: Keep raising the temperature another few degrees (up to 74 max, maybe) and keep swirling every 12 hours. Leave it alone for a week and see how it proceeds. Or dump!"
And this last option, he says, was a very expensive beer; both in money and work, and he doesn't want to do that.
Drew
There are a couple of other options:
"Add more O2 through the bottom of the conical to raise yeast and oxygenate. Add CO2 to raise the yeast without oxygenating. What do you think is best? Is there anything else you can think of?"
Denny
Well, yeah! I would say the first thing to do is go back to what we said in the first question and do the forced fermentation test. Figure out if it will ferment anymore because if it doesn't, there's not much else you can do. So, assuming you do the forced fermentation test and you discover that there are still fermentables left there in the wort for the yeast to work on – the first thing I would do, would be get a big slurry of yeast from somewhere and throw it in there.
He says that he doesn't think more yeast will help and I'm not sure why he really believes that. Especially if the forced fermentation test shows that there are more fermentables left there. The first thing you want to do is put a whole bunch more yeast in. And then, at that point I would leave it alone for a week and see how it proceeds and just kick back.
If he doesn't get any results on the fast fermentation test, and it looks like it may be done and still not be what he wants it to be…the only thing I can think of right off the top of my head is to brew another batch of beer and blend them together to kind of "dilute" the effects of the batch that didn't ferment as far as he wanted. You got any ideas on that one?
Drew
Yeah, I'm with you First, get the fermentation test running and leave the beer alone. Right now, you don't know what the gravity is. First things first; get the gravity. Second; do the forced fermentation test if the gravity is still above where you want to be and then see what results are. If you do have fermentables left, then the big thing is – go get a big yeast cake from wherever.
This is not a situation for a polite little starter. This is a situation for a massive amount of yeast because you are going into a high alcohol very toxic, very hostile environment. And you want to get those things established. Now, to go back to the whole setup that we have here.
To me, I think one of the problems was the initial fermentation temperature. I think you don't set yourself up for any great success by starting so low at 57 degrees. Now I get the idea is that you want to keep the wort low so that you aren't generating a lot of esters and phenols. It's the same thing I do with some of my batches. But 57 is pretty aggressively low; particularly for an English strain, I think.
So, I would say get the gravity. Get the fermentation test. Pitch more yeast. The other thing, also is; depending upon where your original gravity is you may be done. Particularly with a massive stout like this.
A good friend of mine who no longer brews, Johnny Lieberman. He used to have a series of beers called the black wine series. And I think he made it up to Black Wine 5. Which is on one of my books. And those things were massive. They were on this scale. 1.150 was not an unusual starting gravity for him. But he had one; it was the Black Wine 5 that had a final gravity of something absurd. 1.055…just dumb! And we'd scratch our heads.
We tried a couple of things to get it to move anywhere. It didn't want to. But here was the important part. We stopped fussing with it because it turned out that even at 1.055, the thing tasted like a big, rich dark lord. Which was exactly what he was going for. Certainly, not the most diet friendly beer out there, but it worked and it tasted fine. And actually, with that much alcohol and the amount of hops that were in that particular beer…it needed some final gravity.
Denny
Well, I mean for instance, my bourbon vanilla porter starts at 1.086 and finishes around 1.028 or something. And I'm constantly getting emails from people asking how they can get the gravity lower. And my response is, "you don't want to gravity lower!" For that beer, that is the correct finishing gravity. And I do need to point out that our questioner does say,
"I'll measure the gravity tonight but I have the feeling that it will still be very far from the expected 1.045 or so."
Well, buddy, until you measure the gravity you really don't know. So, do that first. If it's not where you want it to be then do the forced fermentation test. If the forced fermentation test turns out positive for fermentables; go to a brewery, pull one of your other fermenters or something like that, get some yeast out of that and put a whole bunch of yeast in it, raise the temp up, sit back and wait and see what happens.
Drew
Very important point here. Don't be finicky about your second yeast choice. This point in time you've already established almost all of your yeast character. So, just whatever you have that isn't a super flocculent strain or a super alcohol sensitive strain; get that in there. First things first. Get the gravity, get a taste and do some testing
Denny
Yep, yep.
Denny
Alright! We have our first caller in our Q and A show, and it's a guy named Tim Vawter, who just happens to be my brother in law. How are you today, Tim? Tim I'm okay!
Denny
And just to verify that we have not paid you anything to be on the program. Yeah right, like we would! So, Drew, why don't you read the question that Tim sent in to us?
Drew
Well first I have a commentary and a question of my own. Is it, or is it not true that you all have never talked before? Tim No! We were in a wedding.
Denny
That's right! I had forgotten about that wedding. Ohh my God! Tim It was a while ago.
Denny
I remember spending all night long in the bar dancing my butt off to "Walk the Dinosaur".
Tim
(laughs)
Drew
Now, this is an image I didn't need in my life.
Denny
It's something I could have done without recollecting, too. Now it's back in my head again. Tim I'm sorry!
Drew
Oh goodness, oh goodness.
Denny
There was a lot of alcohol involved in that night.
Drew
Don Was is very infectious. Alright. Let's get to the question. Tim, you wrote in to us and you said,
"I pitched yeast late Saturday night and had action by noon Sunday. I held the temperature water around the formation bucket in the 55-65-degree range. A thermometer on one bucket has remained less than 68 degrees. So, when can I stop worrying about ice packs? At that time can I leave the ice out and let things go through the weekend? Should I remove the buckets from the water bath? I have no means to do a proper cold crash. Should I return buckets to water and ice? I was planning to dry hop in secondary. Should I continue to try and hold 60ish degrees at that point? I'm through now."
Denny
Thanks! (laughs)
Tim
That about sums it up!
Denny
Drew, why don't you go first.
Drew
You said that you had action on noon, Sunday. I'm trying to remember; you emailed this to us, I think on a Monday. So, it was like two days after fermentation started, right?
Tim
Yeah, 2 or 3 I think.
Drew
To me…again…from my Saison days…my Saison protocol. I usually worry about temperature for the first three days and then I'm a little bit more lackadaisical about it. Unless I'm trying to do a lager, in which case lagers are their own persnickety stupidity. Which is the reason why I don't do them very often. So, for me, if I'm doing just a regular ale and I'm not in one of my temperature controlled environments; I will control with ice packs and all of that for about the first 6 or 7 days. Unless I'm doing a saison. Just basically long enough to get the fermentation to slow down. Beyond that, in the other questions that you had in terms of cold crashing and bucket in ice and when you dry hop. And whether or not you should remove things from the water. I find that water is such a good temperature insulator that I have no reason to remove the buckets from the water. And so, I leave the buckets there. If I was dry hopping I wouldn't worry about trying to get it back down to the 60s. In reality, if you can't cold crash, just give it some extra time to settle. What do you think?
Denny
If I'm in a hurry, I'll worry about temperature control for about the first three days. If I'm not in a hurry I'll let it go 4 or 5. After that point I like to let the temperature rise. So, depending on what the ambient temperature was, I would more than likely take the bucket out of the water at that point and start letting the temperature rise. But on the other hand, if it's typical Iowa summer temperatures that I remember, I would take Drew's advice and leave it in the bucket to use that thermal mass as an insulator to keep the temperature from varying more. I don't see any reason to try and get the temperature back down to dry hop. Especially because you don't have a fridge or a freezer to do it in. And this is a question that we talk about too during this Q and A thing. You can dry hop at different temperatures and get different effects, but if you don't have the opportunity to do that then it doesn't really matter, does it?
Tim
No (laughs)
Denny
Good answer. That was the right answer, Tim
Drew
That seemed like one of those slow Midwestern responses.
Tim
It's the hot weather.
Denny
Yeah, right. So how has the beer been doing since you sent us this email?
Tim
Well, I took it out of the water after I stopped the ice packs. I think I stopped the ice the day after the day after I had gotten your reply.
Denny
Right.
Tim
And I think it got up to about 74 degrees. Maybe a little less. Then I went away for the weekend. I think when I got home the basement was at about 72 and I think the beer..the one fermenter still read 74-ish.
Denny
Right.
Tim
And then I put it back in the water bath but I haven't really been very diligent with the ice packs. I think I've switched them out 2 or 3 times. But it has stayed 62-64 as far as the water temp. The one thermometer on the fermenter has been around 70. That's pretty much stayed there – pretty stable since then. Since probably Monday.
Denny
I don't see that as being an issue. Have you taken a gravity reading recently?
Tim
I haven't
Denny
Yeah. My guess would be; with that temperature, you're done and ready to package that beer and start drinking it, buddy.
Tim
That's good news!
Denny
(laughs) I thought you'd like that. I think that probably as a rule of thumb – after 3 to 5 days you can worry a lot less about temperature control. What you don't want to do it let it get into the upper 80s, 90s. Something like that. If that's going to be the issue then you want to keep it down a bit. But, like I said, my standard procedure is after about three days or something I generally like to start raising the temp to finish off the fermentation. Because I'm impatient and I want to drink that beer.
Tim
I understand that!
Denny
Yeah, I'll be you do! Drew, you got anything else?
Drew
No. I think we've got a pretty good handle on it. I think a lot of people wig out on temperature control way more than is necessary. Again, except for outside of lagers. And even then, some stuff is showing that that's necessarily even that important. But I think your'e good!
Denny
Obviously, temperature control is very important but there's a point where you can stop worrying about it, too. As long it's going to be in the reasonable range.
Tim
And that was the impression that I had. I just wanted to make sure I was doing the right thing.
Denny
Yeah, man. And you know what? A lot of times you just need to trust your intuition and throw your cares to the wind. What other kinds of clichés can I toss in there? But yeah. Just a little while ago Drew ad I were talking about the fact that you can learn an awful lot from ****ing up!
Drew
And Denny, I'm going to add in one more hippie-ism for you.
"You gotta listen to the beer maaaan. It'll tell you when it's ready maaaan"
Denny
That's right! That's right! I say that all the time and if you're talking to your beer you have to definitely remember to use maaan, you know?
Tim
Get its attention
Denny
That's right! Okay, Tim! Well it's been great talking to you, maaaan. Hopefully you'll be making a trip out here to visit before too long, and we can get together and actually brew something.
Tim
That would be great! Thanks for having me on the podcast.
Denny
It's our pleasure. Take it easy and I guess I just earned some points with your sister, huh?
Tim
That's probably a good thing, I suppose, right?
Denny
It can't ever hurt! Alright, man have a great rest of your day.
Tim
Thanks! You guys too.
Denny
Alright, Tim. Thanks a lot man.
Tim
Buh-bye
Denny
Buh-bye OKAY! And there is the fermentation section. We're going to take a quick break now, and listen to some music. And when we come back we'll be talking about ingredient questions.
Drew
Now it's time for us to get to our next segment. It's time for us to talk ingredients. All the various things that go in to make our beer beer. And let's get it kicked off. We've got a lot of hop questions today. It must be that time of year. First one comes from Richard Euless and it's about dry hopping. He says,
"Hey guys, over the past few years I've tried every dry hopping technique known to man. Each has either of two downsides; insufficient exposure to the beer, leading to sub-par aroma. Or too many bits of hop pellets in the keg. They can also cause a mess. Drives me crazy. I've been thinking about trying something new and wanted your thoughts. What if I added, say, two to three ounces of hops to a French and added hot dechlorinated water to it? I could then press down the hops (I don't know the micron size on a French Press, but it's small) and pour off this extract into my keg. This seems much less messy and I think the hot water would help pull all the oils from the hops despite the significantly skewed water to hop volume. If you like this idea, there are two variables on which I'd like your input. 1: what temperature would be best? I definitely don't want to isomerize the alpha acids so below 180 for sure. But I'm also looking to emulate a dry hop character, not whirl pool. At the same time, though, I think it needs hot water to get the hops to give up their goodness. 2: how long should I let them steep? I suppose the answer to this question is going to be dependent on the answer to the first. For whatever it's worth, I'm leaning toward 12- degree water to allow to steep for 15-20 minutes. Anyway, I would love to hear your thoughts."
Alright. So, I like new techniques. Now, I've done a few hop teas; which is effectively what you're talking about here. Making a hop tea and adding that to your keg. I see a couple of problems here for what you want to do. A lot of your dry hopping character is going to come with time and contact. And I don't know if doing this at 120 for 15-20 is actually going to give you enough time to dissolve enough of your oils to really make a difference. You're also going to have to be kind of careful with your water ratios. Because, obviously, you don't want to put a lot of water into your keg
Denny
Yeah, I was going to suggest that if you do this; how about using wort or some of the finished beer rather than water?
Drew
Yep. You could do that. So, my one problem; I think the thing you could do that would make this a little bit more effective would be to either up the contact time, or to somehow induce agitation. To keep the hop pellets moving so that you can actually get your character out of there. So, agitation-wise I've been trying to think of how I would do it in order to maintain the temperature and I don't have a good answer for that.
The other thought I had…because I'm me and I like toys…is I would actually try sous vide-ing a hop extract here. Or a hop tea. And actually go ahead and drop a mason jar full of water and hops into my sous vide controlled bath at like 120 for hours, and do time and temperature that way. I haven't done it yet. I was meaning to do it before we got to this recording session, but life. I totally want to try it though because I think there's actually something there.
Now, having said all that. I'm usually of the opinion that hop teas are rather lack luster. They don't give you the sort of thing that you want. And I suspect, even with all the time and temperature and steeping and agitation and everything else; I think the results are going to be somewhat disappointing in comparison to what you want.
Denny
I would have to say that that's what I'm anticipating also. Plus, I have never been a fan of hop teas. I don't believe that they would be a substitute for dry hopping. They might get some more hop flavor in there and a bit of aroma, but I just don't even like the way they taste when I put them in my beer.
Drew
Try the sous vide thing and if you really want to kind of shock yourself, the other thing to do – look at my speed tincture technique. It uses pressurized containers. Try and make a hop vodka. I think you'd be really surprised at how much character that pulls in just 30 seconds. But yeah, I totally dig what you're trying to go for. I think it's well worth a shot. I'm just not entirely certain it will work
Denny
I agree. I think that it might be an interesting process to investigate and I wouldn't hold out a lot of hope for it being successful. But you know what; I've actually been wrong before. So, this could be another one of those circumstances
Drew
Internet, please record that into the wiki histories. Don't let it go down the memory hole. Denny Conn admitted that he's been wrong.
Denny
That's right
Denny
Our next question comes from David Updegraff, who gets off to a great start by saying,
"Great show, man!"
I like the way he got the "man" in there.
"Hopefully this is not a repeat but I have a question on best practices to dry hop. In the fermenter? In the secondary? In the keg? Should the hops be loose or in a mesh bag?"
This is becoming like Dr. Seuss.
"Any other options? I recently brewed a 5-gallon batch of IPA similar to a Bell's Two Hearted. Fermentation was around 68 degrees. Over halfway through I let it rise to 72. The beer was dry hopped at room temperature in a mesh bag with 3.5 ounces at the end of fermentation for approximately 4 days. I gravity-fill my kegs through the spigot and that became stuck in the spigot. I struggled to get the bag removed and believe I caused my beer to be oxidized."
Drew
And he says,
"I removed the fermenter lid to retrieve the hop bag and somehow created beer bubbles at the end of the racking tube while racking. Now the beer finishes with a nice metallic taste or something similar. I don't really want to relive the early days of brewing. I don't dry hop too often and usually have many issues with my non-dry hopped beers. Thanks, man!"
Denny
I guess the first thing I would say is; why didn't you try and get the bag out of there? (laughs). That would be my thing. I would attach a string or something to the bag so it could be removed. Ok, so that being said now. I have come around to the point to where I prefer dry hopping my beers in the serving keg and that's pretty much the only way I do it.
But all these methods you mention will produce different results. So, it kind of depends on what you're going for. I have found that dry hopping in the fermenter get you kind of a "deeper" hop aroma, I guess I want to say. Maybe a little bit more "pungent". Or as dry hopping in the serving at cold temperatures give me what I would describe more as a "cleaner", more "accurate" hop aroma. And I apologize for how vague those words are. A lot of it will depend on what you want to do.
I always put my dry hops in a bag. Whether it's in a fermenter or a keg. I use those cheap little 35-cent muslin bags. If I'm dry hopping in a keg I use some monofilament fishing line to tie that bag to my dip tube so that the bag hangs about halfway down into the keg. And like I said, that is my preference because number 1; I have hops in there all the way through serving the beer, which can be a couple months or so for a keg around here. And Also, I just prefer the character that I get from dry hopping that way.
I have very definitely decided that I like to get the beer off the yeast before I dry hop. There are a number of people's whose philosophy is if you dry hop while there's still yeast in the beer – or even at the very end of your primary fermentation…that fermentation will scrub any oxygen that the hops might introduce and keep the beer from becoming oxidized. That might be the case, but I also found that I get interactions between the yeast and hops that produce things I don't really care about. I get a lot of flowery kind of aromas coming out of doing that. A lot of rose aromas that I don't really care for. So that's how I've made my decision.
But I think that the important thing is to be aware of the different effects of different methods and use the one that gets you the results that you want. What do you do, Drew?
Drew
Not surprisingly I don't actually brew a lot of beers that require dry hopping, but when I do I just simply take my pellets, I throw them in a bag, I throw in a chuck of stainless steel. Like a stainless-steel bolt or something and I chuck the damn thing in the keg. And I walk away.
I can do this because I have a lot of kegs. I'll monitor after about 4 or 5 days and I'll check to see what I think the dry hop aroma is. And if it's a beer that I'm planning to hold on to for a long period of time; once it hits the right area I'll transfer and rack over into another keg.
I don't like putting hop bags in fermenters for various reasons that we just saw from our listener. They get "swelly" and get difficult to remove. I pull them out of the keg after I've racked the beer off. If it's a beer that I'm taking to a festival, or a party and I pretty well expect that beer to be killed that day, or mostly killed; I'll still leave the hops in there until such a point in time that I need to get them out.
So yeah, pellets or leaves. In a bag. In a keg. If I'm really feeling paranoid I'll put a sure screen at the end of my dip tube. Which is just a little stainless steel screen that slips onto the end of your dip tube. And walk away from it. And I've actually done that before. I think I've left hops in a keg for like 6 months and the beer itself was just fine.
Denny
Yeah. People talk about how you get "grassy and vegetal off flavors" by leaving hops in the keg for too long. I have never experienced that and I believe it's variety dependent. And with the varieties of hops that I use, that has not happened. I think maybe people who have done this and had problems had been using continental hops as opposed to American hop.
Maybe that has something to do with it. I don't know. I'm guessing, so enough of that.
Drew
Our next question comes from Greg Ink. Who says,
"I would like to transfer my wort to the keg via a closed system. Most of the time I'm dry hopping or adding something at kegging. What would be the best practice for transferring wort while dry hopping in the keg?"
Well, again we go back to the previous question. And my answer there. I do full purges on my kegs and we're planning on some point to do an experiment on this because I like my methodology. But I will still, when I'm transferring into the keg, I will have fully purged the keg with liquid pushed out so the thing is full of CO2. And if I have something very complicated that I'm doing like dry hopping or adding something in, I'll simply crack the lid, throw it in that way and transfer in.
Again, remember, I said I will keep it in a bag or I'll have a sure screen on the dip tube to do filtering there. Just to basically turn the whole keg into one giant bag. But yeah. I'll crank open the keg, toss everything in and then rack straight in. If I'm not doing that then I'll try and go through the post just to try and reduce the amount of oxidation that gets introduced. But I've never seen any problems with doing anything like that. A quick exposure isn't going to kill you.
Denny
Yeah, I actually saw a discussion the other day where someone was postulating that you could put the hops into the keg, fill the keg with star san, push the star san out as you would when you were trying to do a close transfer without any oxygen there. And then transfer your beer in as you normally would in a closed transfer. That, I think might work.
I don't think the star san is going to have any real negative affect on the hops. Especially just for a few minutes. One thing I wonder about though, is. You'll obviously have to be continuously releasing the pressure from the keg as you rack the beer into it. Otherwise if you have a pressurized keg that you used to purge it of oxygen…how the hell do you get beer into it if it's still pressurized?
Drew
Oh no. You'd open up the PRV. That's what I do. I've seen other people set up spunding valve setups to reduce it. But honesty, let's face it. If you're actively pushing beer into a keg that's already been purged (and we'll get to that in a little bit in the next segment). But if you're actively doing that, I think the micro level of transfer that you're going to see at the PRV is so miniscule as to be laughable. At least for our needs.
Denny
That's what I would think also, but I'm speculating here, so.
Denny
Next question comes from Troy Jenkins. And Troy wants to know,
"Ever use wormwood to brew beer?"
No. I haven't. How about you?
Drew
Yes. I have.
Denny
I figured that
Drew
Next question.
Denny
(laughs)
Drew
I've used wormwood before to make gruits. And it's an interesting herb (pronounces the h) if we're going to be very British about it. But I don't know…I've never been totally enamored by it.
I know there are a lot of people out there for who wormwood is very traditional. Because it's very bitter. And then you have other people who are big into it because they think "mmm wormwood, or Artemisia, absinthe. AKA everybody gets to see green fairies!" That pretty well seems to not be the case. And most of the green fairies of absinthe just came from the fact the stuff was bonkerly strong.
Denny
I know other ways to see green fairies.
Drew
Yeah, well not all of us live in Oregon.
Denny
OK
Drew
I've used it. I've used it to make gruits. You do need to be somewhat careful and keep a light hand with it until you figure out what you like. Because wormwood is a very strong flavor. And it's very strong flavor that to most American pallets is unpleasantly medicinal and not something that we expect. So, I would actually start in the quarter ounce per five-gallon area when boiled and go from there.
Drew
Next question comes from one of our IGORS. Actually, a serial IGOR at this point, Jason Mundy. He is asking a question about malt. He says,
"I've had a fellow homebrew club member that went pro. He told me you could make the equivalent of English pale malt with 90 percent American two row and 10 percent Munich. What are your thoughts on this?"
Well, my thoughts on that is…if I was a pro brewer and I didn't want to pay for Marris Otter It sounds like a damn fine idea. And if you look around you see a lot of American IPA recipes out there that may not stick to 90% / 10%, but they do blend domestic two row and Munich. In fact, you'll see it in the experimental recipe that we're using for the great IBU test that we announced last episode. The same sort of construct. Pale malt and Munich. Because Munich, frankly, does give a sort of malty, bready, toasty character that is missing from domestic two row.
Now, having said that. At the homebrew level if I want English malt character I'm going to kick in the extra 10-20 cents a pound to get the English malt. Because even with doing pale malt and Munich, I don't think you get quite the same sort of "punch" that you get from say, a good Marris Otter malt. Is it a feasible ingredient substitution? Absolutely! What do you think?
Denny
Yeah. I think that it's going to probably be close enough. And, you know, as a homebrewer…sure. Spend the extra few cents. But what if you're ready to brew and you don't live close to a homebrew store? And you happen to have American pale malt and Munich sitting there but no British malts?
Sure, do it! I'm sure it will be great. But will it be exactly the same? No. Will it be damn good? Yes. I'm a big fan of Munichs in things like American Pale Ales and stuff like that. And I think if you're brewing a British style beer…this will get you a whole lot closer than if you just used American Pale Malt as your base.
Drew
And truthfully, if you're going to go for a flavor character that you find in most of your American IPAs, for instance. I think that would be actually closer than using Marris Otter. Even though I really prefer Marris Otter for obvious reasons. So that's the last of our ingredient questions, right? No other ingredient question….going once, going twice! We're going to take a quick break; bring you a little bit more tuneage. We're going to come right back and we're going to hit the mash tun!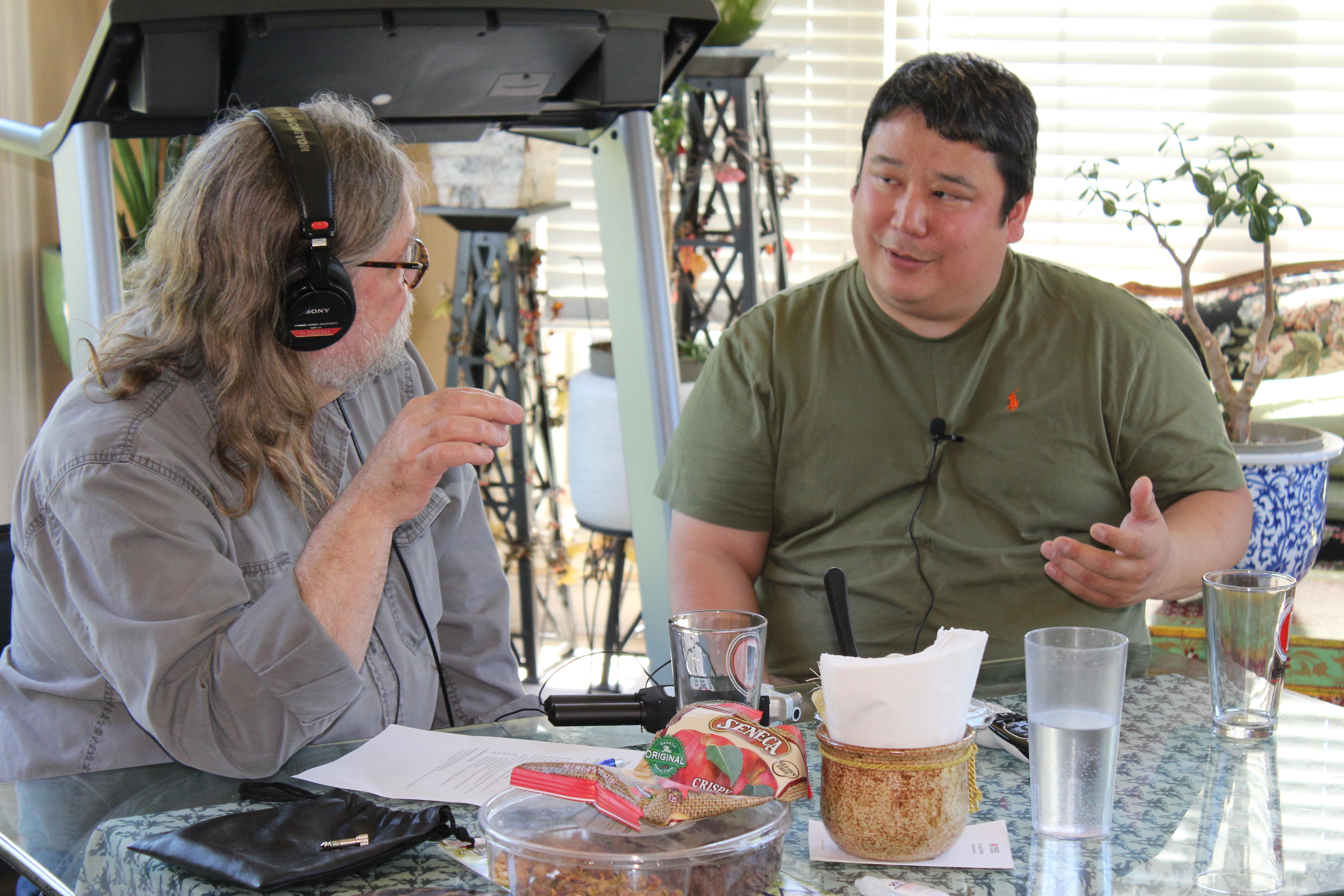 Denny
We're into question about the mash. And the first one goes to Drew.
Drew
And the first one goes to Mike Mallum out of Portland, Oregon. He says,
"Hi Denny and Drew! First off, thanks for the awesome podcast and great books!"
No – thank you.
"My question I regarding efficiency when using a HERMS coil to manage temperatures during the mashing process. I've noticed a significant drop in my efficiency. 10 points sometime when I use my HERMS coil (constant recirculation) versus leaving the water undisturbed in the mash tun. Is it possible the constant agitation of the mash water is not allowing the enzymes to convert the starches? I usually run it at a slightly high speed of recirculation and monitor the temperatures regularly. I understand that you prefer less complicated brewing systems, but since I fully invested in this equipment, I'm wondering if you could provide any insight as to why this is happening. If not, I'll just continue to add more grains to get my points up. Thanks again. I will continue to brew experimentally."
Alright Mike! Yeah, that's weird. Because in all my experiences of ever playing around with HERMS systems; the one thing (and I just realized I doubled up a word there…HERMS system…oi. All of my times playing around with HERMS or RIMS or any of these other recirculating systems that are out there…my usual experience has been the recirculating system increases the efficiency of my brew day; in terms of what I'm extracting from the malt.
And to answer one of your concerns there. Is it possible that the constant agitation isn't allowing the enzymes to strike the mash? I would say no. Because the recirculation…you have to understand…the enzymes are going to come out of the kernel that have been cracked. They're going to come into the water and at the same time that's happening, starch is going to be exploded and come out into the water as well. So, this recirculation is actually just agitating the mash and allowing for that process to continue. So, if anything I would think it would increase the amount of efficiency.
And we see this a lot with even professional brewing systems. Where even down at the homebrew level with say, the Zymatic systems that Denny and I both have. Where that recirculation allows you to actually pull more material from the grain.
Denny
Yeah, I just brewed on a grainfather, which is basically a HERMS system. And I found that I maintained a very consistent mash temperature the whole time. And the efficiency was right where I found it. So, it seems like it's hard to chock it up to that, doesn't it?
Drew
So, to my mind, here's the thing. Any time somebody tells me they're having efficiency problems I usually look at one of two things. Either the crush of the malt or uncalculated leftover water left somewhere in the system that's robbing you of sugars. Now I don't know which that is for you because obviously, I don't see what your grain crush looks like or what your experience has been.
However, here's my suggestion. The HERMS is effectively an add on to you mashing. What I would say – if you want to see whether or not it's the actual recirculation that is causing this issue. I would try and do a batch of beer – do two batches. Same grain. Do one with your recirculation that you normally do. Make sure they're crushed exactly the same. Do one with the recirculation as you've been doing and do the other just plain jane in a cooler; un-agitated, un-recirculated. And see what your results are. If your results are the same, it's obviously pointing to something that's outside of the actual HERMS-ing process. If the results are different then...(and by "something outside the HERMS-ing process I mean your crush)…if the results are different, then you really need to take a look and see,
"do I have water, for instance, trapped in the HERMS coil that's holding onto sugar?"
"is there something about how I'm doing the lautering this setup that's different that's causing the issue?"
I can't, for the life of me imagine that it's the actual HERMS.
Denny
OO OO OO OO! I have an idea! Mr. Kotter! Mr. Kotter! I have a concept that is out there enough to just possibly have some validity to it.
Drew
Is it aliens? Tell me it's aliens.
Denny
Oh, yeah man! Paula and I always believe in aliens. What I'm thinking is; is it possible that the temperature control on the HERMS coil is not "tight" enough and you're getting temperature swings that are high enough as the wort is running through your HERMS…that you're actually denaturing some of the enzymes with it?
Drew
Yeah, but the problem is we usually, I think as homebrewers we usually tend to think as enzyme kill temperatures as being "insta-kill switches". And they're really not. It takes minutes and minutes and minutes of exposure. Take a look at what your water bath is. That's your heat source. And maybe to Denny's point. I know you'll reduce the efficiency of your ramps. But it could just be that going at 180 degrees into the HLT is actually causing your problem. Particularly if you're actually recirculating through the coil and not recirculating through, say a bypass to maintain temperature. But if you constantly recirculating through 180-degree water… that could be a problem. But that would just be from time. Not like some sort of "big fluctuation instantaneously" type thing. You may actually have a point.
Denny
Yep. At this point, that's all we got! It doesn't make a whole lot of sense, so that's about the best we can do.
Drew
Definitely. I've never really heard of anybody having a recirculating system causing them to have a drop in efficiency. There's something else going on.
Denny
Right.
Denny
Next question comes from Anthony Moran. Who says,
"I keg all of my beer. And while I have a fair handle on the precaution I need to take on the fermentation of the beers…"
And he's talking wild or sour beers, here.
"I'm unsure if I need to take these same measures when it comes to serving. Can I serve a Brett beer straight out of my kegerator? Do I need dedicated kegs? And what about taps and lines? I'm a brew in a bagger. Well, actually I brew in a bag in an esky (Australian for cooler. The kiwis call them "chilly bins") and I've just purchased a grain mill. I've heard you can go much finer with brew in a bag. But is there a point to where a fine crush starts hurting the finished product or effects the brew day?"
Well I'll take on the last part, here. And I'll let Drew handle the first. I crush really fine. I have a JSP adjustable mill and I pretty much have those rollers closed down as tight as they will go to get as fine a crush as I can get. I don't use brew in a bag, but I'm kind of similar with my batch sparge in a cooler with a toilet hose method. I have never had a problem doing that. I don't use a lot of wheat but I've gone as high as 60 percent rye in a beer and I've never had a problem with it.
So, my take is that brew in a bag is a fairly forgiving system when it comes to lautering. So, I think that probably you could go ahead and crush about as fine as you want to. And I'll tell you how I did it. I just kept crushing finer and finer every time. When I finally had a stuck runoff, I backed off my mill gap just a hair; until I could barely see the rollers move. And that's where it's been for the last 17 years. I don't change it. Theoretically, I would say yes. Go for as fine a crush as you feel like you want to have, but be prepared for the fact you might have a stuck runoff and oh well. It's not the worst thing in the world.
What about serving wild beers, Drew?
Drew
So, there's a lot of righteous fear about any sort of wild ale. And particularly Brett beers. And you'll see people say, "I keep separate hose. I keep separate kegs."
I have, actually pin lock kegs that I use for some of my wild beers. But I save those for the pseudo-Lambic style beers. The ones with pedio-coccus and other super scary things that I don't want to actually get in any of my beers for a long time. Now, what I do, is I will reuse my kegs. I do have a set of ball locks that I use for brett beers. I have it marked on them "hey this is a brett keg".
But the only reason I actually do that is because I don't want to do the one thing I feel like I'd have to do. Every time I would want to turn one of those Brett kegs around and use it for a regular beer, which is turn around and replace all the rubber. Our kegs are stainless steel. They're pretty survivable unless they've got micro fissures in them. Which you'll quickly discover if you do this. If you want to reuse your kegs…I would go ahead and reuse it. I would keep a separate set of plastics. So, a separate set of disconnects. A separate set of serving hoses. Make sure they're marked well. Use some red tape or whatever. Use those exclusively for your bretts. Otherwise, when it comes time for you to finish serving your brett beers and you want to turn your keg back around into service for something regular…I would go ahead and take them apart; replace the seals, all the rubber bits. And then really clean and sanitize the ever-living Jesus out of the thing.
For me, it's not uncommon that if I'm using a keg that had brett; I will make sure I get a star san soak or a sani--clean soak in there for a day after replacing the seals. Just out of extra paranoia. I mean, is it actually necessary? Probably not.
But at the same time, I have had a situation to where I sort of half-assed the sanitation of a brett keg. I put a nice saison in there and six months later I had a brett Saison. Because it will regrow. So, just keep that in mind. I do tend to keep a couple of kegs exclusively for brett ales.
But otherwise, if you are in a short kegging situation; just replace the rubber and sanitize the ever-living Jesus out of it. And that's what I do. Can you serve your brett beers straight out of the kegerator? Yes. But, same thing. Different serving line.
If you have a kegerator, be prepared to swap lines. I've known some commercial bars that got kegs of Cantillon, for instance. Which is not a beer that I would suggest serving on a kegerator. And they went later and put a barley wine on it. And that barley wine slowly stared to tun and taste like Cantillon.
Denny
That's not a bad thing!
Drew
Rules of plastic apply to the kegerator lines, too.
Denny
Yeah that's right Okay, I guess you get the next one here, man.
Drew
This one comes from James Wilson in London, England. He says,
"Denny and Drew I love the show and your books. Both so different from the usual recycled homebrew knowledge out there."
I feel like I've been recycling for years! He invites us over to come and visit the London amateur brewer's club. I'll tell you what; if you can figure out a way to get us over to London in a way that doesn't cost an arm and a leg; yeah, I'm there!
"So anyway, I had a question. Having tried out multi-rest mashes for a few beers, I've never been happy with the results compared to a precise single infusion. I'm wondering, though if I can add that little extra bit of flavor to some of my malt-driven beers such as a Helles and a bock with a decoction mash. Have you guys seen benefits in beers from doing decoctions? I want to make the best beer I can. Cheers!"
Alright, James.
Denny
Here we go!
Drew
Denny and I are of pretty much the same opinion about decoction mashing. Which is; that's an awful lot of work for a very limited amount of benefit. If there is a benefit. I don't do it. I don't even do it for my award winning Helles bock, which I love.
It's a combination of the two things you were just talking about. I do add a little bit of melanoidin. It's a little bit of a cheat, but I don't know if I'm sophisticated enough to actually detect the itanus of German beers that in theory comes from things like decoction and other cray things.
But yeah. I like a single infusion mash and I think that's largely because, again, I'm lazy. Even if I do multi step mashes for some things. As for decoction; I think decoction if a fun skill to have. I think it's a fun thing to try. But if brewing my beers depended up doing decoction, I would have gotten out of the hobby faster than I would have if I had kept bottling.
Denny
Yeah really. Let me start off with a little intro here and say that….do not get caught in the trap of thinking that if you do more work you will make better beer. There is not necessarily any correlation between those two things. Now, one of the very first experiment I did close to 20 years ago is what I called the "great decoction experiment". Where I asked a bunch of brewers from all over the world to brew two batches of beer; one decocted and one not. And put together a tasting panel to taste these beers blind and see which beer people preferred. I myself made two batches. I made a pilsner and a dunkel. And then there were other brewers who did other beers. Bottom of the line is that when you look at the results from all the tasters that were involved….in general; decoction beers were preferred to single infusion beers.
However, if you add the number of tasters who preferred the single infusion beer and those who had no preference; that was more than the people who preferred the decocted beer. Which kind of says to me that decoction did not make a real significant difference in these beers that made people prefer them.
I still pretty much tend to go with that theory. Although, every once in a while, I'll do a decoction just to see if I've missed something. And I would really love to run this whole experiment again one more time. Because there are other people who have done similar things and gotten different results.
All of which is a roundabout way of saying "try it and see what you think". Brew the same recipe. Brew one version with a decoction schedule. Brew the other version as a single infusion and then do your own blind triangle tasting. Have your friend over to taste them. Have your significant other pour three beers for you and do the blind triangle test yourself. See if you can; 1: pick out the different beer and 2: Which one you prefer. Maybe you'll be able to pick out the decocted beer every time but you'll actually prefer the other beer.
Who knows? That's the best way to do it. Drew said he adds melanoidin malt to kind of simulate the effects of decoction. That kind of pre-supposes that there are effects from a decoction. There's nothing wrong with doing that. I would say don't expect decoction to be magic for your beers. But try it and see what you think. There you go!
Drew
Alright I think we got one more question in the mash category.
Denny
Okay! Add this is going to be an interesting one. This question comes from Brock Freeman via email. And he says,
"What, in your opinion is the best vessel to mash in."
Oh boy!
"I currently use a keggle with a bazooka filter that I heat up on a turkey fryer to strike temperature, then cover with a blanket to maintain temperature. I monitor the temperature with a lab calibrated thermometer. I'm the only person I know that uses a keggle and I'm wondering if my mashes suffer (mainly low extract efficiency) because of this. Do you find using some variety of cooler to be preferable to a keggle?"
Well, for me, yes, I do. That's why I have three different sized coolers sitting out in my garage that I use to mash in.
Drew
How many of them are blue?
Denny
Uhhhh. Two of the three. The other one is all white. And you know, it comes down a lot to personal preference. There is nothing wrong with using a keggle. Although, if you're getting really low efficiency, then you may want to look at how you have it set up and rethink that. A keggle will generally be better used fly sparging than batch sparging. Although you can batch sparge in it. So, if you are fly sparging, you want to look at your fly sparge technique to make sure you're not getting channeling. You want to look at your false bottom or whatever you're using in it. Let's see; did he say he uses a bazooka?
Drew
Yes, he did.
Denny
Okay. So, then you probably don't have to sorry about dead space underneath a false bottom or anything like that affecting your efficiency. Crush is always the number one thing I look at with regard to efficiency. So, you could try crushing finer and see if that does it. But basically, I don't know if there is a universal best mash tun. The best mash tune for you is the one that fits the way you like to brew.
Drew
Yeah. And I'll chime in with that as well. The first twelve years of my life as a brewer, I mashed in a cheap Chinese stainless steel kettle that I put on my stove. Because I was a five-and-a-half-gallon brewer. And that worked like a charm. I didn't even need to blanket it or anything. I would just occasionally put some heat on it and stir. Nowadays I do use a cooler normally – on my normal rig.
But when I go and I brew, for instance, with my club on our club system; that's a giant kettle on top of a big propane burner. Or sorry – a giant kettle on top of a natural gas burner. I'm sorry, Mr. Fletcher!
I think you can brew in just about anything that you want. And I don't think it's going to matter very much. I use a cooler because it turns out, for the most part, I do single infusion mashes. It's easy. It's reliable. It holds the temperature well enough that I can cover everything up, walk away from the mash, and do whatever else is needed before I get to the stage of running off.
But if you're having problems with your efficiency, look at your crush. Look at all the other factors that Denny mentioned. But, no, I don't tend to think that your vessel is going to make that much of a difference; with the exception of the channeling problem that you might have. But even then, one would hope that doing a single draw type filter like a bazooka, or a toilet hose braid or something like that would even out the channeling issue if you're fly sparging.
One possibility to try, if you are fly sparging. Give the thing a try with batch sparging and see if that helps. Otherwise, no, it's not your kettle choice. You're fine.
Denny
Yeah, I would say that using a bazooka screen is probably not the best choice for fly sparging. And so that would be a good reason to try a batch sparge. Because that kind of removes the lautering system as a variable in your efficiency. So! There you go! You have a bunch of wild-ass guesses from us!
Drew
Alight everybody, that's the end of part one of the Q and A. You guys sent in so many question that we're not even halfway through yet. So, we're going to split this off into a second episode. So, episode 25 is also going to be mostly Q and A; along with some additional content. We are done here with episode 24. We hope that you appreciate the questions!
END OF Q and A.