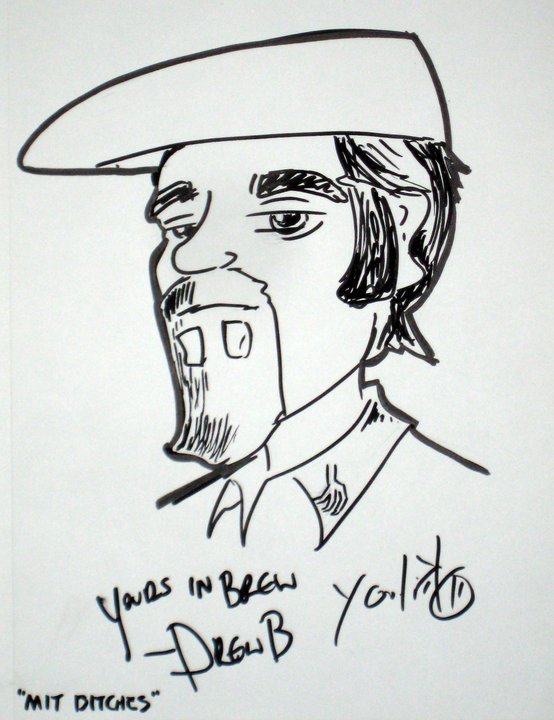 Our brewing partner in "science", Marshall "Brulosophy" Schott released results of a biotransformation experiment here. In it he brewed a NE IPA recipe that was double dry hopped. Two batches brewed with the first fermenting out for a few days before the second was brewed. The second batch received the first dose of dry hops while the beer was at high krausen. The first batch received it's dry hops after the beer was done fermenting.
In the end, while there was an apparent visual difference, not enough of Marshall's tasters successfully chose the odd beer out to make a call of significance. 
We thought - wouldn't it be fun to turn the IGORs loose on this one and see if we can see something in  a larger sample set.
To simplify matters for the IGORs, we're tweaking the experiment a touch to make it easier to execute. First, we're simplifying to a single dry hop to allow the greatest difference in nose. Second, instead of requiring two separate brew days, we're going to have the IGORs manage the exposure length by racking. (e.g. Pitch both beer simultaneously. When Batch 1 hits high krausen - dry hop it. Allow the beer to finish fermenting and reach terminal. Record the number of days the beer was on the hops. Rack both beers. Dry hop the second batch and hold on the hops for the same number of days as the first batch. Package and keep cold until serving)
Question:
Does Dry Hopping a Beer During High Krausen Produce a Organoleptic Difference?
Hypothesis:
Tasters will be able to detect a bio transformed dry hopped beer from the non.
Special Equipment/Process:
- Record the length of dry hopping (e.g. 4 days)
- Match the dry hopping in primary with the days dry hopped in secondary
- Comment below if you're using Wyeast 1318 or Wyeast 1056 for fermentation. Please note the choice in the report as well. What's different?
Special Observations:
Note the difference in appearance - does the dry hop in primary lead to a noticeable haze? 
Is there a difference in the hop characters? 
Which do people prefer
Experimental Procedure:
Brew enough volume of the target recipe to split the wort into two equal fermenters. Chill and prep the wort/fermenters exactly the same
Ferment the batches in the same space and under the same conditions, especially temperature. Match the fermenters and other equipment.
When one portion hits high krausen, dose with the dry hops. Allow fermentation on both carboys to proceed to terminal. Record the number of days on the dry hops.
Rack beers to secondary (or settling keg) - dry hop the second batch for the same number of days.
Package the two beers and store cold until testing
 Perform a triangle test 
 Ask the testers for their observations on the samples. DO NOT Reveal the Difference between the samples.
Discuss the results and record any further observations. (including taster preference)