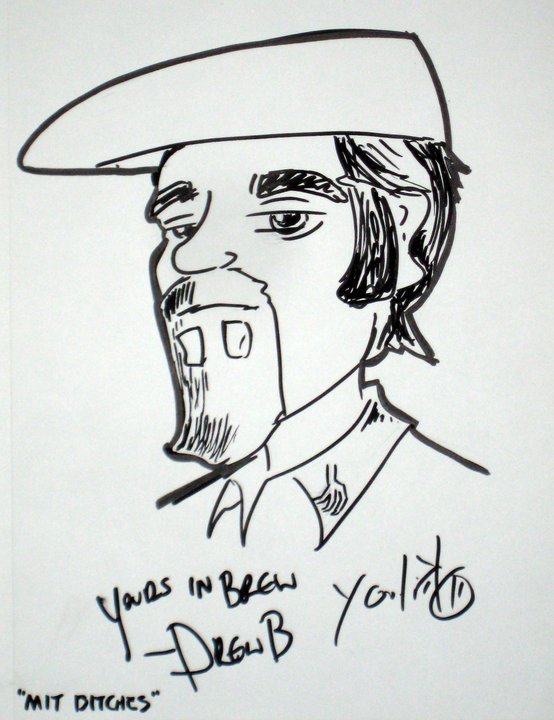 There's been a big kerfluffle in the online brewing world this year over "LoDO" brewing aka Low Dissolved Oxygen brewing. Proponents of the extremely complex methodology theorize that by reducing the amount of oxygen entrained at all times in the mash or the boil that you prevent oxidative reactions that damage the beer's flavor and reduces the overall malt character.
The reason they're obsessed is they're driven to recreate the "it" character they claim German beers have with their malts that they find lacking in many commercial and homebrews.
Fair enough, I haven't been completely sold on the "it" factor, but I'm also not a huge fan of German beers. What? You're shocked?
Fast forward to a chance meeting between Denny and Joe Formanek, a featured profile in Homebrew All-Stars, two time winner of the AHA's Ninkasi award (most medal points in the AHA National Homebrew Competition), six time winner of the Midwest Homebrewer of the Year, AHA Meadmaker of the Year and a Sam Adams Longshot winner. (Ok, seriously that's a disgusting list of bonafides - stop it Joe!)
When he's not making homebrew to make angels weep, Joe's out talking about an interesting product from the Japanese firm Ajinomoto designed for brewers - BrewTan B. BrewTan B is a potent tannic acid compound that's meant to be dissolved in the mash and in the boil kettle. It binds with a number of protein molecules that are prone to oxidation and haze formation. It also, in theory, aids in the lautering process - producing clearer wort that's more sugar efficient. How much do you need? Joe recommends a dosing rate of 1/4 tsp (0.5gm) per 5 gallons of sparge/mash water and 1/2 tsp (1.0gm) dissolved into a beer slurry and added to  the boil at 16 minutes. It's a wee amount!
At the moment, BrewTan B isn't available to homebrewers in the US - Joe's working on that. But Joe's agreed to send our IGORs some BrewTan B to experiment with. Who knows - if the results are as stellar as Denny's initial tests are, maybe, just maybe we can make it available here. (Australian homebrewers have access to it - jerks!) 
To get a broad spectrum of results, we're going to let the IGORs loose to brew their favorite recipe twice. Once with and once without BrewTan B. Let's see what happens!
Question:
Are beers brewed with BrewTan B, organoleptically different than beers brewed without
Hypothesis:
Yes, the beers brewed with BrewTan B will be clearer and less oxidixed
Special Equipment/Process:
IGOR's choice on recipe. Ideally you use a recipe you know well. Use all your usual procedures and chemistry adjustments. Actually, for this one - no post kettle finings (e.g. gelatin)
Brew one batch of beer straight, without Brewtan B. Brew the second with the recommended dosing rates (0.5gm / 5 gallons mash/sparge water; 1.0gm dissolved in a slurry and added to boil with 16 minutes remaining)
Ferment, package and treat the same otherwise
Special Observations:
Lots of photos for this one
Record your recipe for sharing. Remember sharing is caring
Record your lautering efficiencies. Record gravity at several stages, including initial, mid and fnial. 
Record lautering experiences - differences in clarites, flow mechanics, bed appearance, etc.
Take a photo of a glass of the collected wort. (e.g. post sparge, pre-boil in a glass to demonstrate wort clairty)
Photo of boiled wort prior to addition of BrewTan B, photo of boiled wort (still at temp) at end of boil
Record gravities of both batches
Take photos of final beers at service with strong backlight to demonstrate any clarity defects.
Feeling ambitious? Wait a month and repeat the triangle test. Observe any changes.
Experimental Procedure:
Purchase two batches of your target recipe. (Denny will ship the BrewTan B samples to you)
Brew one batch of beer without BrewTan B. Record all the relevant observations. Pictures galore, etc. (See special observations above)
In a timely fashion, brew the recipe again using BrewTan B at the recommended dosage level: 1/4 tsp (0.5gm) / 5 gallons Sparge/Mash water; 1/2 tsp (1.0 gm) / 5 gallons dissolved in a beer slurry and added to the boil with 16 minutes remaining. Again record all the same relevant observations.
Ferment both batches in the same space and under the same conditions, especially temperature. Match the fermenters and other equpment.
After fermentation subsides, record the length of fermentation and the final gravities.
Package the two beers in exactly the same fashion. (Bottle primed with sugar, kegs and force carbonated, etc) - Record packaging methodology
Perform a triangle test and record the results
Ask the testers for their observations on the samples. DO NOT Reveal the Difference between the samples
Discuss the results and record any further observations (including photos!)
If you're feeling ambitious - wait another month and repeat the test with new tasters. Record the results. Pay extra attention to notes of oxidation.