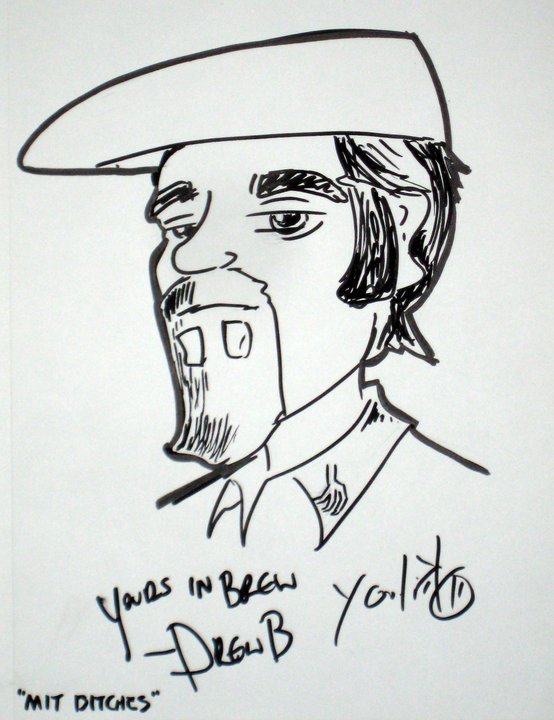 Most of us geeky adherents to the world of homebrewing love our numbers. What's your efficiency rating, what's your gravity, your pH, your blah, blah, blah, blah..... There's a comfort, cold as it may be, in having a number we can look at. Numbers provide a reasonably solid, nonsubjective measure of the world - a target, a pin in the map. 
And so, no surprise, we measure everything in the beer world in an attempt to use numbers to measure something horrifically subjective and biologically wibbly. That includes bitterness with our much vaunted/touted IBU. "This beer has 50 kajillion IBUs and is so bitter it will scrape your tongue straight down to the lingual nerve!" But you know that thing is a fiction right? 
The quick and dirty IBU assay basically measures the absorbtion of light at a specific wavelength (275nm) and then multiply that by a fitting co-efficient (50). It's a rough fit estimation of perceived bitterness to the amount of dissolved iso-alpha acids. But there's a lot of stuff behind the perception of bitterness and the testing and the equations were mostly centered around the world of commercial brewing in the 1950-70's aka mid gravity lager brewing. 
Then we get into a second order of estimation in the brewing world when we try to predict what our IBU's. There are a number of prediction formulas out there that attempt to get from a baggie of hop pellets to the kettle to the IBU in the glass.  Boy do they vary too! One system's measurements might say "this is 77.7 IBUs" and another "93.4". The trick of course is to find one calculation, burn its meaning into your head/palate and use it. (The other part of the whole thing is these rough estimation calculations depending heavily on system geometry, boil velocities, etc. It's a mess and tough!)
For this experiment, we're going to have brewers from around the world brew up one of 3 recipes - a Basic Pale Ale, IPA and DIPA. We're going to compare the recipe calculations to actual measurement assays done on the various brewers beers. Plus we're going to put together a bunch of tasting notes to show the differences between the brews!
To help us ensure the "sameness" of our hops - our sponsor NikoBrew.com is going to provide the hops to our participating brewers so we can have even lots. (We'll also be testing the hops naturally to give our calculations the best shot).
We'd also like to thank the American Homebrewers Association for sponsoring this experiment! (Go download their new app - BrewGuru!)
Question:
How do the IBU calculation formulas compare to the reality of IBU's in a beer when put to the test under different gravity scenarios
Hypothesis:
They vary greatly from system to sysem.
Special Observations:
- As you brew, please record your kettle volumes over time, your initial kettle gravities
- Oh and photos of your boil kettle/burner setup as well! (This includes Pico style systems)
Experimental Procedure:
Choose one recipe out of the Basic Pale Ale / IPA / DIPA series. (If you're really ambitious do all three)
Your hops will be delivered from NikoBrew (Drew has details)
Brew, carefully recording all of your important variables. 
Ferment, recording temperatures - skip the dry hop step for this experiment.
Bottle and ship

You'll be sending 3 bottles to Denny who will have one bottle assayed. One bottle tasted by him and one bottle tasted by me.

Have a tasting! Record people's subjective experiences. Ask about bitterness levels. Serve beside commercial variants and ask participants to rank the beers in terms of bitterness.

Pale Ale "Classic" : Sierra Nevada
IPA "Classic": Stone IPA
DIPA "Classic": Green Flash West Coast IPA

The bottles shipped to Denny will be split between us and used for a hedonistic ranking test where samples will be ranked by multiple voters by bitterness levels and favorites. 
Experimenters Questions:
Malt Choices - Which - Let's go domestic - for the munich - let's go Briess or Briess equivalent (L/Gravity)
Finings - None except optional Irish Moss
Dry Hop - No dry hop of the samples sent for analysis please
Mineral Profile - let's go your usual route (please note your water treatment)