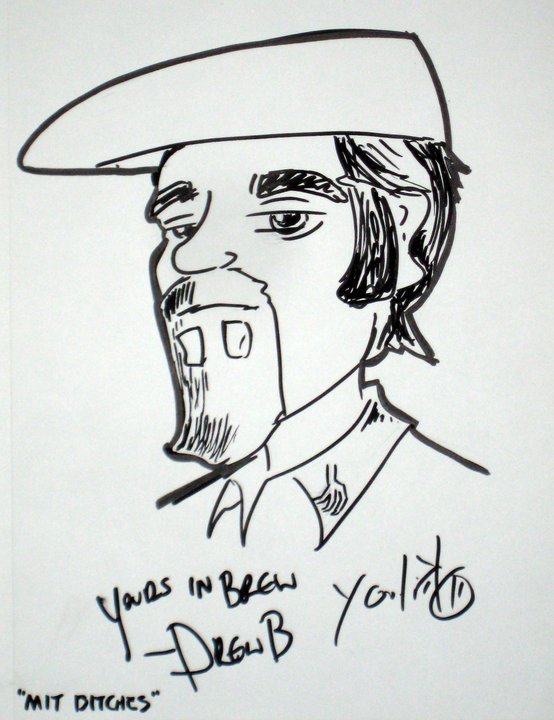 If you're gunning for big hop aroma to your beer without the grassiness of dry hopping, traditional practice calls for a large dose of hops after the boil has concluded. These "whirlpool" hops, so called because properly the wort is cycled to create a whirlpool, are thought to give a big dose of aromatic hop oils that aren't volatilized by the high heat and action of a boil.
Usually this practice is done at temperatures just off the boil but recent trends have pushed for the addition of whirlpool hops to start at lower temps around 170F (76.7C). Some are advocating for even more substantial temperature drops before whirlpool, calling for a drop to 120F (48.9C) before adding the hops. This is driven by the flashpoint of many of the aromatic essential oil compounds (<140F/60C). In theory, by adding the hops after dropping below this point, but while still having plenty of heat, you'll extract and preserve more oils into the beer wort than via traditional methods.
(For an example of this discussion - listen to James Altweis of Gorst Valley Hops on BeerSmith)
Question:
Does steeping at a reduced whirlpool temperature (~120F) provide more robust hop character from the same hop charge compared to more traditional brewing practices of adding whirlpool hops just post boil
Hypothesis:
There will be a qualitative noticeable difference between the beers with the lower temperature variant displaying more hop aroma.
Special Equipment/Process:
Boil the wort together. Have two vessels set for whirlpooling the hops
Recipe Changes

Only use one whirlpool addition per vessel according to the instructions
Experimental Procedure:
Brew enough Jim's Whirlpool Pale to have equal fermentation portions.
Boil the beer as according to the recipe. After the boil, chill both beers to 170F. At this point split half your post-boil volume into another vessel and add the first addition of whirlpool hops. Stir vigorously (or setup a recirculation via a pump) and allow to steep for 30 minutes.
Continue chilling the first portion of wort until it hits 120F. Add the second addition of whirlpool hops to this kettle and steep for 30 minutes.
After each kettle has steeped for 30 minutes, finish chilling to fermentation temperature, transfer to your fermenters and go.
Ferment both batches in the same space and under the same conditions, especially temperature. Match the fermenters and other equpment.
After fermentation subsides, record the length of fermentation and the final gravities.
Package the two beers in exactly the same fashion. (Bottle primed with sugar, kegs and force carbonated, etc) - Record packaging methodology
Perform a triangle test and record the results
Ask the testers for their observations on the samples. DO NOT Reveal the Difference between the samples
Discuss the results and record any further observations
Recipe Link: http://www.experimentalbrew.com/recipes/jims-whirlpool-pale
Further Exploration Paths:
Compare the effect of 120F whirlpool hops to dry hops. Compare the impact when using "newer' more oil heavy hops!