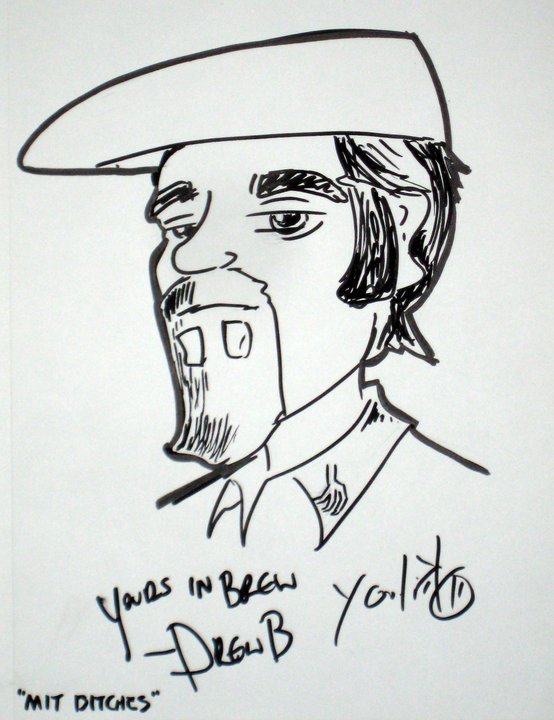 The IPA is the king of the current American craft beer scene and in recent years the new belle of the Hop Ball has hailed from New England. Heady Topper from Vermont's Alchemist was the first to catch beer lover's attention and since then many beers in the same vein have appeared. Skipping over a great many of the discussion of the style centering on the word "juicy" - a number of beer exhibit an intense hazy appearance. This murk is a controversial part of the equation (not every example has it for instance). Style aficionados credit the haze not to unsettled yeast like detractors do, but instead to an unique synergistic effect of yeast strain, haze positive adjuncts like flaked oats and essential oil heavy hops freely larded in the whirlpool.  
This will be the first of a few experiments exploring the nature of the style as it currently works (in theory)
Question:
Does the yeast choice generate the haze in a "New England Style IPA"
Hypothesis:
There will be a noticeable visual difference between beers fermented with a Conan strain and a "California" strain.
Special Equipment/Process:
For this one and all the NE IPA experiments that we do - we'll be asking testers to use opaque testing cups to avoid visual influence. Record separate observations about the visual impact of the beer as well.
Use opaque cups for the testing to avoid visual cues - also be prepared with clear cups to record visual difference
Special Observations:
Observe and record fermentation temperatures and final clarity
Experimental Procedure:
1) Prepare two separate starters of the yeast strains. Both 2L and all the yeast starters to decant prior to pitching
2) Brew enough volume of the target recipe (Israel Bissell NE IPA) to split the wort into two equal fermenters. Chill and prep the wort/fermenters exactly the same
3) To one volume, pitch the Conan strain. To the second portion pitch the California strain.
4) Ferment both batches in the same space and under the same conditions, especially temperature. Match the fermenters and other equipment.
5)After fermentation subsides, record the length of fermentation and the final gravities.
6)Package the two beers in exactly the same fashion. (Bottle primed with sugar, kegs and force carbonated, etc) - Record packaging methodology.
7) Perform a triangle test and record the results. Record the apparent haze of the samples and # of days since packaging the test was performed.
8) Ask the testers for their observations on the samples. DO NOT Reveal the Difference between the samples.
9) Discuss the results and record any further observations.
Further Exploration Paths:
Haze inducing ingredients - oats/wheat Water chemistry Different hop choices (more classical American C hops for instances with lower oil levels) How does haze change over time? If haze is present, would fining/cold crashing change the haze level and flavor of the beer?