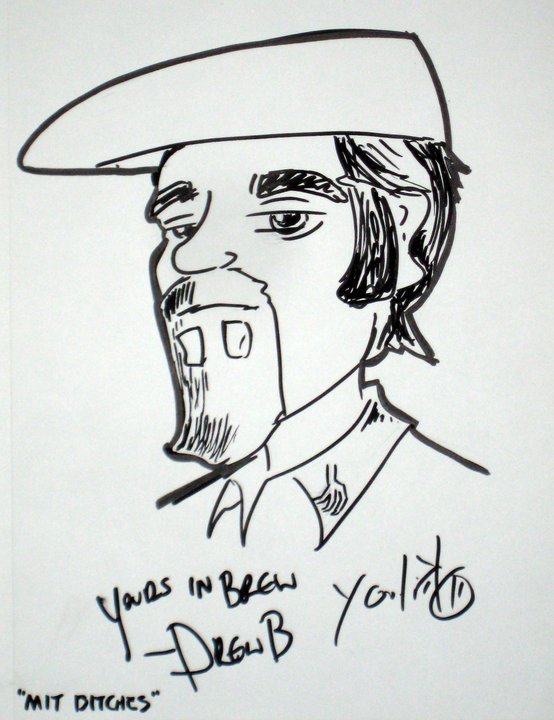 These days it seems like if you want to open a craft brewery you need 3 different styles of IPA, a few DIPAs for people to pound, a couple of bourbon barrel something or others, some sour projects to charge ridiculous amounts of money for and then my favorite style - saison. But there's a problem - the two primary strains people use Wyeast 3724 Belgian Saison and White Labs WLP565 Belgian Saison I both suffer from quirky fermentations. Namely, you pitch them and they take off like gang busters and then about 36-72 hours in they "die out". You get excited, "that was a quick fermentation!", and check your gravity (because you're a wise brewer) only to discover your 1.055 Saison has only dropped to 1.030 and isn't budging. You're "stalled" The usual way of dealing with this stall is to crank up the heat - hit the 80's, heck hit the 90's. Rouse the yeast and sit back and wait - fingers crossed. If that doesn't work within two weeks, hit it with a reliable fermenter like WLP001/Wyeast 1056 to finish off the ferment and hope you've got sufficient "saison" character during the initial ferment. Some crazy people even advocate crazy things like pitching the wort while still in the upper 70's/lower 80's. But, as I started writing about saisons, I got told by some very smart folks at our favorite yeast libraries that the real trick was back pressure - aka the little bit of pressure increase seen in fermenting wort due to trapped CO2. Could the answer then be to do an open ferment? Will that keep the yeast humming along? Turns out, I was already doing it since I ferment in kegs and just crack the pressure relief valve. I suspect that dissolved CO2 in the wort also plays a role, but that's not the real question - the real question is can removing the airlock and subbing some foil really keep the stall at bay? We'll be working from my Guide to Saisons and Saison Yeasts.
Question:
Does using an open fermentation technique avoid the fermentation stall and produce a noticeably different beer that typical closed fermentation techniques used by modern brewers.
Hypothesis:
Open fermentation practices do avoid the "saison stall" and produce a different beer than closed fermentation
Special Equipment/Process:
Fermentation temperature measuring equipment. The ability to chill the wort to 64F.
Special Observations:
This particular test is less about the final triangle test and more about the observations of the fermentation. Record and report the type of vessels used. To that end, experimenters are requested to track ambient temperature, fermentation temperatures and apparent fermentation activity in both vessels on a daily basis. Record how long it took each vessel to finish, final gravities and do a comparison gravity when one vessel completes if the other is still working or stalled.
Experimental Procedure:
Read Drew's Saison Guide
Brew enough Saison Experimentale to split evenly between two fermenters (e.g. brew 5 gallons and split evenly into 2.5 gallons for fermentation). Record the Original Gravity.
Chill the wort to 64F before pitching equal amounts of either WLP565 or Wyeast 3724 (Please tell Drew which you're doing) into both vessels
For the first vessel, add an airlock or blow-off tube as you might normally. For the second vessel, cover the airlock opening with sanitized aluminum foil.
Ferment both batches in the same space and under the same conditions (65F), especially temperature. Match the fermenters and other equipment. Record the daily fermentation temps, activity and ambient temperature if not in a temperature controlled space (fridge, freezer, etc).
After 3 days of fermentation, let the fermentation temps rise naturally for the rest of fermentation, continue recording temps and observations.
After visible fermentation subsides (aka the krausen falls), record the length of fermentation and the gravities. Let the beers continue to terminal gravity (1.004-1.008), record the length of fermentation and the final gravities.
Package the two beers in exactly the same fashion. (Bottle primed with sugar, kegs and force carbonated, etc) - Record packaging methodology
Perform a triangle test and record the results
Ask the testers for their observations on the samples. DO NOT Reveal the Difference between the samples
Discuss the results and record any further observations
Further Exploration Paths:
What about other Saison strains? What happens if the two "core" Saison strains are pitched together. (Theory being they are two strains independently isolated from Dupont) What happens if we don't follow Drew's persnickety methodology and follow a more traditional hot pitch route?