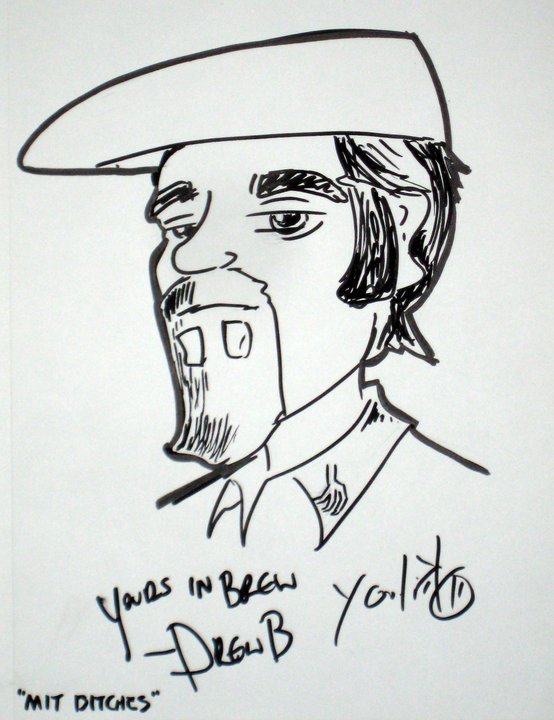 It's Episode 11 and experimental results are back! We start with listener feedback - namely, y'all really loved the Session Beer Recipe collection and the Q&A episode. Looks like we're going to have to keep answering questions! 
At the pub, we talk about how hops are being explored as actual medicine and why sadly this doesn't mean your Quadruple IPA is about to become "healthy", how our sponsor PicoBrew went to 11 for Denny and discuss why we feel that bars and breweries should offer samplers (and why the money crunchers back us up on this assertion). 
Then to the lab where we comb through the results of Denny's favorite experiment - First Wort Hopping vs. 60 minute bittering. First though we start with listener Tim Hagan's fairly clear explanation of the meaning of P-Value. We also talk about why some folks are encouraging a move away from P-Value as the end all be all of science. And then we dig into the experiment! What new and interesting twists did our IGORs find this time? Is there an actual impact here or are we living in a land of make believe?
We go to the Pacific Northwest Homebrewers Conference where Denny interviews Rodney Kibzey, multiple award winning brewer - no seriously, the man won the Sam Adams Longshot Competition twice. Rodney talks up his "secrets" for winning. So you might want to listen to the man.
Denny drops another quick tip from our AHA Forum friends - Don't Get Caught Up With The Shiny Gear!
Drew then leaves us with two something other than beers - Falcons nesting at Briess and then, because you, the listeners, asked Drew talks about how he lost 112 lbs in 13 months and still drank beer. 
Episode Links:
Episode Contents:
00:00:00 Our Sponsors
00:03:28 Theme and Intro
00:05:20 Feedback
00:08:41 Beer Life from the Experimental Brewing Pub - Hops as Medicine, Pico Goes to 11, The Boon of Sampler Flights 
00:20:59 Casa Verde Labs - Exploring P-Value and Experimental Results - FWH vs Bittering
00:42:05 The Uke
00:42:36 Medal Secrets with Rodney Kibzey
01:05:37 Q&A wth Denny & Drew
01:25:38 Quick Tip - Don't Get Caught Up
01:27:42 Something Other Than Beer - Briess's Falcon's Nest & Drew's Weight Loss
01:40:04 Question of the Week, Wrap up and Coming Attractions
This episode is brought to you:
American Homebrewers Association
BrewCraft USA
Craftmeister
NikoBrew
PicoBrew
Interested in helping Denny and Drew with the IGOR program (aka help us run experiments!) - contact them at [email protected]. We want more Citizen Science!
In the meanwhile, subscribe via your favorite podcasting service (iTunes, etc). Like our podcast, review it - talk it up! If you have comments, feedbacks, harassments, etc, feel free to drop us a line at [email protected]. Follow us on Facebook (ExperimentalHomebrewing) or Twitter (@ExpBrewing). If you have questions you'd like answered in our Q&A segment, send an email to [email protected]!
Don't forget you can support the podcast on Patreon by going to http://patreon.com/experimentalbrewing
This episode can be downloaded directly at http://www.podtrac.com/pts/redirect.mp3/www.experimentalbrew.com/sites/d...
Podcast RSS Url: http://www.experimentalbrew.com/podcast.rss