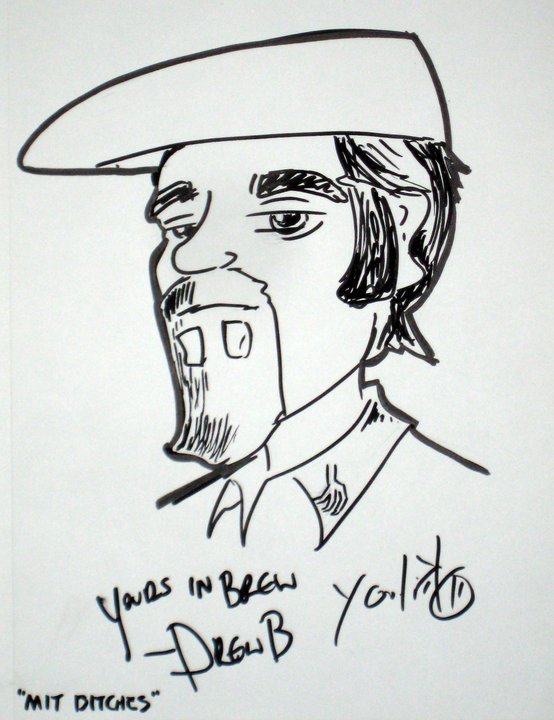 Another episode and a new feature! Read on!
In feedback we hear more about people's weight loss journies. Could we be on the way to skinny brewers? Also a listener chimes in to let us know that he won serious medalage with Drew's Peanut Butter Jelly Time recipe. 
In the pub, we talk our "plans" for Homebrew Con in Baltimore in June - a live Q&A, a Troubleshooters Corner, Book Signings and more! We talk about the 500th Anniversary of the Rheinheitsge-whatever and we revisit the Moonlight vs. Moonlight Trademark fight. 
In the library we discuss Scott Janish's great article about how dry hopping adds bitterness, just not the way you think it does!
At the lab where we talk the next experiment you can join in on - Saison Yeast and the dreaded "stall". Drew's advocated a simple change - open fermentation - to avoid the nasty tendency that WLP 565 and Wyeast 3724 have to start strong, take a two week nap and then finish the job. Is he right? Let's see!
We launch a new variety of interviews that we're tentatively calling "Unknown All-Stars" where we interview brewers that you may not have heard of, but that we think you should. For our first crack, we're talking with one of Drew's brewing mentors - Bruce Brode. A long time brewer, ex-President of the Maltose Falcons and one of the shaping forces of the BJCP Guidelines. You'll really want to hear all the knowledge Bruce can drop.
After that, we're off to the books as we try and answer more listener questions.
Lastly, the guys talk a bit about Prince (boo) and Drew's most recent YouTube obsession.
Episode Links:
Episode Contents:
00:00:00 Our Sponsors
00:03:33 Theme, Intro and Feedback
00:08:35 Beer Life from the Experimental Brewing Pub
00:22:20 The Library - Bittering from Dry Hops
00:30:00 Casa Verde Labs - Saison Open Ferment vs. Closed Ferment
00:40:00 The Lounge - Unknown All-Stars - Bruce Brode
01:16:17 Q&A wth Denny & Drew
01:30:54 Something Other Than Beer - Prince and James Townsend and Sons
01:34:29 Question of the Week, Wrap up and Coming Attractions
This episode is brought to you:
American Homebrewers Association
BrewCraft USA
Craftmeister
NikoBrew
PicoBrew
Interested in helping Denny and Drew with the IGOR program (aka help us run experiments!) - contact them at [email protected]. We want more Citizen Science!
In the meanwhile, subscribe via your favorite podcasting service (iTunes, etc). Like our podcast, review it - talk it up! If you have comments, feedbacks, harassments, etc, feel free to drop us a line at [email protected]. Follow us on Facebook (ExperimentalHomebrewing) or Twitter (@ExpBrewing). If you have questions you'd like answered in our Q&A segment, send an email to [email protected]!
Don't forget you can support the podcast on Patreon by going to http://patreon.com/experimentalbrewing
This episode can be downloaded directly at http://www.podtrac.com/pts/redirect.mp3/www.experimentalbrew.com/sites/d...
Podcast RSS Url: http://www.experimentalbrew.com/podcast.rss