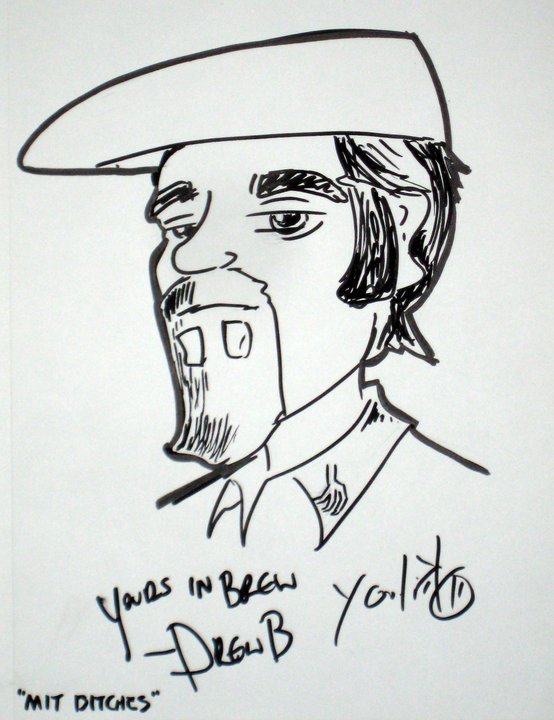 In the pub we congratulate our new members of the  Governing Committee; explore what we think of the Brewer's Association recent announcement regarding sexist beer names and celebrate the sort of beery fool hardiness that lead one "intrepid" soul to attempt a beer half-marathon.
In the lab, we take a piece of feedback from a listener about what we did wrong with our BrewTan announcement and then, like a dog with a bone to worry, we decide to revist the results thanks to some new IGOR reports and watch how the numbers change. We'll discuss new directions that we want to explore as well.
Then in the Lounge we visit one of Drew's favorite brewers - Bob Sylvester of St. Somewhere Brewing in Tarpon Springs, FL. Learn just why we have a photo of a pump and a skateboard in the show notes and just how Bob produces "Florida terrior" and what measures he took to preserve it when the brewery moved. 
Finally we tackle questions we can answer. Drop a quick tip on ya and explore Drew's new found home companion
Episode Links:
Episode Contents:
00:00:00 Our Sponsors & Announcements
00:10:17 The Pub
00:26:51 The Lab - Revisting BrewTan
00:48:01 The Lounge - Bob Sylvester of Saint Somewhere
01:32:10 Q&A
01:50:00 Quick Tip
01:52:27 Something Other Than Beer
This episode is brought to you by:
American Homebrewers Association
Jaded Brewing
PicoBrew
Interested in helping Denny and Drew with the IGOR program (aka help us run experiments!) - contact them at [email protected]. We want more Citizen Science!
In the meanwhile, subscribe via your favorite podcasting service (iTunes, etc). Like our podcast, review it - talk it up! If you have comments, feedbacks, harassments, etc, feel free to drop us a line at [email protected]. Follow us on Facebook (ExperimentalHomebrewing) or Twitter (@ExpBrewing). If you have questions you'd like answered in our Q&A segment, send an email to [email protected]!
Don't forget you can support the podcast on Patreon by going to http://patreon.com/experimentalbrewing
This episode can be downloaded directly at http://www.podtrac.com/pts/redirect.mp3/www.experimentalbrew.com/sites/d...
Podcast RSS Url: http://www.experimentalbrew.com/podcast.rss