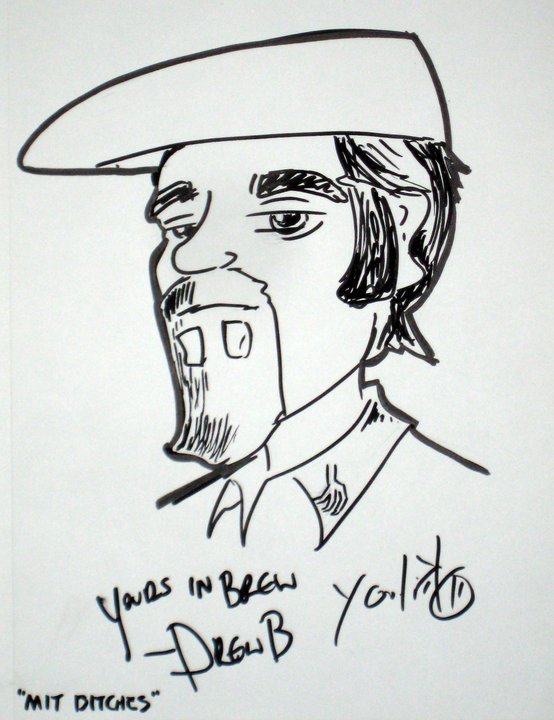 In Episode 4 - Denny and Drew reflect on the feedback we received about our discussion of the decline of homebrewing before we head to the Pub to talk about socially conscious brewing projects like Lady Justice Brewing in Denver and we talk about the Brew Tube community and how they're coming together after a loss.
After that we return to Casa Verde to make plans and let the universe laugh at us as we reveal what our Brew Years Resolutions are. Seriously, that's just asking for failure. We'll see in a year no matter how much Denny protests the topic!
Back to the Bay Area we go with another round of San Francisco treats as we bring you our first listener tasting ever. Things get a little dicey and Drew has to run. Warning the audio does get a little hairy! Note to listeners - if you know we'll be somewhere, feel free to bring beer for us to taste. It's a mandate of our parole from the Gambrinus Asylum for the Brewingly Insane that we taste your beer and offer critiques. Be warned though - you may end up on the air! Tasting concluded, we head to San Leandro and Rancho El Sully aka the 21st Amendment's gobsmackingly awesome production brewery in a former Kellogg's factory. We spend quite a bit of time chatting up one of the friendliest people in the brewing world, Shaun O'Sullivan and he reveals what it's like to grow from a wee little brewpub to a gianormous beer factory. Back in the lab, we take your questions about batch sparging, homebrew ruts, terrifying beer concepts and Denny's hair care regimen. Before we leave you for the episode, Drew also talks a little beer chemistry you should all know! Episode Links:
Episode Contents:
00:00:00 Our Sponsors
00:01:16 Theme and Intro!
00:03:56 Listener Feedback
00:06:35 Beer Life from the Experimental Brewing Pub - Lady Justice Brewing & BrewTube
00:14:03 Experimental Catchup and Brew Year's Resolutions from Casa Verde
00:29:01 Ukulele Break!
00:29:30 Live Listener Beer Tasting & Troubleshooting
00:37:24 Interviewing Shaun O'Sullivan at the 21st Amendment Brewery
01:04:30 Q&A with Denny & Drew
01:16:49 Quick Tip - Destroying Beerstone
01:19:00 Wrap up
01:21:40 Boogie of the Bells (full version for your holiday dancing!)
This episode is brought to you:
BrewCraft USA
Craftmeister
NikoBrew
PicoBrew
Interested in helping Denny and Drew with the IGOR program (aka help us run experiments!) - contact them at [email protected]. We want more Citizen Science! On our next episode we'll be giving our IGOR's their first brewing assignment! In the meanwhile, subscribe via your favorite podcasting service (iTunes, etc). Like our podcast, review it - talk it up! If you have comments, feedbacks, harassments, etc, feel free to drop us a line at [email protected]. Follow us on Facebook (ExperimentalHomebrewing) or Twitter (@ExpBrewing). If you have questions you'd like answered in our Q&A segment, send an email to [email protected]! This episode can be downloaded directly at http://www.experimentalbrew.com/sites/default/files/ExperimentalBrewing_... Podcast RSS Url: http://www.experimentalbrew.com/podcast.rss