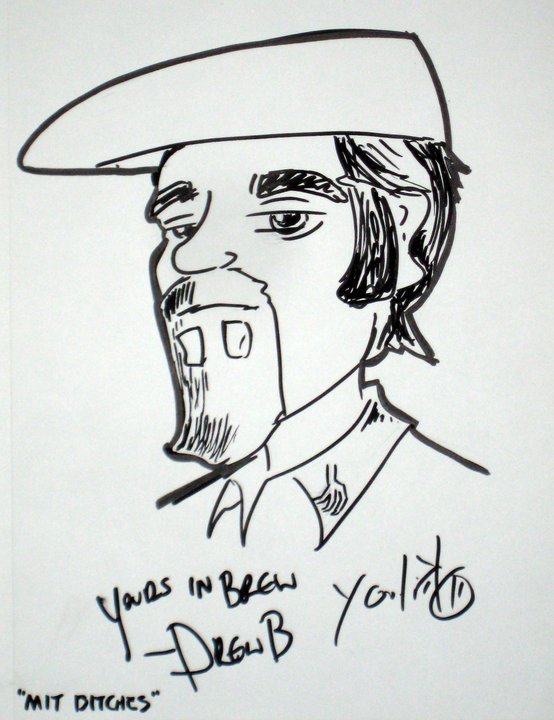 UPDATE: Sorry, we had a bad render on our Bob interview. If you download again, you should be able to hear Bob now!
We start, as always, with your feedback and recap our successful charity effort, before we head to the Pub, where we reminisce about HomeBrewCon and what we did and enjoyed. We talk about a new seal (no not that one - that's later) and about Russian River's success and planned sale. 
In the library, Drew takes a little bit of time to talk about Patrick McGovern, the Indiana Jones of Beer, and his latest book, Ancient Brews.
In the lab, we break down the results of our UnderPitch experiment - what went right and how Drew sorta, kinda goofed part of the whole thing. (Yeah, he's fired). What does happen when the freshest yeast you can get meets wor in two very  different quantities?
Then in the Lounge, it's another double dose of interviews - first, live from the Southern California Homebrewers Fest, Drew and Marshall Schott (Brülosophy) interview Joshua Kunkle about his portable pocket randall infuser with a less than work safe name! Then, Denny and Drew sit down with Bob Pease, the CEO of the Brewers Association about the newly introduced "Independent Beer" seal (note - not craft beer seal as Denny states).
We skip over questions this week (Hey, Episode 48 is a Q&A - get some questions to us!) We do drop a quick tip and Drew reminds us why movie trailers can remind you of some awesomely non-family friendly music. (Seriously!)
Episode Links:
Episode Contents:
00:00:00 Opening & Our Sponsors & Announcements
00:05:53 Feedback
00:9:52 The Pub
00:29:34 The Library - Ancient Brews
00:35:45 The Lab - UnderPitch
00:49:08 The Lounge - SCHF - Marshall, Drew and Josh K - Pocket Randall
01:05:23 The Lounge - Bob Pease - Brewers Association Independence Seal
01:27:41 Quick Tip
01:30:10 Something Other Than Beer
This episode is brought to you by:
American Homebrewers Association
Jaded Brewing
PicoBrew
Interested in helping Denny and Drew with the IGOR program (aka help us run experiments!) - contact them at [email protected]. We want more Citizen Science!
In the meanwhile, subscribe via your favorite podcasting service (iTunes, etc). Like our podcast, review it - talk it up! If you have comments, feedbacks, harassments, etc, feel free to drop us a line at [email protected]. Follow us on Facebook (ExperimentalHomebrewing) or Twitter (@ExpBrewing). If you have questions you'd like answered in our Q&A segment, send an email to [email protected]!
Don't forget you can support the podcast on Patreon by going to http://patreon.com/experimentalbrewing
This episode can be downloaded directly at http://www.podtrac.com/pts/redirect.mp3/www.experimentalbrew.com/sites/d...
Podcast RSS Url: http://www.experimentalbrew.com/podcast.rss