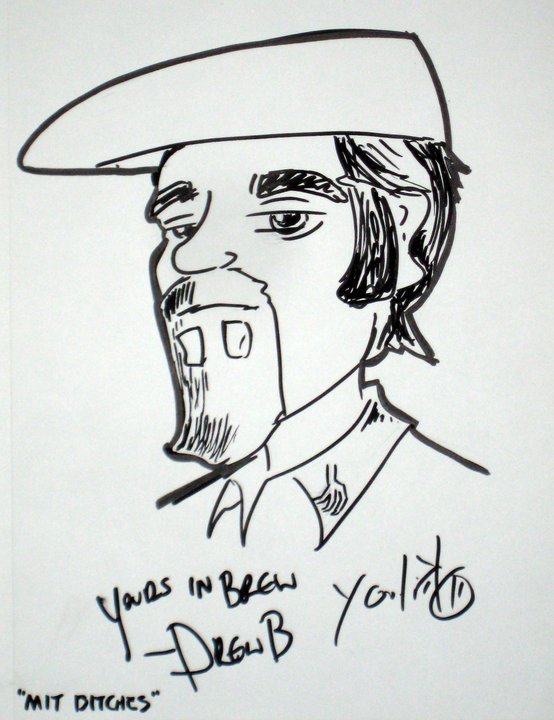 We start with our next charity effort, before we head to the Pub, where we revisit the Brewers Association's Independent Beer Seal and reactions to it, talk about Denny's trip that is currently as we go live stll has him in the air, a brewery open and a close as well.
In the library, Denny explores Scott Janish's recent exploration of trying to make a clear NE IPA, and how you have to pay attention to grain proteins and hop polyphenols.
Over in the brewery, Drew talks his new love - a cranky old style machine for making beer cans at home and just how much he can't wait. (Odd for a guy who hates bottling!)
Then in the Lounge, Drew sits down at Arts District Brewing with recent California transplant, Todd Alström, one of the founders of BeerAdvocate.com. They cover just how the brothers founded a beer review site all the way back in the infancy of the internet (1996), changes he's seen in the industry - including the first Craft Beer bubble and what he thinks of whales, trading and the IPAfication of everything.
We tackle a pair of questions (Hey, Episode 48 is a Q&A - get some questions to us!) We do drop a quick tip to keep cool and Drew goes and explores the soothing sounds of old dogs sleeping
Episode Links:
Episode Contents:
00:00:00 Opening & Our Sponsors
00:03:21 Announcements
00:7:01 The Pub
00:26:52 The Library - Researching NE IPA
00:37:42 The Brewery - Canniing
00:46:48 The Lounge - Todd Alström - BeerAdvocate.com
01:34:25 Q&A
01:41:30 Quick Tip
01:42:26 Something Other Than Beer
This episode is brought to you by:
American Homebrewers Association
Jaded Brewing
PicoBrew
Interested in helping Denny and Drew with the IGOR program (aka help us run experiments!) - contact them at [email protected]. We want more Citizen Science!
In the meanwhile, subscribe via your favorite podcasting service (iTunes, etc). Like our podcast, review it - talk it up! If you have comments, feedbacks, harassments, etc, feel free to drop us a line at [email protected]. Follow us on Facebook (ExperimentalHomebrewing) or Twitter (@ExpBrewing). If you have questions you'd like answered in our Q&A segment, send an email to [email protected]!
Don't forget you can support the podcast on Patreon by going to http://patreon.com/experimentalbrewing
This episode can be downloaded directly at http://www.podtrac.com/pts/redirect.mp3/www.experimentalbrew.com/sites/d...
Podcast RSS Url: http://www.experimentalbrew.com/podcast.rss