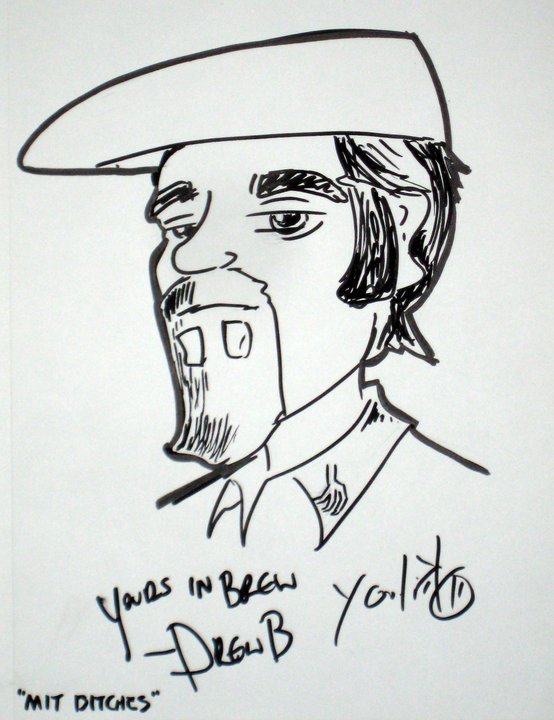 We're back at it in our last to go show before the Q&A! ([email protected]!)
In the feedback section, Drew eats a big ole helping of crow for failing to hold to his stated principles.
In the Pub - we talk about our Wyeast Q3 Private Collection Strains Contest and reveal the three winners and their recipes. Link below for the recipes themselves. Thanks to everyone who entered and our good sponsors at Wyeast! Then it's back to the business of beer with the latest round of acquisitions including Funky Buddha, Anchor and the really interesting combination of New Belgium, Dick Cantwell, Oud Beersel and Magnolia. Are we finally at that same tipping point where over expansion is pinching some brewers like Magnolia and the recently annouced to close Rubicon?
In the lab, we actually invite in a guest as BrewTube's Short Circuited Brewers (Brian Huntley) makes us do a triangle test on the mics. What experimental madness is he up to and can Denny or Drew get it right? You're just going to have to listen to find out!
And then in the lounge, Drew sits down with Devon Randall of Arts District Brewing and talks about leaving LA to become a brewer and coming back to the city and landing in a warehouse formerly run by a crazy man (Crazy Gideon). Devon's making a hell of a spread and you should give it a try.
We race over Q&A because hey - you should be getting us questions for Episode 48!
But we do take a moment to hit a quick tip about exploring your different varieties of specialty ingredients and Drew drops two things in Something Other - a hysterical set of Game of Throne recaps from BlackNerdProblems and the ongoing constantly moving CA Pinkham column "Off the Menu" with awful wonderful stories from the world of restaurants and bars.
Episode Links:
Episode Contents:
00:00:00 Opening & Our Sponsors
00:04:09 Announcements & Feedback
00:11:57 The Pub
00:39:41 The Lab - Short Circuited Brewers Guest Experiment
01:09:59 The Lounge - Devon Randall
01:54:49 Quick Tip
01:56:29 Something Other Than Beer
This episode is brought to you by:
American Homebrewers Association
Jaded Brewing
PicoBrew
Interested in helping Denny and Drew with the IGOR program (aka help us run experiments!) - contact them at [email protected]. We want more Citizen Science!
In the meanwhile, subscribe via your favorite podcasting service (iTunes, etc). Like our podcast, review it - talk it up! If you have comments, feedbacks, harassments, etc, feel free to drop us a line at [email protected]. Follow us on Facebook (ExperimentalHomebrewing) or Twitter (@ExpBrewing). If you have questions you'd like answered in our Q&A segment, send an email to [email protected]!
Don't forget you can support the podcast on Patreon by going to http://patreon.com/experimentalbrewing
This episode can be downloaded directly at http://www.podtrac.com/pts/redirect.mp3/www.experimentalbrew.com/sites/d...
Podcast RSS Url: http://www.experimentalbrew.com/podcast.rss