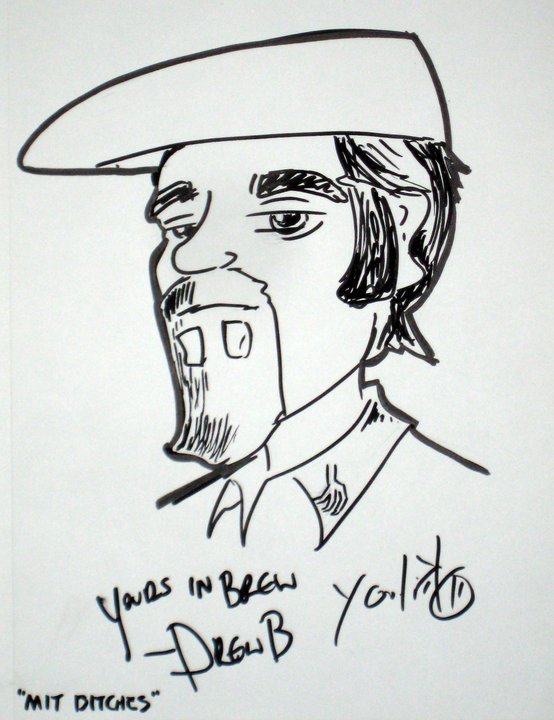 In Episode 5 - Denny and Drew look back at the Brew Year's Resolutions where we've had a bunch of feedback from listeners. We talk in the pub about the latest in acquisitions with the sweet spicy addition of hypocrisy - throw in a little competition and Denny's soon to be appearance in Vail. After that we return to the lab to present our second experiment. This time we're exploring if throwing hops into a whirlpool steep at a lower temperature (120F) makes a qualitative difference in the beer over throwing them in at the "new" recommended temperature of 170F. In theory, 120F should preserve more of the volatile aromatic compounds we care about, but does it actually matter?
Back to the Bay Area we go with a pint at Oakland's very lovely Trappist where we talk with Nick Impellitteri of the Yeast Bay about his unique take on a yeast company and what he truly enjoys in regards to the little critters. He's got some fun directions he's hoping to take things and who knows - they may be future cross collaborations to happen! Finally we take your questions, Denny provides a little lesson in French and Drew tells us about the latest gadget he's gotten in his ill advised attempts to explode his heart via caffeine consumption. How about it, our fellow scientists - Are you ready for some hopping?!? Episode Links:
Episode Contents:
00:00:00 Our Sponsors
00:01:16 Theme and Intro and Listener Feedback
00:06:27 Beer Life from the Experimental Brewing Pub - Lady Justice Brewing & BrewTube
00:19:35 Experiment #2 Whirlpools from the Casa Verde Labs
00:29:38 Ukulele Break!
00:30:00 The Yeast Bay with Nick Impellitteri at the Trappist
01:02:36 Q&A with Denny & Drew
01:18:41 Quick Tip - Mise en Place
01:21:09 Something Other Than Beer - The Toddy
01:24:59 Wrap up and Coming Attractions
This episode is brought to you:
BrewCraft USA
Craftmeister
NikoBrew
PicoBrew
Interested in helping Denny and Drew with the IGOR program (aka help us run experiments!) - contact them at [email protected]. We want more Citizen Science! On our next episode we'll be giving our IGOR's their first brewing assignment! In the meanwhile, subscribe via your favorite podcasting service (iTunes, etc). Like our podcast, review it - talk it up! If you have comments, feedbacks, harassments, etc, feel free to drop us a line at [email protected]. Follow us on Facebook (ExperimentalHomebrewing) or Twitter (@ExpBrewing). If you have questions you'd like answered in our Q&A segment, send an email to [email protected]! This episode can be downloaded directly at http://www.experimentalbrew.com/sites/default/files/ExperimentalBrewing_... Podcast RSS Url: http://www.experimentalbrew.com/podcast.rss