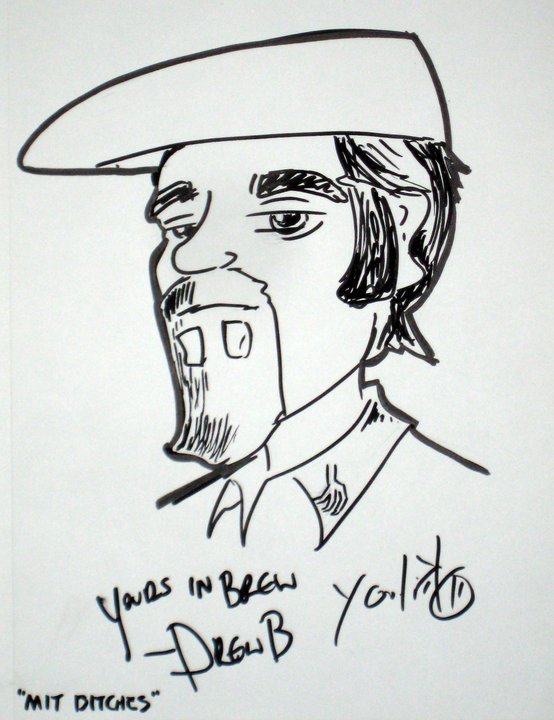 In Episode 7 - Denny and Drew take a spin through listener reactions to the first experiment results unleashed online and in the podcast. Then it's off to the pub where they discuss the rise of homebrewing around the globe (focused on an article about Indian homebrewers), Denny wields the eraser of correction about the beers he tried from Barrel of Monks and Drew talks up Lew Bryson's Session Beer Day project. And then to the lab where the guys launch the next experiment - all about the First Wort Hop. This time out the crew is set on re-creating Denny's classic experiment that yielded inconclusive results about FWH. Ignore the recipe content in the podcast because the IGORs asked for a recipe change and who are the guys to deny them that? Once again, hoppy times are brought to you by NikoBrew.com! Time to announce the podcast's first charity project - Freedom Service Dogs of America. They're dedicated to rescuing and training shelter dogs to serve as support animals for the disabled, including returning vets. Join the podcast as a Patreon supporter to help rescue some pups! Back to the Bay Area for one last time as the gang returns to Faction Brewing in Alameda and the wide ranging Rodger Davis. We clarify (maybe) Rodger's dry hopping procedure for his infinitely hoppy beers. The guys talk through a bunch of other things like the love/not love of fork lifts, his team - the genesis of the White Stout style (found the culprit!) and his experimental hop series. (WARNING - Rodger is also prolific with his utterances and we're still working out where the line is and whether or not we caught them all - so be careful in this segment with the kids if you don't want them learning some words!) Finally Denny and Drew take your questions. Quick announcement about questions - looks like every 10th episode, the show will become an all (mostly?) Q&A show - so get your questions in and see how long you can make D&D answer questions! Denny takes a tip from Jeff Gladish about blending and Drew recommends a few new choice selections for your reading library (of non-beery things) So, are you guys psyched to get your First Wort Hop on? Episode Links:
Episode Contents: 00:00:00 Our Sponsors
00:02:20 Theme and Intro and Listener Feedback
00:07:31 Beer Life from the Experimental Brewing Pub - Indian Homebrewing, Barrel of Monks Correction, Session Beer Project Day
00:19:59 Casa Verde Labs - Experiment #3 Announcement - FWH Hopping vs. Bittering
00:31:46 Rodger Davis at Faction Brewing, Pt 2!
01:07:02 Q&A with Denny & Drew
01:24:00 Quick Tip - Blending
01:25:02 Something Other Than Beer - Drew's Book Nook
01:29:47 Question of the Week, Wrap up and Coming Attractions
This episode is brought to you:
BrewCraft USA
Craftmeister
NikoBrew
PicoBrew
Interested in helping Denny and Drew with the IGOR program (aka help us run experiments!) - contact them at [email protected]. We want more Citizen Science! On our next episode we'll be giving our IGOR's their first brewing assignment! In the meanwhile, subscribe via your favorite podcasting service (iTunes, etc). Like our podcast, review it - talk it up! If you have comments, feedbacks, harassments, etc, feel free to drop us a line at [email protected]. Follow us on Facebook (ExperimentalHomebrewing) or Twitter (@ExpBrewing). If you have questions you'd like answered in our Q&A segment, send an email to [email protected]! Don't forget you can support the podcast on Patreon by going to http://patreon.com/experimentalbrewing This episode can be downloaded directly at http://www.podtrac.com/pts/redirect.mp3/www.experimentalbrew.com/sites/d... Podcast RSS Url: http://www.experimentalbrew.com/podcast.rss