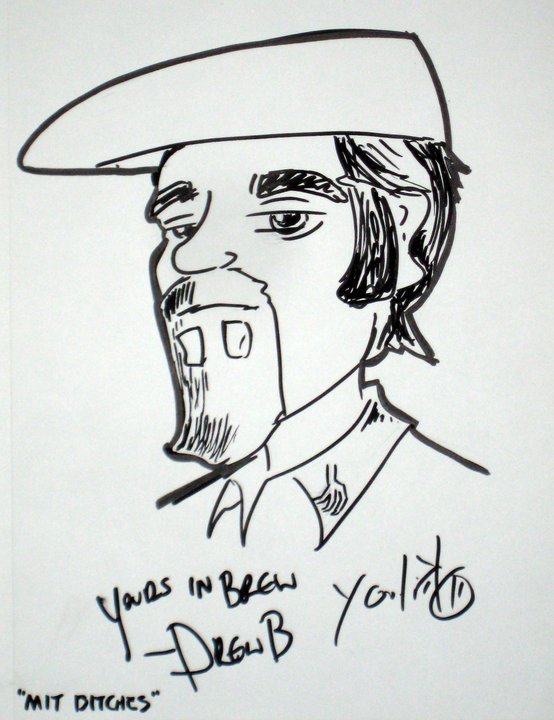 In Episode 8 - Denny and Drew remind listeners about the upcoming Q&A episode. (Send your questions to [email protected]) They run off to the pub and discuss a potential canning crisis, actual grown up science, the upcoming Pacific Northwest Homebrewers Conference and Denny's run for the Governing Committee. Then they visit a new location for the podcast - the brewery (who woulda guessed) to discuss the availability of the Idaho 7 hop (currently branded 007 The Golden Hop) and Weyermann's Barke Malt. And then to the lab where the guys are joined by Marshall "Brulosophy" Schott, to discuss the results of the Hop Whirlpool Temperature Test. Does it make a difference if you whirlpool your hops at 120F instead of 170F. (In theory, fewer hop oils get volatilized at the lower temp). What was the result? Listen! Once again, hoppy times are brought to you by NikoBrew.com! Back to the Bay Area - no not the San Francisco Bay Area - the Tampa Bay Area where Drew conducts an interview with Brian Fenstermacher at his homebrew store turned nanobrewery - Southern Brewing & Winemaking. Brian has a long history in the craft brewing industry and eventually ended up opening a great homebrew store. Unable to leave the beer world completely behind, he turned the homebrew store into a nano brew with an impressive 24 taps being brewed on a nano-scale. Listen to the interview to discover the incredibly intricate system he's created for his brewers to keep that variety running! Denny and Drew take your questions and lie about all of their answers. Denny drops another quick tip from our AHA Forum friends about creating a quick chilled carbonated sample of your beer to let you speedily evaluate your beer. Marshall then drops in with his love of music on our "Something Non-Beery" segment. Episode Links:
Episode Contents:
00:00:00 Our Sponsors
00:02:25 Theme and Intro and Listener Feedback
00:05:57 Beer Life from the Experimental Brewing Pub - Can Shortage, Actual Science, Pacific Northwest Homebrewers Conference, AHA Governing Committee Election
00:18:15 The Brewery - 007 Golden Hop, Barke Malt
00:26:00 Casa Verde Labs - Experiment #2 Results - Whirlpool Hopping
00:51:33 Southern Brewing & Winemaking in Tampa
01:44:38 Uke Break!
01:45:09 Q&A with Denny & Drew
02:03:45 Quick Tip - Quick Carbonated Samples
02:05:11 Something Other Than Beer - Marshall's Music
02:07:12 Question of the Week, Wrap up and Coming Attractions This episode is brought to you:
BrewCraft USA
Craftmeister
NikoBrew
PicoBrew
Interested in helping Denny and Drew with the IGOR program (aka help us run experiments!) - contact them at [email protected]. We want more Citizen Science! On our next episode we'll be giving our IGOR's their first brewing assignment! In the meanwhile, subscribe via your favorite podcasting service (iTunes, etc). Like our podcast, review it - talk it up! If you have comments, feedbacks, harassments, etc, feel free to drop us a line at [email protected]. Follow us on Facebook (ExperimentalHomebrewing) or Twitter (@ExpBrewing). If you have questions you'd like answered in our Q&A segment, send an email to [email protected]! Don't forget you can support the podcast on Patreon by going to http://patreon.com/experimentalbrewing
This episode can be downloaded directly at http://www.podtrac.com/pts/redirect.mp3/www.experimentalbrew.com/sites/d...
Podcast RSS Url: http://www.experimentalbrew.com/podcast.rss