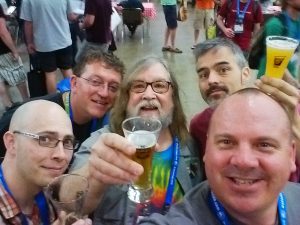 Come Join Us at the Party of the Year!
By this time next week, we'll be deep, deep in the midst of the AHA's annual homebrew party – HomebrewCon. This year's edition is a return to the Minneapolis/St. Paul area for four (ok, three official, but c'mon!) days and nights of beery goodness. Here's our quick guide about what we're doing – what we want to check out and more!
Your Chief Guide (And Register If You Haven't!): HomeBrewCon.org
Your Mobile Guide: The HomeBrewCon App: Apple | Android
Your Guides to the City: Insiders Guide / BrewGuru App: Apple | Android
The AHA "First Timers" Guide: Here (This guide was largely written by the Governing Committee in a feverish rush a few years back and it's still great and applies. Drew swears by Emergen-C for your mornings after!)
What You Absolutely Must See
The Big Parties – We know that Thursday's Craft Beer Reception (formerly known as 'Pro Night') and Friday's Club Night will be bonkers, but what about Saturday's new "Knockout" party in lieu of the old Awards Banquet? (Rumor has it there will be much silliness that night as the Knockout party ends early and others will carry on – even possibly a cocktail party)
The City – Chip and the local committee in MSP have put together a great Insider's Guide to the city. Take a break from the convention and bask in the Minnesota niceness of it all. MSP is a hell of a beer town and we're right in the heart of it this year – not all the way out in the burbs like last time.
The People – Remember, this is your chance to talk your beer obsessed brain out and not have people's eyes glazed over. Be friendly! Say hi! If you see Denny and Drew running around – stop us, say hi, offer us a beer! Speaking of which – if you want to really guarantee a sighting (or improve your chances of no sighting) see the next segment!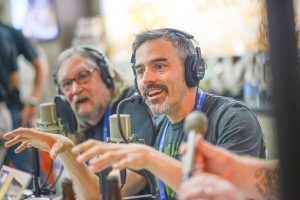 Drew plays Air Piano while Denny figures out if this has to be part of the podcast
Where to See Us:
Weds June 14th:

6PM – Chop & Brü Party at Insight Brewing (Details)

​Denny & Drew will be joining the Chop & Brew and Brülosophy gang to kick off the conference with a party at Insight Brewing. There's a raffle, there's beer, there's threats of Karaoke and Drew will be unleashing Speed Trivia at 6PM! (Special Beers and more and more!)

Thurs June 15th:

3:15-4:15PM – Hold My Beer and Watch Me Science (Rm 102)

​Join Denny, Drew, Marshall and Malcolm as we take an hour and talk about homebrew science, the highs, the lows, the process, what we've learned and what we hope you learn.

Fri June 16th:

​9-10AM – Building Great Homebrew Clubs Panel

This is for the dedicated – Come join Drew and leaders of other Radegast winning homebrew clubs about what they think is important to making a great homebrew club

12-1PM – Craftmeister & Brewmaster Hangout – Expo Booth 130

​We'll both be hanging out with our good friend and sponsor, Craftmeister. Stop by, say hi, have us sign something, thumb your nose, bring us a beer!

1:30-2:30PM – Book Signing – Brewers Publications Booth – Expo Floor

Books, we've got em and we're armed with sharpies too (Drew gets a fresh one because he's 'special').

2:30-4:30PM – Podcast Live – BrewCraftUSA – Expo Booth 100

Want to see how the Sausage is made? We'll have special guests, special results, goofiness, etc. Come watch and ask us a question!

4:30-5:30PM – AHA Members Meetng – Main Auditorium

We both serve on the AHA Governing Committee. This is your best chance to hear what the AHA is up to and ask about new plans.

Saturday June 17th:

​12:45-1:45PM – Online Forum Meetup – Social Club, Hall E

​Come and meet all your friends from the AHA Forum, Reddit, HomebrewTalk, wherever you hang out online!
Seminars to Catch
We'll be running around super busy so who knows what we'll see. But if we had all the free time in the world, this is what we would see!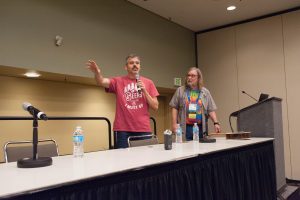 We speak!
Drew
Saluting the Ancient Purveyors and Preservers of Beer! Brewing on the Borders of Greek and Roman Dominion – Travis Rupp – Thursday 2pm – Room 102

I'm a history nerd. I'm a beer nerd. This is right up my alley (and just before my talk in the same room)!

Origins and Evolution of Australian Sparkling Ale – Peter Symons – Friday 9am – Auditorium 2

Peter was on the podcast recently and this will be even more information. Sadly, I'll be speaking at the same time!

Mastering Mead – Steve Fletty, Curt Stock, etc, etc – Friday 10:15AM – Auditorium Main

Coming to the upper midwest and missing a mead panel is a bad idea. So many powerhouse meadmakers will be talking

Liquid Time Capsules – Dr. Patrck McGovern, Ken Schramm – Friday 11:30AM – Auditorium Main

Dr. McGovern is my science beer nerd hero. Ken is a mad meadmaker. Together they talk about fermentation and history

Hardcore Mild – Adam Stine – Friday 3:15 – Auditorium 3

Mild is one of my very favorite styles. Seriously, a good mild is a wonderful thing to have.

Recipe Development with Dangerous Man – Dangerous Man – Saturday 9AM – Room 102

I love hearing what people think about recipe design. Who knew?

Using Trees in Unusual Ways to Create Unique Flavor Profiles – Scratch Brewing – Saturday 11:30AM – Auditorium 1

It's experimental! It's wood! Denny will roll his eyes!

Denny
Lagers to Lambics – Hard Stuff the Easy Way – Brian Hall / Derek Springer – Friday 10:15AM – Room 102

Right up the alley of the man who rocks the motto – "Best Beer Possible for the Least Amount of Work Possible"

Bitterness and the IBU: What's It All About? – Dr. Patricia Aron – Friday 11:30AM – Auditorium 1

Weren't we just talking about this? Better see what an actual scientist says!

The Relationship Between Base Malt Flavor Preference and Beer Flavor Preference: Does Base Malt Flavor Matter? – Cassandra Liscomb – Friday 3:15 – Auditorium 2

Just how much does base malt affect your beer quality? Time to find out from a study by Briess, New Belgium and Valley Malt

The Dinosaur in My Beer: 250 Million Years of Homebrewing History – Andrew Farke – Saturday. 9AM – Auditorium 1

Evolution, paleontology, malt and hops!

Compound Interest: The Essentials of Essential Oils – Matt McCarroll Stan Hieronymus – Saturday 10:15AM – Room 102

Denny's favorite ingredient gets an essential breakdown.
We'll see y'all in a few more days!