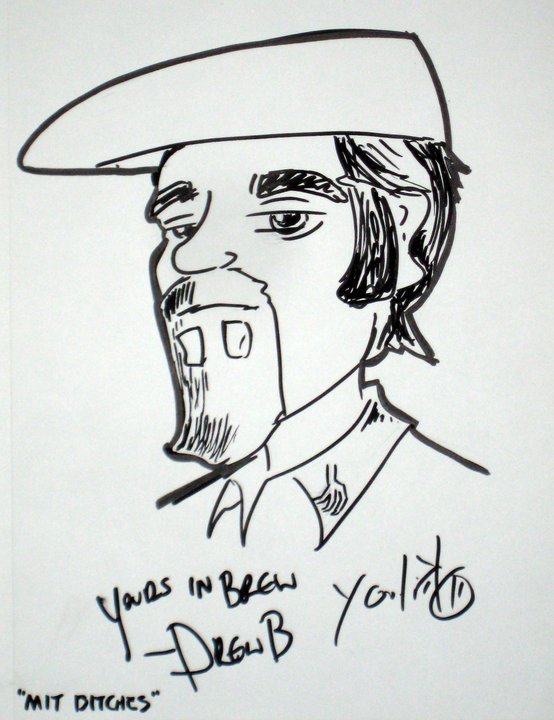 One full year of Experimental Brewing is in the books! (So much editing, so much umm and ahhs)
But that's beside the point - on with the show! We tackle some user feedback around Drew's keg purging methods and Denny's feelings on Nugget hops. And then it's into the pub where we tackle the big news about ABI's acquisition of Northern Brewer/Midwest. We're puzzled - are you puzzled? Join us in being puzzled! Drew talks about his experience with Cask Marque and finding righteous beer bargains. 
In the brewery, we talk about the beauty and performance of JaDeD Brewing's chillers. Seriously, these things are great.
In the library, a little comedy courtesy of McSweeney's from a listener and a new podcast from the Master Brewers Association of America for your actual knowledge.
In the lab, we discuss the results of our first New England IPA experiment - Wyeast 1056 vs. Wyeast 1318. Can tasters taste a difference? What about the haze? The Hop character? Where do we go from here.
And it's a twofer in the lounge as we just finished a quick trip to the Portland/Vancouver area to talk at our sponsor Brewcraft USA's RetailerCon. So we started our trip by talking with the folks at FH Steinbarts about their shop and their community's recent speakeasy loss. And then we get into a Pineapple Kolsch with Larry Clousner, great friend of the show and partner at Pono Brewing.
We close out the show with Drew's recent reading about some of the deep seated organized crime and corruption of LA in the 1920's and 30's with "A Bright and Guilty Place" by Richard Rayner.
Episode Links:
Episode Contents:
00:00:00 Our Sponsors
00:07:28 Feedback
00:17:24 The Pub - ABI/Northern Brewer/Midwest, Cask Marque, Bargain Hunting
00:33:08 Brewery - JaDeD Brewing
00:14:50  Library - McSweeney's, MBAA Podcast
00:46:52 The Lab - NE IPA Is It The Yeast Results
00:58:58 Lounge - Being in Portland, Dean Pottle, FH Steinbart's
01:15:25 Lounge Pt. 2 - Larry Clouser of Pono Brewing
01:53:08 Something Other Than Beer - A Bright and Guilty Place
01:55:49 Recap
This episode is brought to you:
American Homebrewers Association
BrewCraft USA
Craftmeister
NikoBrew
PicoBrew
Interested in helping Denny and Drew with the IGOR program (aka help us run experiments!) - contact them at [email protected]. We want more Citizen Science!
In the meanwhile, subscribe via your favorite podcasting service (iTunes, etc). Like our podcast, review it - talk it up! If you have comments, feedbacks, harassments, etc, feel free to drop us a line at [email protected]. Follow us on Facebook (ExperimentalHomebrewing) or Twitter (@ExpBrewing). If you have questions you'd like answered in our Q&A segment, send an email to [email protected]!
Don't forget you can support the podcast on Patreon by going to http://patreon.com/experimentalbrewing
This episode can be downloaded directly at http://www.podtrac.com/pts/redirect.mp3/www.experimentalbrew.com/sites/d...
Podcast RSS Url: http://www.experimentalbrew.com/podcast.rss