We're back at it! Now that HomebrewCon has passed and we can get back to our regularly scheduled program of experimental madness. And for this round, we'll be revisiting the experiment we covered earlier this year in the podcast. (Episode 13 to be precise!)
IMPATIENT RESULT: FAILED
Executive Summary
Denny and I went into this experiment with a clear expectation of what the eventual answer would be and for once science agreed with us. It was a novel happenstance!
We had 4 IGORs (BeardedBrews, Jason Mundy, Randy Peterman and The Mossy Owl) conduct 6 tasting panels using our Simplified Amber recipe. Out of the 6 tasting runs, zero found a signficant difference between the non-aerated beer and the beer with olive oil. Are you surprised?
The Experiment
This experiment came to the crew courtesy of both Denny and I. See the thing is we know homebrewers are incredibly innovative – particularly when it comes to finding ways to make the brewing process easier and cheaper. So, some brewers stumbled on a paper from Grady Hull of New Belgium Brewing about their experiment to use Olive Oil as a replacement for oxygen in their yeast brinks. The theory is sound – we aerate our wort/yeast to provide the yeast the building blocks necessary to synthesize sterols. The yeast use the sterols to make their cell walls both strong and flexible. Of course oxygen also comes with downsides – aeration stones are fertile grounds for infection risk, unabsorbed oxygen leads to risk of oxidation and pure O2 is expensive.
Grady's experiment was to see – ok, can we skip over the sterol synthesis part and directly give the yeast their needed sterols. Convenient source of sterols that's cheap as hell? Oil and the bonus is you need very very little oil to deliver the necessary amount of sterols for optimum yeast strength.
A number of homebrewers went gaga for the technique. After all, a pin drop of olive oil added to the fermenter is hella cheap compared to buying a regulator, stone and O2 canisters at the Home Despot. The internet soon lit up with tales of various brewers saying "Hey, I just did this and my beer came out great." Call us skeptical from day one of this phenom.
But here's the thing – when we talked to Grady about the whole thing he was flummoxed by the response. Not only did NBB not pursue the use of Olive Oil in the brewery – his research was never about using OO as a replacement for aeration of wort. It was entirely about using OO as a replacement for oxygen injection into yeast agitators/brinks where the yeast could be in contact with the oil for a long period of time before getting down to fermentation. Plus that long agitation helps get the olive dissolved in solution. (It turns out that oil and a watery solution mix as well as oil and water)
We've argued for years that there's really no difference between adding Olive Oil to a fermenter and adding no oxygen at all. So, let's see what the IGORs discovered.
For the full detals of the experiment, read the experment design!
The Brew Day
For this experiment, the IGORs tackled a Simple Amber recipe because New Belgium, Fat Tire, Fat Tire is an amber, etc, etc. What we didn't say the recipe methodology is the most profound. It just is. This particular recipe is a very stripped down version of Denny's Waldo Lake Amber. I stripped it down to make him particularly nuts. (He twitches when you modify a recipe!)
(For the record several of the partcipating IGORs noted that the recipe was somewhat "dull", so maybe Denny has a point!)
But overall, everyone seemed to have a pretty easy time of it. At least one IGOR overshot their gravity and had to dilute back down. Bearded Brews provided us with some pics and check out that fancy toolbox controller.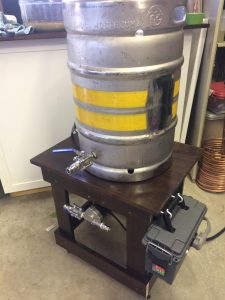 For the experiment, one batch was to be airlocked/blow off tubed with no additional aeration. This is a medium gravity beer so we weren't too concerned about the effects of no aeration. (After all so is Fat Tire.) The other was to get a dose of Olive Oil – the magic wonder "drug", if the internets are to believed.
The Olive Oil was introduced post chilling to a single fermenter in excrutiatingly tiny amounts. Our initial protocol called a for a pin drop into one of the batches, but our IGORs rightly said "hey, that's not precise enough". We changed the protocol to ask for 50 microLiters of Olive Oil. You ever try to measure out 50 micros of anything? It's damn near impossible unless you have the right tools. Fortunately our IGORs either had the right tools on hand or they depending on the kindness of IGOR Robert Allaway who prepared a bunch of tee tiny aliquots of Olive Oil that we mailed out.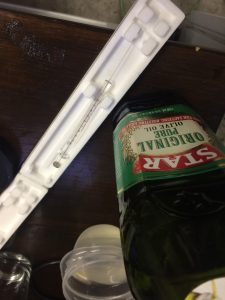 The Tastings
For this go around we had 53 total tasters spread out across 6 tastings. As usual the tasting panelists were a mix of experience levels and beer knowledge. Beers were served blind and in proper triangle fashion. No real wrinkles here.
The Tasting Problem
Interestingly, and here's where we get into the problem of recruiting tasters – one homebrew club had a number of people take the triangle test, but they didn't want their answers recorded. This is an ongoing issue with tasting panels (see other tests where IGORs noted that they had trouble getting tasters).
The question then is why the hell is it so hard to get tasters? My guess is a matter of ego. So many of these tests are on the edges of detectability that people confronted with the choice freak out about being wrong and so skip out on giving an answer for fear of being a fool.
How do we solve it? I don't know if you can. I know when we recorded our HomeBrewCon episode and Marshall gave us a triangle test on air, I kinda wanted to run away from answering the question. (For the record both Denny and I got it wrong *le sigh*) Maybe the right, albeit less fun, way of doing it is to have tasters anonymously record their responses before the reveal so there's less "public" shame. Still isn't going to get you over the hump of people who need to be right.
The Results
So let's dig into the results from our testers and see what there is to be seen. As we noted in the executive summary – the results are about as stark as you can expect and they're certainly our "clearest" result ever. (For the record, we are also working on a better way to combine our results to be more sophisticated and correct. I've just been under the gun with other things to finish reaching out to all the parties. Expect an update)
Also, how strange to have a table with no outlying data. Now I'm suspicious. (Ok, not really)
| | Total Tasters | Successful ID's | %age Correct | p-Value |
| --- | --- | --- | --- | --- |
| Magic Threshold | 53 | 24 | 45% | 0.047 |
| All Data | 53 | 18 | 34% | 0.513 |
Tasting Panel Numeric Data
| IGOR | Tasters | Successful ID's | %age | p-Value |
| --- | --- | --- | --- | --- |
| BeardedBrews | 6 | 3 | 50% | 0.320 (NOT significant) |
| Jason Mundy | 19 | 5 | 26% | 0.812 (NOT significant) |
| Randy Peterman | 9 | 2 | 22% | 0.856 (NOT significant) |
| The Mossy Owl | 19 | 8 | 42% | 0.279 (NOT significant) |
Tasting Panels Qualitative Data
IGOR
Beer Thoughts
Experiment Thoughts
Bearded Brews
Very basic beer, and unfortunately not really to my taste. I did not pick up off flavors in either split. There appeared to me more haze in the no-oil split, but I am going to pull some tasters in a couple more days to see if that was just an early sample. The bitterness was probably fine for the malt bill, but there was almost no perceptable hop flavor. If I were to make this beer for myself I would have pushed the late hops up to get something other than CaraRedWater flavor.
My odd beer out was the no olive oil. Reactions ranged from drier to more body, one thought there was more hop aroma. One said he thought this beer had a "carbonic bite" (this may be a significant comment. See tasting session notes).
Jason Mundy
I had another homebrewer mix these up for me and I got it wrong too 🙂
50ul of olive oil does not seem to have an impact on this beer.
Randy Peterman
Malty up front with residual sweetness. Not overly hoppy. Frankly a nice Amber ale.
This was an interesting experiment because the end results were very close between the two beers. I prefer (knowing what I'm drinking) the aerated beer because it's got just a tiny bit more flavor and aroma.
The Mossy Owl
"I don't think the OO had any effect on the beer. I've never had 2 beers ferment side by side look and behave so similarly.

I'm not happy that the carbonation may have been so many people's ""clue"" as to the ""correct"" beer. I still have some left and may try to send you that data later."
Subjective Responses
As we noted above, the different beers couldn't be successful differentated blindly. But what did the panelists think when asked for their comments?
No Aeration
Nose was stronger
More hop presence
Drier (yet more body)
More carbonic bite
Olive Oil
More muted
Sweeter
Darker
More bitter
When asked about the beer, our IGORs (who mostly knew the result) felt like they could reliably tell the difference, but that's why we do the tasting panels.
From a brewing point of view, there was an interesting piece of data from The Mossy Owl who said
One thing I did notice though was the yeast didn't seem in great health in the end as I kegged the beer. The yeast cakes had some autolysis type odors. Didn't taste this in the final beers but I bet if i had left the beer on the yeast it wouldn't have been much longer before I did. I wouldn't have repitched any of this yeast and felt confident.
In other words, seems like we might have all committed some yeast abuse here. Please don't call the authorities on us!
In conclusion, here's what we think we know – save the olive oil for your pasta and salads. Adding it to your beer in the hopes of skipping out on aeration/oxygenation seems a bit of wishful thinking and really no better than doing nothing at all! Remember, this was the best case scenario for Olive Oil. The only thing I can think that we could do that would give OO even more of an advantage is to say "f' it – make a barleywine with no aeration!", but we like beer too much to commit that terrible a crime!
So we know we got something wrong here – let us know in the comments below or email us at podcast@experimentalbrew.com.