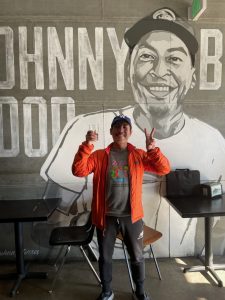 Drew's sick this week – so in celebration of Masa pouring Guavaaahhh at the Great American Beer Festival – a replay! (Note for GABF, he and Arts District Brewing used Oregon Fruit Puree for the guava)
The Brew Is Out There!
The annual Doug King Memorial Competition celebrating Doug's craziness has a new winner – Masa Kitano of the Socal Cerveceros with his Guavaaahhh Gose. Drew talks with Masa about how he got into homebrewing, what inspired this fruit filled Gose and his experiments with Wet Hop IPAs for good measure!
Links:
Masa's Guavaaahhh Gose – https://www.experimentalbrew.com/2023/02/28/masas-guavaaahhh-gose/
Masa's Wet Hop IPAs – https://www.experimentalbrew.com/2023/02/28/masas-wet-hop-ipa-columbus-and-cascade/
Masa's Instagram: https://www.instagram.com/masarunsbeerbicycle/
This episode is brought to you by:

American Homebrewers Association
Brewing America
Grainfather
Don't forget to subscribe via your favorite podcasting service (iTunes, etc). Like our podcast, review it – talk it up! If you have comments, feedbacks, harassments, etc, feel free to drop us a line at podcast@experimentalbrew.com. Follow us on Facebook (ExperimentalBrew), Twitter (@ExpBrewing) or Instagram (ExperimentalBrewing).
Don't forget you can support the podcast on Patreon by going to http://patreon.com/experimentalbrewing
Podcast RSS Url: http://www.experimentalbrew.com/podcast.rss
Podcast: Play in new window | Download